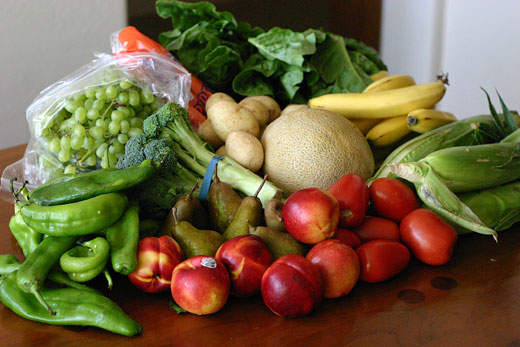 This morning, my dad volunteered at our local Bountiful Baskets site.  He was there unloading giant boxes of produce at 5:00 in the morning.  5 am!  Can I just say that I am thankful for the volunteers who wake up much earlier than I do so that I can have a basket full of fresh fruits and veggies?  Thank you volunteers!!!
This morning's basket was overflowing.  Some of the produce was very ripe including the bananas, tomatoes and green chiles.  Those will have to be used right away.
I plan to roast and freeze the chiles like this.
I am thinking about doing slow roasted tomatoes too with these directions from Smitten Kitchen.
We have been making smoothies quite often lately, so I will probably peel, slice and freeze most of the bananas.  Frozen bananas are an excellent base for smoothies, taking away the need for ice.
With two bags of grapes, I might play around with some of the grilled or roasted grape recipes I have seen floating around the internet lately.  Or I might freeze them for a cool summer snack.  Yes, I know some of you are preparing for fall, but it was 115 degrees here yesterday.
Today's basket count for $16.50:
-9 bananas
-1 cantaloupe
-2 bags green grapes
-6 nectarines
-7 pears
-7 roma tomatoes
-1 bunch broccoli
-2 heads romaine lettuce
-18 small golden potatoes
-16 green chiles
-5 ears corn
-1 bag carrots
As always, if you have any recipe ideas from this haul, please share in the comments!
2 Reminders:
If you haven't read about the auction to benefit Jennifer Perillo, please read and bid here.  Auction ends August 31st.
If you haven't voted for me (@InspiredRD) in this Top 50 list, please take a few seconds to do so. Thank you for your support! Voting ends August 31st.