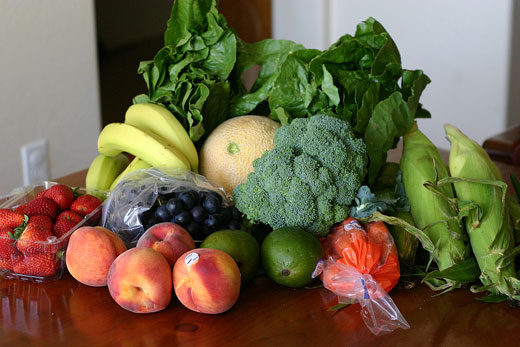 We haven't been able to order a Bountiful Basket for a few weeks now.  During that time, our daily intake of fruits and vegetables has decreased significantly.  Not having that basket of fresh produce at the beginning of a new week really puts a cramp into our healthy eating lifestyle.  Because of that, I was thrilled to get a basket overflowing with goodies this morning.  The best part?  My parents picked it up and delivered it straight to my door so I wouldn't have to wake the kids up early.  Thanks Mom and Dad!
This morning's haul for $16.50 included:
-1 pint strawberries
-4 large peaches
-2 mangoes
-1 bag black grapes (I had to throw part of it away because of mold)
-7 bananas
-1 cantaloupe
-1 bunch broccoli
-2 giant heads romaine lettuce
-5 ears corn
-1 bag carrots
So what can I do with all of it?  Here are a few ideas…
Salad with strawberries, peaches and goat cheese
Broccoli Stir Fry with Ginger and Sesame 
And if you ordered a bag of green chiles this week, check out my tutorial for how to roast and freeze them here.
Be sure to come back tomorrow for this month's Recipe ReDux post!  I'll give you a hint…it's a refreshing version of my favorite morning drink.
Have a great Saturday!