It's Saturday morning, the air has a hint of coolness to it, and I am sitting here pretending that it will feel like fall today.  The windows are open, a breeze is blowing through the house, and tomatoes and garlic are roasting in the oven.  I probably have another hour before I have to close the house up again and turn on the air conditioner.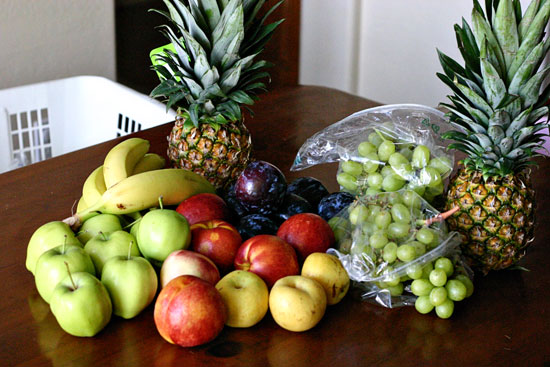 Today's Bountiful Basket haul was nice and colorful with lots of variation.  I had a hard time fitting it all into one picture, so I split up the fruits and vegetables.  The tomatoes in the top photo are from the tomato on the vine add-on that was offered this week.  I split an order with my parents, so that is half of the 13-lb box.  I was happy to see that they are the organic Wholesome Harvest brand because I am always happy with their tomatoes.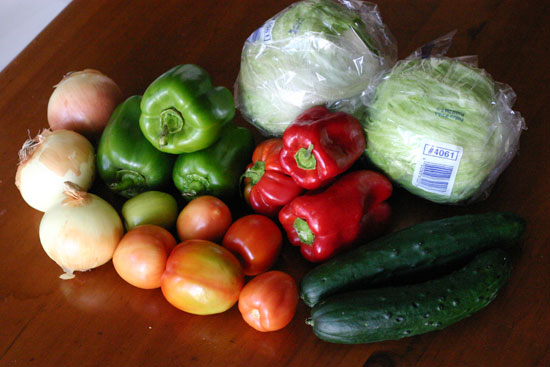 This week's $15 contribution yielded:
-1 pineapple (+1 because my parents volunteered)
-2 bags green grapes
-4 large nectarines
-1 organic white nectarine
-6 bananas
-8 golden apples
-3 asian pears
-6 plums
-3 green bell peppers
-3 red bell peppers
-2 heads iceberg lettuce
-3 yellow onions
-5 pale roma tomatoes
-2 cucumbers
What will you make with your haul this week?  How about some roasted tomato basil soup?  This recipe calls for 10 tomatoes because that's how many I used, but you could easily adjust the amounts of the ingredients for more or less tomatoes.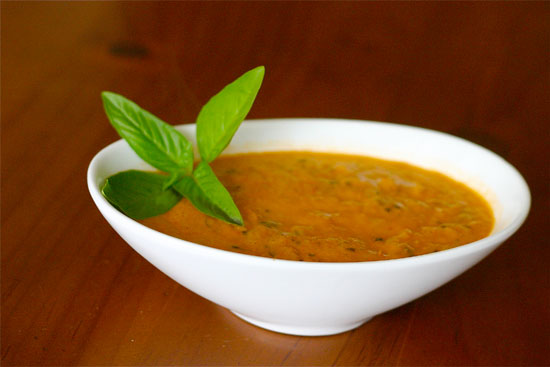 Ingredients:
-10 tomatoes, quartered
-10 cloves garlic, peeled
-½ cup olive oil
-¼ cup balsamic vinegar
-salt
-¼ tsp. black pepper
-1½ cups fresh basil leaves + a few extra for garnish
-¾ cup yellow onion, chopped
-1½ cups cold water
Directions:
Preheat oven to 500 degrees. In a large bowl, mix tomatoes, garlic, ¼ cup of the olive oil, balsamic vinegar, ¼ tsp. salt, and pepper. Spread onto a large foil-lined baking sheet. Roast for 35 minutes. Remove and set aside.
Heat a large saucepan over medium heat. Add remaining ¼ cup oil, chopped onion and ¼ tsp. salt. Cook 8-10 minutes until onions are soft, then add basil leaves and cook for additional 1 minute.
Add roasted tomatoes and water to saucepan. Bring up the heat and simmer for 10 minutes. With an immersion blender, blend the mixture until very smooth. Season with salt and pepper to taste. Serve immediately with basil leaf garnish. If you don't have an immersion blender, you can ladle the mixture into a standard blender and return blended mixture to the saucepan.
Enjoy!