I hope you had a fun Halloween! Our started out a little rough when Leila woke up sick. She ended up sleeping most of the day, waking up to drink and eat small snacks. While she was on her third nap of the day, Joe and I snuck out to the pumpkin patch.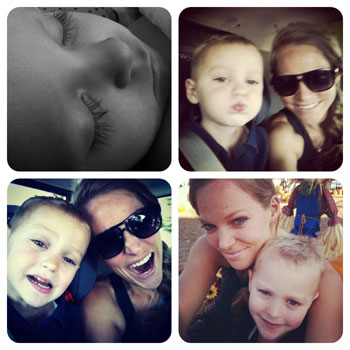 He had been looking forward to going since last year when he had braved the gigantic pumpkin slide in misty weather. Unfortunately, we didn't know the rules about having to wear socks on giant slides.  So while we waited for Nanna to run and get Joe a pair of socks (thank you Nanna!), we checked out the small petting zoo.  The best part was watching Joe touch the pig and then jump out of his flip-flops as the pig whacked him with his tiny tail.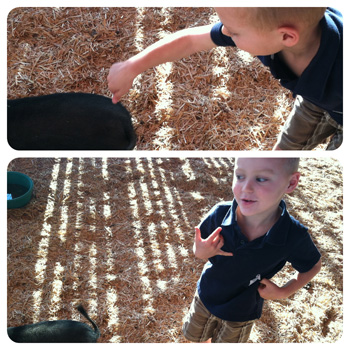 Finally, with a pair of oversized socks on his little feet, Joe made his way up the inflatable ladder.  For a few seconds, he paused at the top and questioned his bravery.  Then he took the plunge.  After mastering the pumpkin slide, Joe took on the smaller slide and obstacle course.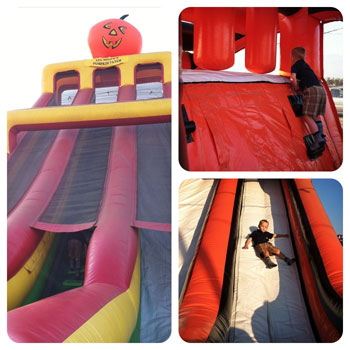 We came home to our sweet girl who mustered up enough energy to go trick-or-treating for a little bit.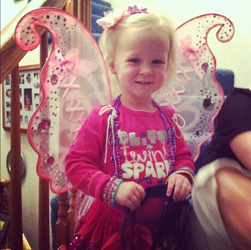 Joe was more than ready to go.  He had told me for months that he wanted to be a pirate for Halloween.  Then last month he changed his mind and decided to be Thomas again after finding last year's costume in his closet.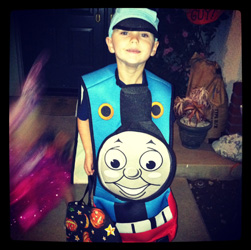 We came home and enjoyed a few treats.  I checked out the gluten-free candy list to see what I could indulge in.  I don't have a giant sweet tooth for most of the year, but on October 31st, someone better hand me a Butterfinger bar.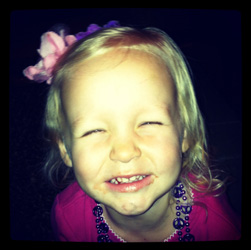 In case you were wondering, YES we do let our kids have candy on Halloween.  They each pick out a few candies to eat.  Then for the rest of the week, they get to pick out something from the candy dish as a dessert after dinner.  After that, the candy is gone. While we like to celebrate Halloween, there is no reason to let the candy celebration stretch all the way until Christmas.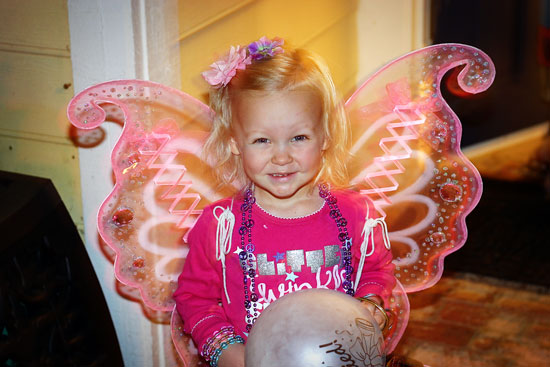 Does your family have "candy rules"?  We had a conversation about the topic on Facebook, and I would love to hear your take.  Leave a comment!
I hope your Halloween was boo-tiful!