Did you ever have a pen pal growing up? I remember having a few, and I loved sending and getting letters and gifts in the mail from a new friend from across the country. That's why I thought the handmade gift exchange sounded like so much fun.
The Handmade Gift Exchange is set up by Linda of Craftaholics Anonymous.  After signing up, I was paired with a partner named Emmalie.  She would make me a handmade gift, and I would make her one.  I found out that Emmalie is a high school student from Missouri.  She is apparently NOT a procrastinator like me, and sent my gift within a week.  I was excited to open up the cute package to find a sweet quilted wristlet.  Don't you love the colors?
I asked Emmalie if she liked anything in particular from my Etsy shop, and she pointed out my Vintage Meets Modern hoop.  I took the same fabric, and paired it with some pretty trim from a damaged vintage table runner.  The top of the trim is embroidered to the fabric, but the bottom is free to flutter.  I think it turned out pretty, and I hope she likes it!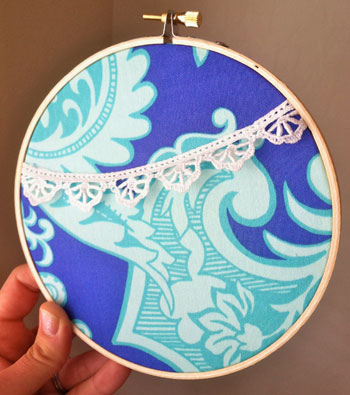 Did you ever have a pen pal?
Do you get crafty around the holidays?