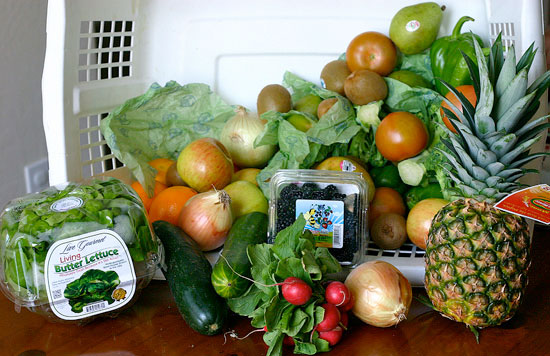 This morning, while the house was still asleep, a couple of Christmas elves snuck our Bountiful Basket into the kitchen (thanks Mom and Dad!).  The bounty was overflowing, but for some reason it was missing the gingerbread kit that we had ordered.  We also missed out on the persimmons that most locations seemed to get.
What we did get was very colorful, here's the rundown:
-1 pineapple
-1 butter lettuce (living lettuce with the roots still attached)
-1 bunch radishes
-2 cucumbers
-4 broccoli crowns
-4 green peppers
-3 yellow onions
-5 tomatoes
-4 oranges
-5 Fuji apples
-5 D'anjou pears
-15 kiwi
-1 pint blackberries
Based on the basket, I have a few ideas for next week's meal plan including stuffed green peppers, roasted broccoli, spicy cucumber salad, tropical chicken lettuce wraps (made gluten-free and with pineapple).
Does anyone have a fun kiwi recipe to share?  We love to eat them plain, but since we have 15 of them, it might be fun to try a new recipe.  Let me know in the comment section!
After putting our basket away, we got busy decorating our small noble fir.  We thought about not getting a real tree this year, but we just couldn't help ourselves.  Ahhhh, it smells so good!
Hobbs always seems to wonder why in the world we put a live tree in our house each winter.  Thankfully he leaves it alone aside from an occasional sniff.
What are you making from your Bountiful Basket this week?
Do you have your Christmas tree yet?