A Bountiful Basket and Some Pinteresting Words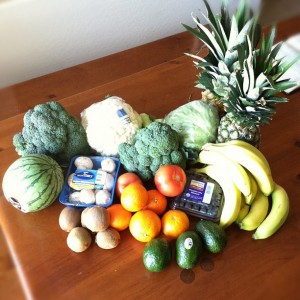 I woke up this morning to find a beautiful assortment of fresh fruits and vegetables sitting in my kitchen.  Our Bountiful Basket fairy dropped them off while we were still asleep (thanks Dad).  This is the biggest haul we've had in a while, and I am overjoyed at the variety.  We got broccoli, cauliflower, lettuce, mushrooms, tomatoes, tangerines, avocados, bananas, pineapples, kiwi and blueberries all for only $16.50!  Such a deal.  If you haven't checked the Bountiful Baskets website in a while, make sure to take a look.  They are expanding across the country at an incredible rate, and there might be a pick-up location near you.
Bountiful Baskets also joined Pinterest this week which I love because they are posting all kinds of recipe ideas.  The recipes are separated by the main produce item, so it's easy to find what you're looking for.  Go check it out!  If you still need a Pinterest invite, let me know and I will send you one.
Speaking of Pinterest, I have been finding some wonderful motivation on there lately and wanted to share some of it with you.  Here are a few of my favorites from my "Words" board.
Do any of those resonate with you?  Which ones?
Do you have any favorite sayings from Pinterest?  Leave me a link, I would love to check them out!
Happy Weekend!