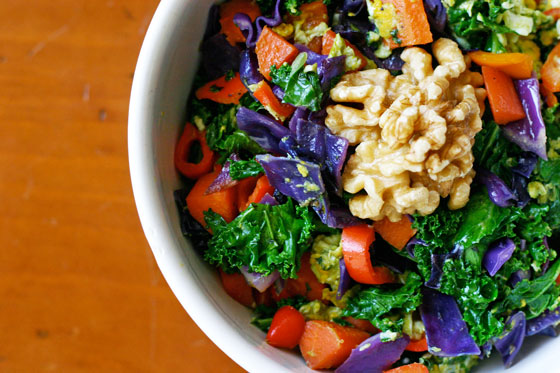 Last week, the California Walnut people asked me if I would like a bag of their walnuts.  Free walnuts?  Yes please!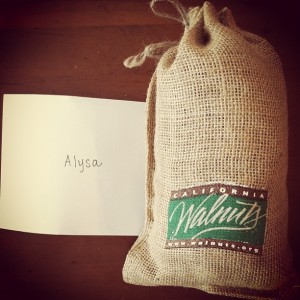 A few days later, I had a big bag of fresh walnuts, hand-packed and tied up in a cute little burlap bag.
For breakfast, I tossed together some vanilla So Delicious coconut yogurt with fresh strawberries and walnuts.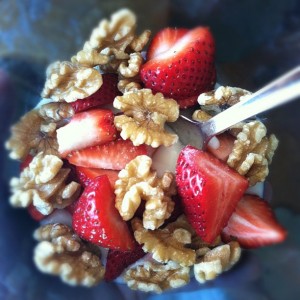 It was a delicious way to start the day, and the protein and healthy fat kept me full all morning.
In case you haven't noticed, I have been trying to get my lunch plate as colorful as possible lately.  Sometimes this means making a snack plate with fruits, veggies, and hummus.  Other days, I chop up whatever veggies I have on hand and saute them in coconut oil.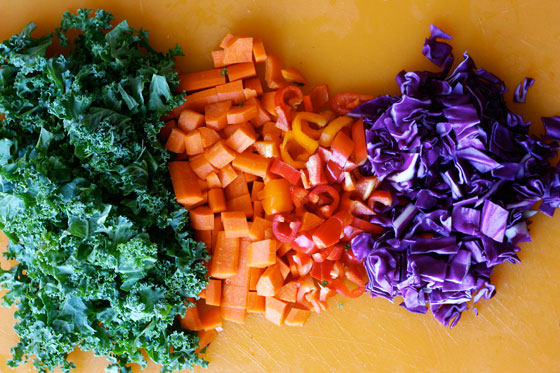 One day last week, I did my saute thing, then threw an egg in the mix and made something like fried rice, without the rice.  I topped it with some freshly grated nutmeg and a few walnuts, and wow!  It was my favorite lunch of the week.
Using fresh nutmeg is easy.  Just get the whole nutmeg (it's really cheap if you buy it from the bulk spice section of your store) and grate it with a microplane.  I like to use nutmeg whenever I'm working with dark greens because it adds an interesting layer of flavor.  It's a trick I learned from Rachael Ray many years ago.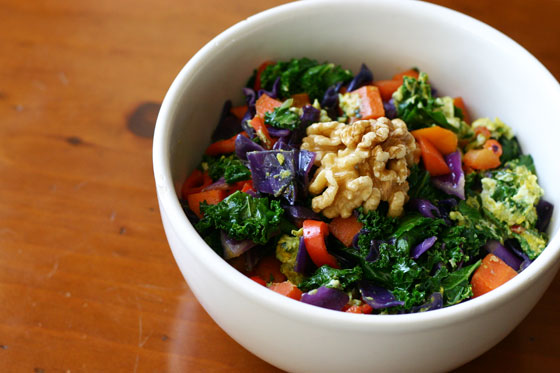 At the end of the week, I was running sadly low on walnuts.  I made a plea to the California walnut people on Twitter to see if they might want to give me a lifetime supply.  They replied saying they were happy I enjoyed my walnuts.
I guess that's a "no"…
Question of the day: What do you usually eat for lunch?
Grain-Free "Fried Rice" with Walnuts
Ingredients
1 Tbsp. virgin coconut oil
3 stems kale, washed, trimmed and chopped
1 bell pepper, diced (or 4-5 mini bell peppers)
2 carrots, diced small
1 cup diced purple cabbage
1 egg
Pinch of salt
½ tsp. freshly grated nutmeg
¼ cup California walnut halves
Instructions
Place a large pan over medium heat (no higher than medium if you are using coconut oil). Add coconut oil.
Add carrots to pan and saute 2-3 minutes. Add cabbage, peppers and kale, and saute for 3-4 more minutes until veggies are bright with color and a little softened.
Crack egg directly into pan, let it cook for 1 minutes, then use a spatula to break the egg up and toss with vegetables.
Remove pan from heat, and sprinkle salt and nutmeg over vegetable and egg mixture.
Serve in a large bowl topped with walnuts.