Navigating the supermarket aisles as a new celiac can be overwhelming. Where do you start? What should you look for? Holy moly, this gluten-free food is expensive!
I'll be telling you about how I shop tomorrow, but first I thought we should get some expert advice from a grocery store dietitian.  Leah McGrath is the dietitian for Ingles Markets, and calls herself a "friend to gluten-free".  Read on to learn more about gluten-free grocery shopping.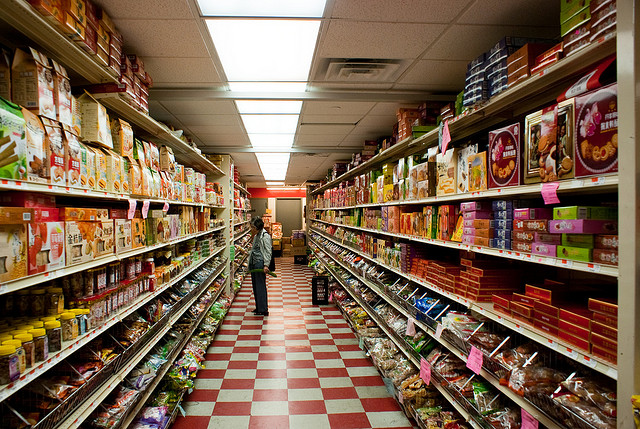 What does it mean that you are a "friend to gluten-free"?  It means that though I don't have celiac disease or gluten intolerance I consider it a part of my job as a supermarket dietitian for Ingles Markets to help these consumers and be an advocate so we can offer the gluten-free products they are looking for.
How did you become interested in the gluten-free diet?   Though as a dietitian I had always been aware of celiac disease and a gluten-free diet; about six years ago I started working with a local (Asheville and Hendersonville NC) support group and conducted a store tour for them.  I quickly became aware of the challenges this community faces on a daily basis.
How has grocery shopping changed over the years for those who have to be gluten-free?  I can speak to our stores… In our supermarket we started tagging gluten-free products about six years ago and incorporated a gluten-free section at about the same time.  We now have an inventory of almost 1700 gluten-free items and we are constantly striving to bring in better quality gluten-free products at competitive prices.  Overall the quality, taste and price of gluten-free products has improved, especially with major manufacturers like General Mills offering gluten-free products. It is also good to see many manufacturers focus on the nutritional quality of gluten-free items by enriching and fortifying as well as using "ancient grains" as a better nutritional option.
What should gluten-free shoppers look for?  I think they should shop first for products that are naturally gluten-free like fruits, vegetables, beans, meat/chicken/fish, eggs and cheeses and then  look for gluten-free options for grain based items like bread/cereal/pasta etc to try and pick those options that have the best nutritional profile.
Do you have any advice for new celiac patients on their first trip to the grocery store?  Before you go to the store… get connected with a local support group (www.gluten.net) and get information from reliable sources like Canadian Dietitian, Shelley Case (www.shelleycase.com) or a knowledgeable registered dietitian in your area or the National Foundation for Celiac Awareness (www.celiaccentral.org) .
What are some common myths that you hear about gluten-free and celiac disease? 
I hear:
-that there's no reason to be tested first – just go gluten-free and if you feel better stick with it.
-if you have no GI (gastrointestinal symptoms) it's not celiac disease
-that you can be "low gluten"or "cheat" on a gluten free diet if you have celiac disease.
Do you think that gluten-free groceries are more expensive than regular groceries?  What would you tell people who are on a limited budget and need to stay gluten-free?  Sometimes yes, gluten-free products do cost more.  I think when individuals are newly diagnosed they tend to buy up a bunch of gluten-free food that sometimes they wouldn't even normally eat like bread, cookies, snack items etc.  I would encourage them to focus on foods that are naturally gluten-free as the basis for their meals and then supplement with gluten-free items like the grain based ones as needed.  It helps to have cookbooks to give them ideas on how they can bake with gluten-free flours or make substitutions in cooking to create healthy gluten-free meals.
Is there anything else you would like to add?  I think it is so, so critically important to be tested for celiac disease or gluten intolerance before you go gluten-free. It's also key to have a knowledgable physician and be referred to a registered dietitian and to be a part of a support group.  The individuals with celiac disease and gluten intolerance that I see that seem to be living the most healthy lives are the ones who are part of support groups and take charge of their diet and become informed by reading and attending classes.
Leah McGrath is the Corporate Dietitian for Ingles Supermarkets, a regional chain of 203 stores, based in Black Mountain, NC. Leah has worked for Ingles for 12 years and previously worked as a WIC and Nutrition Director in South Carolina and a dietitian in the US Army. She has degrees in both Human Nutrition and Speech Communication, certification in Health Promotion and has credits towards a Master's in Marketing. Leah appears on television regularly, writes articles for several regional publications, hosts a radio program "Ingles Information Aisle" weekly, operates Facebook and Twitter (@InglesDietitian) accounts for Ingles and her own (@LeahMcGrathRD) and also conducts store tours and does presentations for the public.