When I found out that this month's Recipe ReDux theme was titled "Sea What You've Been Missing" I knew I was in trouble.  We were instructed to use little fishes like anchovies, sardines or smelt, OR we could focus on sea vegetables like kelp or seaweed.  Now, you would think that I would I would be pretty good at this kind of challenge since I've studied Japanese, traveled to Japan, and adore sushi.  But I've never really made any of these things myself.
I was tempted to buy one of those dried seaweed snack packages that you find at Trader Joe's and sprinkle it over popcorn (it's yum, you should try it), but I was afraid that would be cheating.
Then I thought, let's buy a tin of sardines.  So I did.  And it's still sitting in my pantry.
One thing I know I can handle is a sheet of nori seaweed.  That's the stuff they use to roll sushi.  My parents have taken sushi making classes in the past and have given me a few lessons.  I know I like the flavor of nori, but what to do with it?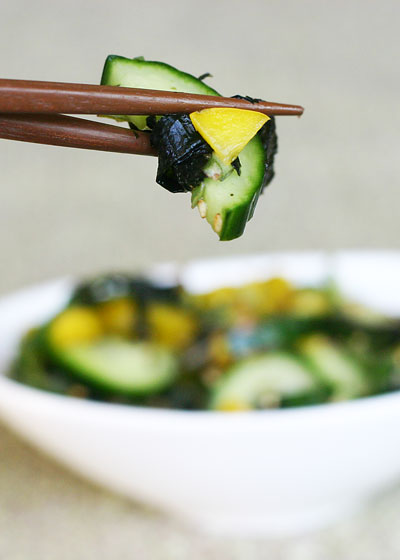 I was planning to make a purslane cucumber salad this week with the purslane I scored from the Agritopia Farm Stand.  Why not change things up and make a purslane cucumber seaweed salad?  I threw in a yellow bell pepper for color, and you know what?  The salad turned out delicious!  After taking approximately 903 pictures of it (that's how many you have to take to get a few good ones), I devoured the entire bowl.
I know that I probably lost some of you when you heard the word "seaweed" and probably even more of you with "purslane", but for those who are sticking around, this dish only takes a few minutes to put together and is perfect for a fresh summer salad.
Be sure to check out the rest of the Recipe ReDux posts below. I can't wait to see what everyone came up with!
Hopefully someone will tell me what to do with the sardines.
Purslane Cucumber Seaweed Salad
Ingredients
1 cup purslane, finely chopped
1 english cucumber, halved and thinly sliced
1 yellow bell pepper, finely diced
5 sheets nori seaweed, cut in half lengthwise, then cut into ¼" strips
1 Tbsp. rice vinegar
1 tsp. dark sesame oil
2 tsp. toasted sesame seeds
¼-1/2 tsp. black sea salt (to taste)
Instructions
In a large bowl, combine purslane, cucumber, bell pepper and nori seaweed strips. Stir to combine.
Mix rice vinegar and sesame oil in a small bowl, then pour over salad.
Add sesame seeds and salt. Mix and serve or chill.
');
// ]]>