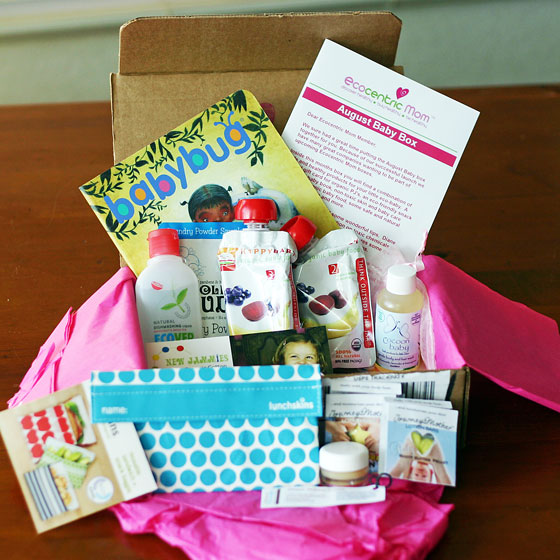 It's time to show you what came in my Ecocentric Mom box this month!  I was informed that I would be getting a Baby Box instead of a Mom Box this time around because the Mom Boxes had sold out.  So if you are hoping to sign up for September, you should go do it now before they sell out!
I was excited to see what comes in a baby box, even though my kiddos are past the baby stage.  There was a great assortment of organic and eco-friendly products to try.
-Ecover Natural Dishwashing Liquid
-Enfusia Cocoon Baby Wash
-Molly's Suds Laundry Powder
-JourneysMother Baby Booty Butter Pellets
-Baby Bug Magazine book
-Lunchskins Reusable Snack Bag
-$10 Gift Card for New Jammies 100% Certified Organic Sleepwear
-Natural Newborn Diaper Defense Cream
-Happy Baby Organic Baby Food (2 pouches)
I was especially intrigued by the Baby Booty Butter Pellets.  There was a pellet for diaper rash, and a pellet for sunscreen.  You put them in your hands, and they are warmed by your body heat so you can rub them onto baby's skin.  So cool!  They make them for moms too and were included in the August Mom Box.
I also loved the snack bag.  Such a great way to carry snacks without all the waste of plastic bags.  Plus, it can be cleaned in the dishwasher which I think is a huge bonus.  I really need to order some of these.
As always, the box came with coupon codes for all of the products and expert tips on going green and getting fit.  I gave my box to a good friend who has two sweet babies at home.  I know she'll love trying everything out!
If you want to sign up for an Ecocentric Mom Box, click here.   They also make great gifts!
Ecocentric Mom is now on Facebook, so make sure to "like" the page for updates and giveaways!
Disclosure: I am a paid expert with Ecocentric Mom.