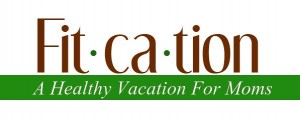 On Thursday morning I will be flying out of Haboob City to Los Angeles for Fitcation 2012.  Fitcation is a non-conference meetup for the community leaders of Mamavation.  I can't tell you how excited I am to finally meet these gals in person!  I've been the dietitian for Mamavation for two years now and have developed such a love and respect for this community, but I've never met any of them in real life.  I'm anticipating lots of hugs, intense workouts, amazing food, and plenty of blushing from me.  Yep, I'm definitely the shy one of the group.  I'm sure it will be fantastic!
On Friday night, we will be heading to Leah's house for dinner, and I will be the chef.  I'm teaching a cooking class!  How fun is that?  We will be cooking two entrees, two salads, and two snacks.
Here's the rest of our schedule:
Thursday, August 16th:
2:00pm to 5:00pm – Check in to the Four Seasons Hotel.  Dole Foods is paying for our swanky rooms, hooray!
5:00pm to 7:00pm – Settle in to hotel room, unpack, change, etc.
7:00pm – Pajama party and catered dinner in @Bookieboo's suite.  We will be having food from a local Greek restaurant and SIP Organic Paso Robles vineyards wine. (For those of you who don't know, Leah Segedie "Bookieboo" is the creator of Mamavation, and the one who makes me blush the most, ha!)
Friday, August 17th:
7:00am to 8:00am – Getting our butts kicked by Fit Body Boot Camp.
8:00am to 9:00am – Shower and change
9:00am to 12:30pm – Breakfast and tour/demonstrations at Dole Headquarters
1:00pm – Lunch at Subway with motivational speaker Joshua Medcalf
3:00pm to 4:30pm – More Dole demonstrations and education.
6:00pm – Heading to @Bookieboo's house for my cooking class and wine from Sip the Good Life
10:00pm – Back to hotel
Saturday, August 18th:
7:00am to 8:00am – Hoopnotica fitness class (I expect lots of laughter as we all do our best hula-hooping moves)
9:00am – Meet in the lobby, grab breakfast get on the bus
9:00am to 5:00pm – Sightseeing all of Los Angeles. Lunch while we're out.
6:00pm to 8:30pm – Dinner in a private room at Marrakesh Morrocan Restaurant with belly dancers, sponsored by Leading Lady Bras.
9:00pm – Back to hotel.
Sunday, August 19th:
7:00am – Last Fitness Class – yoga by Kia
8:30am – Breakfast at Subway
9:30am – Time to leave!
As you can see, Leah lined up some amazing sponsors.  Word is, we are getting so much swag (including brand new New Balance tennis shoes) that we need to pack an empty suitcase to get it all home.
Oh, and there is also talk about hair chalking…I might come home with some blue or purple streaks…I'll keep you posted.
I'm getting excited, time to go pack!