I've told you before that the thrift store is one of my happy places. So when a few bloggers threw out the idea of participating in a thrift exchange, I was in!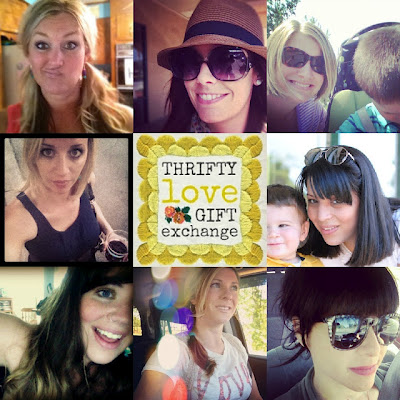 Once we were partnered up, our mission was to find out what floats the boat of our fellow blogger and find some thrifty treasures for under $10.  I was paired up with Gretchen from That Mama Gretchen.  Gretchen is a thrifting super star.  We took a quick look around each other's blogs and Pinterest boards and decided we have similar tastes.  After confirming our love of vintage pillowcases through a quick email, we were ready to shop.
Gretchen has an 18-month-old daughter and another little one on the way, so I was excited to find two Curious George books in good condition.  We love George!  I also scored on vintage pillowcases, finding four.  Last, I found a gorgeous and incredibly soft scarf that I thought would be perfect for fall.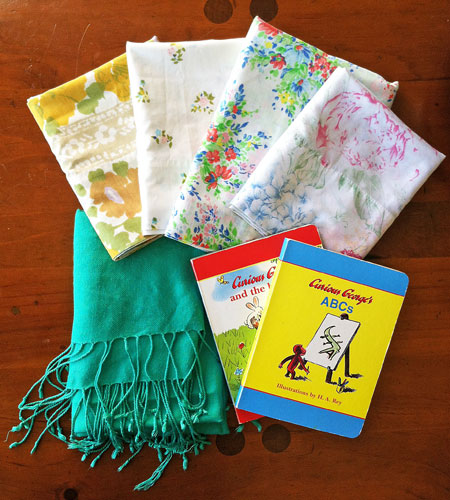 My grand total for these 7 items was $7.50.  Not bad!
I was pumped to see what Gretchen had found for me.  Apparently she had found some luck at an estate sale.  Wrapped in brown paper (that I later used as a background for this recipe shoot – how's that for thrifty?) I found these beauties.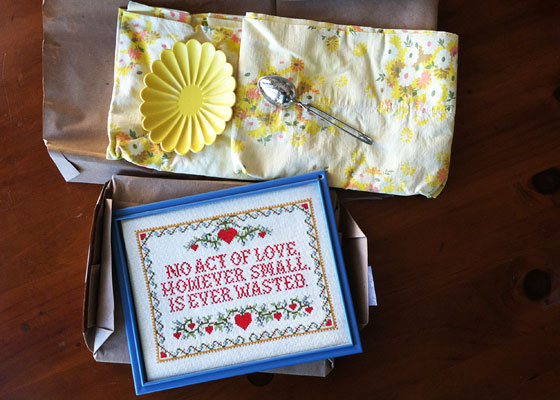 I love that we sent each other vintage pillowcases.  I also love this cute little spoon for loose leaf tea.  There is a tea vendor at the Gilbert Farmer's Market that I will have to visit on Saturday!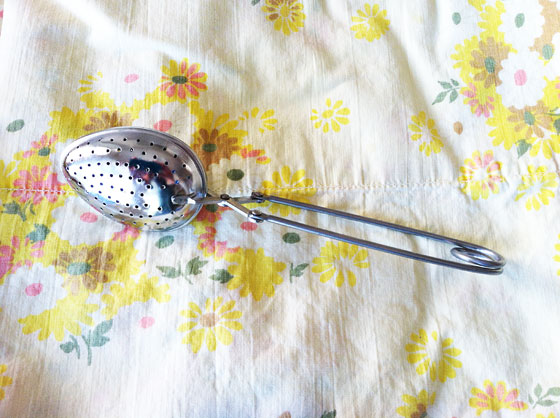 I'm also digging this cute little flower plate.  It's perfect for serving nuts or olives.  And the color is oh-so-vintagey.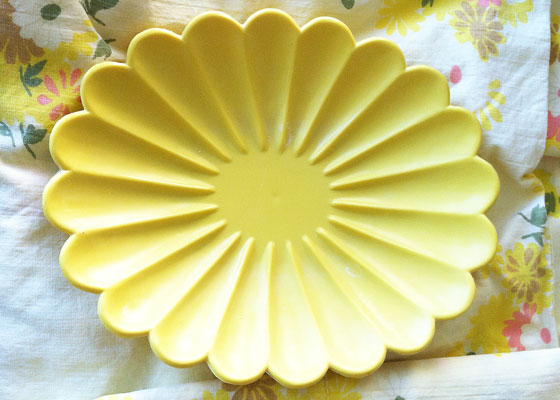 But my favorite part of the package was this cross stitch.  I have a deep love for anything stitched, and cross stitch holds a special place in my heart because I'm a third generation cross-stitcher (you can see some of my work in my Etsy shop).
The saying is absolutely perfect, and I hung it up on the wall next to the photos of our sponsor children from Ethiopia and the Philippines.
I would definitely call this thrifty exchange a success, and I can't wait for the next one!  Thank you hannah, sarah, jami, stephanie, heather, esther, carina, and danielle for setting it up!