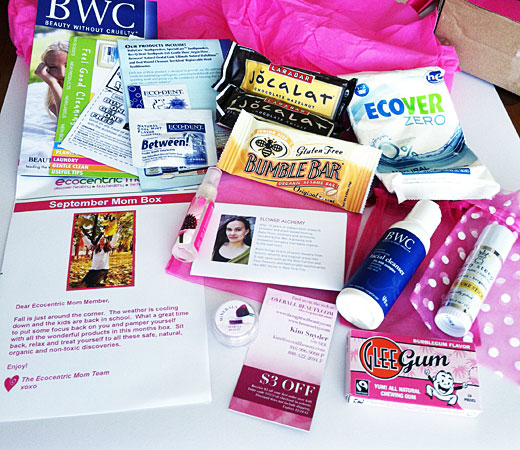 This month's Ecocentric Mom box was packed with goodies!  I am loving the natural makeup and skin care samples, and Larabars are my favorite.  I'm going to take them with me when I fly to Fresno tomorrow for the California Raisins Harvest Tour.  One of the new flavors is Chocolate Coffee.  Chocolate + Coffee?  Yes please.
I'll also be packing some of my other samples from July, August and September because they are the perfect size for my carry on.  Joe and Leila gave two thumbs up to the Glee Gum.  As baseball kids, they are already expert gum-chewers although I can't say the same for their seed spitting skills (it's not pretty).
Here's what came in the Mom Box this month:
-Ecover Natural Laundry Powder ZERO
-BumbleBar Original Peanut Junior Bar (gluten-free)
-Glee All Natural Chewing Gum (gluten-free)
-Lotus Wei Joy Juice Mist
-Beauty Without Cruelty Facial Cleanser (gluten-free)
-Eco-DenT Oral Care (gum is gluten-free, not sure about powder)
-Overall Beauty Minerals Eye Shadow (has no fillers so should be gluten-free)
-LaraBar Organic Jocolat Bars (gluten-free)
-Deep Steep's Full Size Moisture Stick (checking gluten-free status)
-Special Offer from Plenty-Full (Coupon)
I'm excited to check out the full line of Plenty-Full stainless steel containers, especially since I'm packing so much of my own food these days.
As always, the box came with coupon codes we can use to order more of the products we like as well as tips from the healthy living experts on removing toxic chemicals from your environment and when to choose organic.
If you're interested in signing up for your own Ecocentric Mom subscription, click here.  You can choose from a mom, mom-to-be, or baby box.  Shipping is always free.  They also make great gifts!
Find Ecocentric Mom on Facebook
Disclosure: I am a paid expert with Ecocentric Mom.