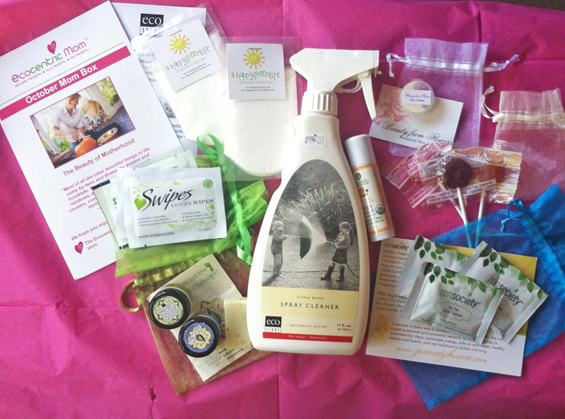 I'm always excited when I see my Ecocentric Mom box arrive in the mail.  It's like opening a big present full of little presents.  Hand wrapped in pink tissue and organza bags, a collection of new eco-friendly products to try.  So much fun!
This month brought a pleasant surprise in the form of a full sized bottle of ecoSTORE cleaner.  I decided to take it for a test drive through my house, using it to clean every room.  I am happy to report it smells fresh in a citrusy kind of way and cut through grease and dirt including the dreaded ring around the tub.  When I went to the ecoSTORE website to poke around, I was shocked by how low their prices are.  Definitely a brand worth looking into.
Another item that stuck out to me this month was the Native Touch Green Foot Challenge Set.  The "Green Foot Challenge" was put together especially for the Ecocentric Mom box and came with a small bar of mountain mint soap, a sample of blue corn sugar scrub, and a sample of rooting bear rub.  The challenge was to use the samples on one foot (choose your favorite) to make the other foot turn pea green with envy.  I plan to take the challenge tonight!  (Although…how do you go about choosing a favorite foot?)  The other cool thing about this company is that their packaging is embedded with daisy seeds so you can plant them instead of throwing them away.  How cool is that?
And then of course I was happy to see the YummyEarth lollipops.  We've been enjoying those for years and actually have a 10 lb. bag of them in the pantry already.
Here's the full list of what came in the Mom Discovery Box this month:
-ecoSTORE USA All Purpose Cleaner (17 oz bottle)
-Beauty From Flowers Day Cream sample (gluten-free)
-Swipes Lovin Wipes (gluten-free)
-YumEarth Organic Lollipops (gluten-free)
-A Happy Green Life Laundry Wash
-Native Touch Green Foot Challenge Set (gluten-free)
-Zen Society's Tea Tree Facial Cleanser (gluten-free)
-Organic Indulgence Body Balm (gluten-free)
-ecomom $15 Gift Card
As always, the box came with coupon codes we can use to order more of the products we like as well as tips from the healthy living experts.  This month we talked about choosing non-toxic home cleaning products and why to avoid GMOs.
If you're interested in signing up for your own Ecocentric Mom subscription, click here.  You can choose from a mom, mom-to-be, or baby box.  Shipping is always free.  They also make great gifts!
Find Ecocentric Mom on Facebook
Disclosure: I am a paid expert with Ecocentric Mom.