If you've ever met me, you might know I tend to geek out a little bit when it comes to local food.  In fact, you might even call me a farm groupie.  There's just something about knowing where your food comes from and having conversations with the people who grow it.  Imagine my delight when we moved to Gilbert and I found out we were a quarter of a mile down the road from an organic farm.  Score!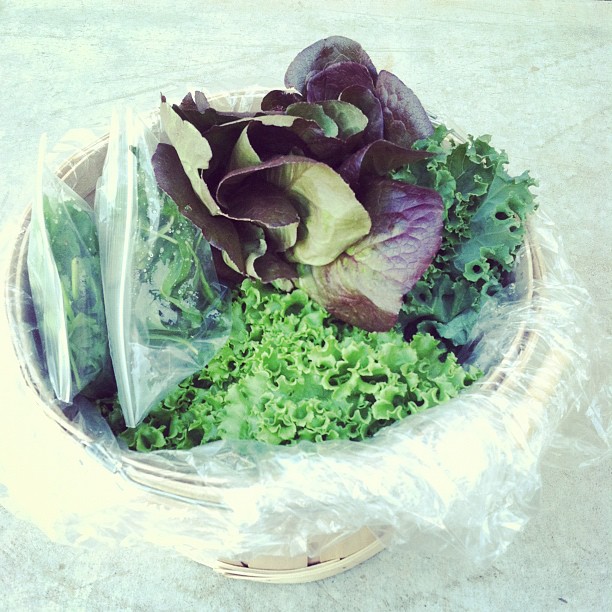 The kids and I visit the farm frequently, getting our hands dirty on u-pick days, buying fresh produce out of the honor-system cooler, and chatting it up with the farmer and his family.  This week, we were thrilled to get our first CSA basket.  Turnips, two kinds of lettuce, kale, basil, cilantro, icicle radish, and some kind of small citrus (lemons or limes?).
I knew I wanted to make pesto with the basil, but I hate spending a fortune on pine nuts.  I had a bag of hazelnuts on hand and thought they would make the perfect substitute.  I whipped this pesto up in a few minutes using my Blendtec blender, but you could make it in a food processor too.  Mine happens to be broken, along with my camera.  As I wait for my new camera to arrive, and put the food processor on my Christmas wish list, I hope you'll enjoy my iPhone photos.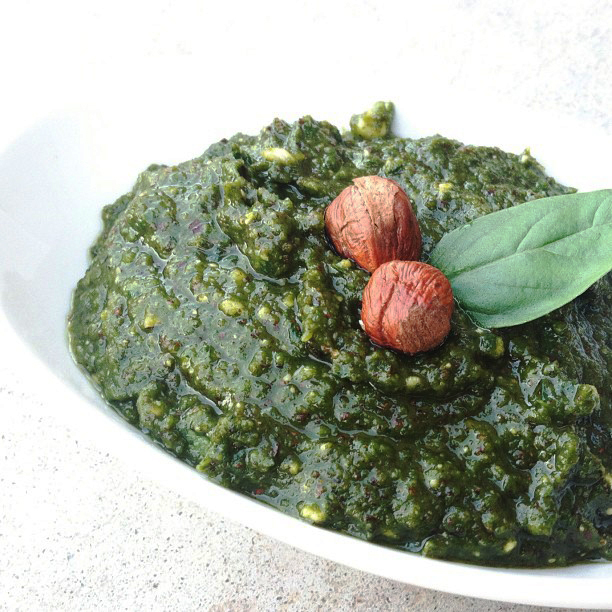 Use this pesto on pasta, atop scrambled eggs, as a pizza sauce, or tossed with pan-seared potatoes like I did.  Whatever you do, just make it.  I would offer you some of my leftovers, but I don't want to.  The pesto is just too good.
Hazelnut Basil Pesto
Prep time:
Cook time:
Total time:
A new twist on pesto.
Ingredients
½ cup olive oil
1 clove garlic, cracked
3 loose cups fresh basil
½ cup hazelnuts
¼ tsp. salt
¼ tsp. black pepper
Instructions
Blender instructions: Add oil, garlic, and basil to blender and push basil down into oil and secure lid. Pulse 6-8 times until basil is roughly chopped. Add the remaining ingredients in order listed and secure lid. Pulse until you have a coarse puree texture (about 4-6 times). Refrigerate up to 3 days.
Food processer instructions: In food processor, add all ingredients except olive oil. Mix until finely chopped. While processor is running, add oil through pour spout. Refrigerate up to 3 days.