Do you ever go to Target for a box of diapers and end up coming out with a whole new bedding set, a pair of jeans, and a new lamp?  Yeah, me neither.
Here's the thing.  Whether I'm a good steward of my money or not, I still have to spend some to get by.  Even if I stick to my budget in a way that would make Dave Ramsey proud, I still have to buy the not-so-exciting stuff like food, pull-ups, and deodorant.
So what if a percentage of what I'm already spending could go into a giving fund automatically?  And what if I got to choose a project for that money to go to?  And what if my friends could join in too, and collectively our spending could go farther to help those in need?
I give you Pure Charity.  Please watch this one minute video to get a grasp on this ridiculously genius concept.

Pretty cool, right?  I can't think of a reason not to sign up (hint, hint).
So here's how you do it:
1. Sign up for a Pure Charity account.  The easiest way to do this is through Facebook, but you can sign up the old fashioned way if you want to.
2. Install the browser plugin.  When you're shopping with one of the participating vendors online, this will cause a "pure charity" box to pop up so you can see just how much is going into your giving fund as you shop.  It also gives you a list of coupons to use while you're shopping.
3. Register your credit/debit cards with Pure Charity.  This is so cool.  Every time you use that card at a participating vendor's store, a percentage of your purchase automatically goes into your giving fund.  Shopping at Target?  Money in your giving fund.  Walmart?  Automatic.  Gap?  Best Buy?  West Elm?  Apple?  Money in your fund.  Money you get to choose where to direct.  So cool!
4. Browse the projects.  This is the hard part.  There are SO MANY amazing projects out there.  Global, local, water, AIDS, education, you name it.
5. Support a project.  Each project is time specific, so if it doesn't get fully funded in time, the money will go back into your giving fund.  If it's a project you are super passionate about, invite friends and family to join in with you!  You can start with as little as $5, then add to it as you spend money at participating vendors.
6. Share Pure Charity with friends!  Follow each other, form groups, get passionate about this great concept.  If you have a blog, make sure to download a project widget.  This is too great not to share!
I was excited to back my first project today.  Inspired by Jen Hatmaker (who seems to have a knack for lighting a fire under my feet), I'm helping fund the Legacy Project that is building schools in Haiti.  You can read more about it here.
As we enter into the holiday season, would you consider signing up for this FREE service that will harness some of our spending for good?  Before you spend another penny?
Thanks.  I knew you would.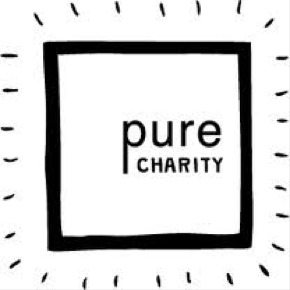 Sign up for Pure Charity here.  Don't forget to follow me so I can follow you back!