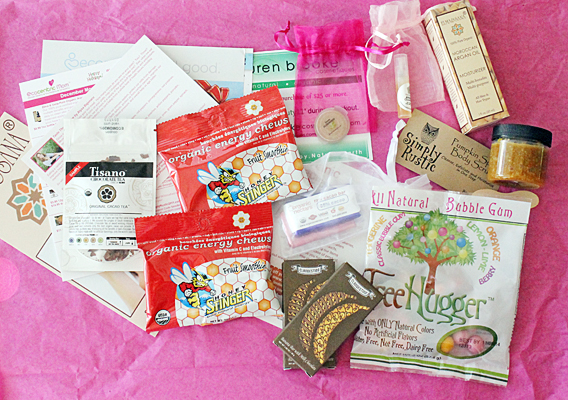 In the middle of all of the holiday craziness, wrapping and packages, I was happy to see the bright pink tissue paper announcing the arrival of my Ecocentric Mom box.
Here's what we got this month!
-Honey Stinger Organic Energy Chews – Organic, gluten-free and they actually taste really good!  Perfect for a big training day or race.
-Clandestino Milk Chocolate Banana Bar – Unfortunately not gluten-free (may contain traces of wheat), but a very cool product. The only ingredients are fresh banana and non-GMO chocolate.  A tasty way to power up!
-Organic Nectars Raw Cacao Bars – Hand crafted from raw cacao, certified organic, gluten-free, GMO-free and refined sugar-free.  Oh, and did I mention delicious?  Especially if you are a dark chocolate fan.  YUM!
-Elma & Sana Organic Argan Oil Moisturizer – Perfect for my dry desert skin, I'm using it on my face and hands.
-Golden Path Alchemy Awaken Cleanser – Holistic, organic cleaner. Haven't tried it yet, but sounds promising. Checking on gluten-free status.
-Lauren Brooke Cosmetiques Bronzer – Just what I need for my pale winter skin!  Gives a nice glow.
-Tree Hugger All Natural Bubble Gum – I love the taste of this gum, but it sticks to my fillings.  I keep it in my purse for the kids though, it's nice to have an all natural gum to give them!
-Simply Rustic Pumpkin Spice Body Scrub – I expected a little more of a pumpkin spice smell to this scrub, but it did leave my hands feeling smooth and well moisturized.
-Tisano Organic Chocolate Tea – I haven't tried this yet, but what a cool concept!  All the benefits of pure cacao beans without the calories.
We also received special offers from Kids Konserve and Green Kids Crafts.
I had fun taste-testing and beauty-testing my way through this box.  Have you ordered yours yet?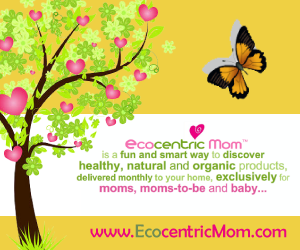 If you're interested in signing up for your own Ecocentric Mom subscription, click here.  You can choose from a mom, mom-to-be, or baby box.  Shipping is always free.  They also make great gifts!
Find Ecocentric Mom on Facebook
For All Canada Moms…because Ecocentric Mom only ships within the US, they have teamed up with a brand new subscription box company based in Canada.  This new company only ships within Canada.  If you live in Canada and would like to receive monthly eco-friendly mom and baby boxes, please visitwww.LittleEcoFootprint.com to sign-up and tell them Alysa sent you.
Disclosure: I am a paid expert with Ecocentric Mom.