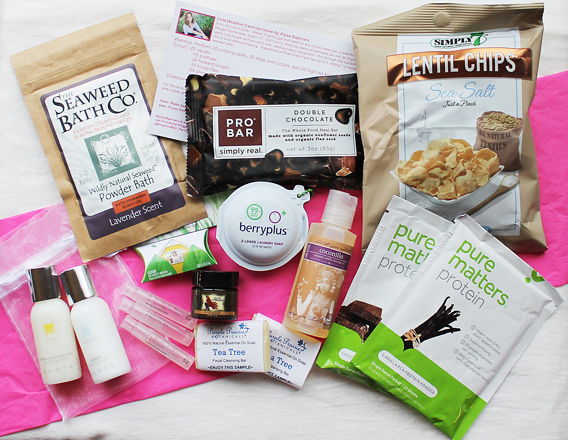 This month's Ecocentric Mom box was full of goodies!  Here's what we got…
– Zents 5 Piece Set
As someone who is highly sensitive to perfumes, I was excited about this set that included three natural scents (mandarin, pear, and ore).  I think the pear is my favorite!
– JAMU Coconilla Massage Oil
Oooh la la…smells amazing!
– Simply 7 Snacks Lentil Chips
Contains gluten-free ingredients, but NOT safe for celiacs.  The kids enjoyed them.
– Pure Matters Pea Protein Chocolate and Vanilla
Only 4 ingredients, gluten-free, 25 grams protein per serving, sweetened with stevia and sugar alcohols (caution: sugar alcohols may cause upset tummy and bloating in certain people).
– Celtic Complexion Cream
I've been using this cream for a few months now (I was sent a sample a while back) and love how it hydrates my skin naturally without clogging it up.  Visit the EcoMom Facebook page for 25% off until Thursday.
– PROBAR Meal Bar
Quality ingredients, unfortunately not gluten-free so the rest of the family did the taste-test and gave it two thumbs up.
– The Seaweed Bath Co. Lavender Powder Bath
Excited to try this on Joe's alligator skin.
– Shaklee Basic H20 Organic Super Cleaning Concentrate
A teeny tiny bottle that makes 2 spray bottles worth of cleaner!
– Purple Prairie Botanicals Tea Tree Bar Soap
Supposed to be good for acne.  Very strong-smelling!
– Berryplus Laundry Soap
I'm always amazed at natural laundry soap in concentrated forms.  This one requires only 2 ml of liquid per load.  Talk about eco-friendly!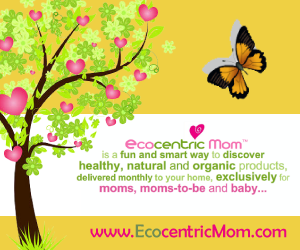 If you're interested in signing up for your own Ecocentric Mom subscription, click here.  You can choose from a mom, mom-to-be, or baby box.  Shipping is always free.  They also make great gifts!
Find Ecocentric Mom on Facebook
For All Canada Moms…because Ecocentric Mom only ships within the US, they have teamed up with a brand new subscription box company based in Canada.  This new company only ships within Canada.  If you live in Canada and would like to receive monthly eco-friendly mom and baby boxes, please visitwww.LittleEcoFootprint.com to sign-up and tell them Alysa sent you.
Disclosure: I am a paid expert with Ecocentric Mom.