Chances are by now you've seen the epic video of Kid President challenging us to "Do something to make the world awesome."  My favorite part (well, second favorite to "Not cool, Robert Frost!") is when he says, "I'm on your team.  Be on my team."

A good teammate doesn't come in and take over, right?  That kid gets kicked in the shins.  A good teammate doesn't sit on the sideline and hide their eyes either.  That kid might as well have stayed at home.  A good teammate comes alongside his other teammates and says, "We're in this thing together."
Right now, there are teams in Uganda working hard to resurrect clean water wells that were abandoned and sabatoged by the LRA.  Water is life, and these communities are working desperately for it.
Lira, Uganda – Teamwork from Blood:Water Mission on Vimeo.
Now, we have a chance to be on their team.  Why don't you join us?  I'm coming alongside Blood:Water Mission to take their 40 Days of Water Challenge, and I'm inviting you to come along too.
What do you have to do?  It's simple, really.  Drink only water for 40 days.  Anything you would have spent on other drinks, you donate to help build clean water projects for communities in Uganda.  It's that easy.  Oh, and you get to cheat on Sundays (woohoo!).  And really, who doesn't need to drink more water?  I'm sure it fits in with your "get healthy" goals, so why not do something good at the same time?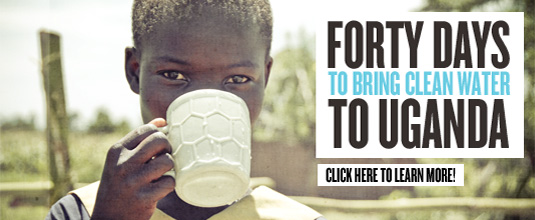 If you're like me and can't imagine giving up your morning coffee, I have a separate challenge for you.  In addition to donating for other drinks you would be purchasing, go ahead and drink your coffee, donating double each time.  So if you buy a $3 cup of coffee, donate $6.  Make sense?
And here's the shocking truth.  $1 can give 1 person clean water for a lifetime.
A lifetime.
Don't be the kid who hides their eyes.  Join our team.  Make a difference.
Give water, give life.
Sign up for the 40 Day Water Challenge here.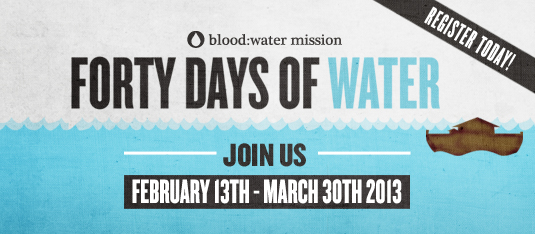 "What will you do to make the world awesome?  Nothing if you keep sitting there!" – Kid President