I remember the first time I set out to make my own pesto. I had seen TV chefs make it for years, and it seemed pretty simple. Plus, pesto is yum, and I wanted to eat more of it.
I headed to the store and grabbed a bunch of basil and a hunk of parmesan. Two pricey items if you're not at Trader Joe's. Then I set out to search for pine nuts. My hand reached for the tiny bag and instantly recoiled as my eyes took in the price. Holy cow, pine nuts are expensive!
But come on, I love pesto. I need pesto in my life.
That's when I learned a very valuable lesson. Greens + nuts + oil + parmesan (or nutritional yeast now that I'm dairy-free) = pesto. Any greens and nuts combo will work. Oh thank goodness!
Now I make pesto out of whatever greens I'm overloaded with in the garden, or whatever sounds good when basil isn't in season. And I grab whatever nuts I have in the cupboard whether it be pecans, walnuts, pistachios or almonds. And sometimes, sometimes I'll splurge for pine nuts.
Nutritional yeast substitutes well for parmesan cheese. I get the nutty flavor without the dairy (plus some B vitamins).
Lately we've been a little overloaded in the beet department. If you're able to buy beets with the greens still attached, DO IT. The greens are delicious in many ways whether you saute them, chop them up for salad, or make pesto.
I've found when I make pesto with a veggie top (beet greens, carrot tops), it turns out a bit spicy with deep flavor. I ended up tossing this beet greens and pecan pesto with some gluten-free pasta, and Joe absolutely gobbled it up. The next day, we dunked cold leftover chicken into the leftover pesto, and YUM.
So make your own pesto. Get creative and crazy with it. It's easier, and cheaper than you think.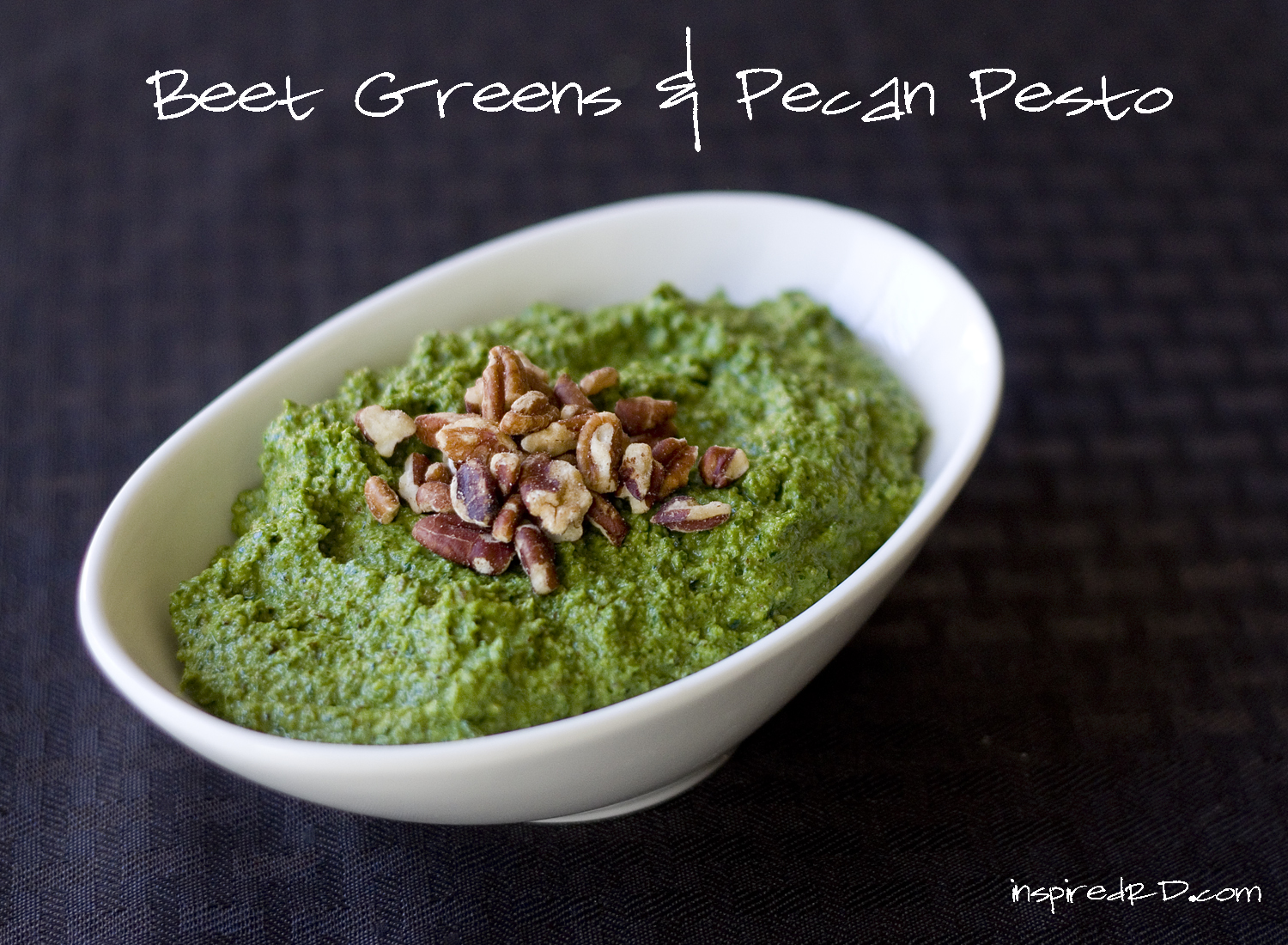 Beet Greens and Pecan Pesto
Recipe type:
Appetizer, Dip
Prep time:
Cook time:
Total time:
Pesto is easy to make, and can be inexpensive too!
Ingredients
4 cups beet greens, stems removed
2 cloves garlic
½ cup toasted pecans
3 Tbsp. nutritional yeast (or parmesan)
salt and pepper to taste
2-3 Tbsp. olive oil
Instructions
Place beet greens, garlic, pecans, and salt & pepper in a food processor. Pulse until well combined. With the processor running, stream in olive oil until pesto thoroughly pureed. Add nutritional yeast (or parmesan) and puree for 30 seconds. Serve immediately or store covered in the refrigerator for up to 2-3 days.
Have you ever made your own pesto?  What's your favorite combination?