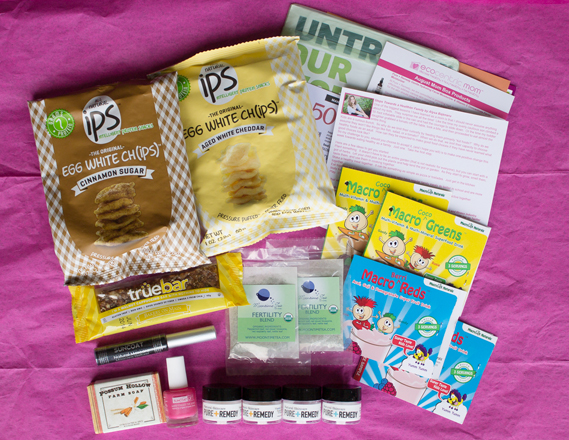 Pure + Remedy Gentle Hydrating Facial Moisturizer & Vitamin C Concentrate Facial Moisturizer  – Safe, non-toxic holistic skin care.  I like the weight of the gentle hydrating moisturizer, not too light and not to heavy.  I'm excited to see if the Vitamin C moisturizer will have any effect on my dark spots (of which I have many).
Possum Hollow Farm Soap – Hand made in small batches by a family-owned business, Possum Hollow are all natural and developed to be gentle on all skin types.  They also offer lavender and vanilla soaps for baby.
Suncoat Sugar Based Natural Mascara and Suncoat Girl Nail Polish – If you're looking for a mascara free of synthetics, fragrance, parabens and alcohol, this one fits the bill.  I tried it on my lashes, and after a few coats, I was happy with the result.  Definitely a product I will use.  The nail polish is water-based and a little thin for my liking, but it's a perfect polish to for Leila to play around with.  She can have pretty nails without the harsh chemicals found in regular nail polish.
Moontime Tea's Organic Fertility Blend – Red raspberry, nettles, red clover and peppermint (all organic) blended into a caffeine-free tea that has been used since ancient time to support reproductive function.  I'm not looking for a boost in fertility, but the blend does sounds delicious.
ips All Natural Chips – The world's first snack chips made with egg white protein.  A combination of non-GMO corn, egg whites, and other natural ingredients, these crunchy chips have 7 grams of protein per serving, half the fat of fried chips, and fewer carbs than baked chips.  They are also gluten-free.  The kids and I tried the cinnamon sugar flavor and thought they were great!
Untrash Compostable Bags – Untrash's mission is to rid the world of plastics and unnecessary waste with YOU and Mother Nature in mind.  If you've ever thought about composting (or even if you haven't), go check out how they are making it easy and even inspiring!
Truebar by Bakery on Main – Gluten-free, non-GMO, kosher, dairy and casein-free, these bars have nothing to hide.  I was already a fan of these bars, especially the walnut cappuccino flavor.  Made with low-glycemic ingredients and 5% chia seeds, these are a great bar to stick in your bag for a mid-day snack.
MacroLife Naturals Coco Greens and Berri Reds Nutrient Rich Super-Foods – A powdered supplement you can mix into milk or water for children's supplementation.  Full of vitamins and probiotics, this is a healthy alternative to chocolate milk or juice.  Joe and Leila did the taste-testing and gave it two thumbs up.
$10 Gift Card for The Keeper or The Moon Cup – Innovative internal feminine hygiene products.
$5 Instagrad Gift – A college savings plan for your kids that is easy to share with family and friends.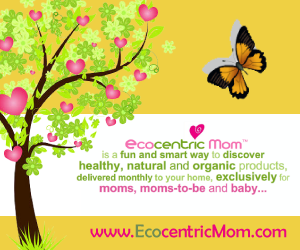 If you're interested in signing up for your own Ecocentric Mom subscription, click here.  You can choose from a mom, mom-to-be, or baby box.  Shipping is always free.  They also make great gifts!
Use code "ECOMOM10″ for 10% off a monthly subscription plan!
Find Ecocentric Mom on Facebook
Disclosure: I am a paid expert with Ecocentric Mom.