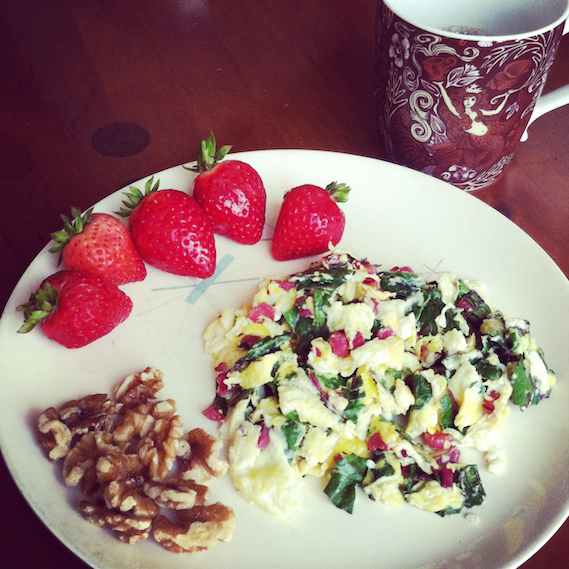 I've decided to hop back on the Paleo low-FODMAP eating plan.  (What are FODMAPs? Click here.)  This past month has been more down than up in terms of my health, and the worse I felt, the more lazy I became in my eating (which I'm sure made me feel even worse).  I was grabbing a bar for breakfast, maybe even a bar for lunch, scrounging for a dinner I wouldn't have to spend any time on.  In short, my diet had become mostly processed.
Yesterday was my breaking point.  I felt like I had been hit by a train, the heartburn wasn't going away, and my brain was a foggy mess.  Something had to give.
I had a chat with my friend Kate who is the leading authority on FODMAPs and she gave me a link to her updated shopping list.  (FODMAP research is changing all the time, so it's important to have the most recent information).  I grabbed the shopping list and headed to the store.  Kate agreed that I should follow her list but cut out the grains (for now), so I picked up fruit, veggies, meat and poultry and headed home.
Instead of stressing over meal-planning, I'm keeping it simple this time around by throwing meat (or chicken) in the crockpot, turning it on low, and eating on it for a few days.  Last night I had pork, carrots, and a few strawberries.  This morning I scrambled up some eggs with swiss chard, and added some strawberries and walnuts on the side.  I also re-stocked my probiotics and digestive enzymes (laziness had spread to my supplements as well).
I'm tired of being tired.  My friends are tired of me being tired.  My family is tired of me being tired.
Let's hope this eating plan helps.
To my celiac friends out there, when do you feel your best?  What kind of gluten-free diet do you follow?
Pin It