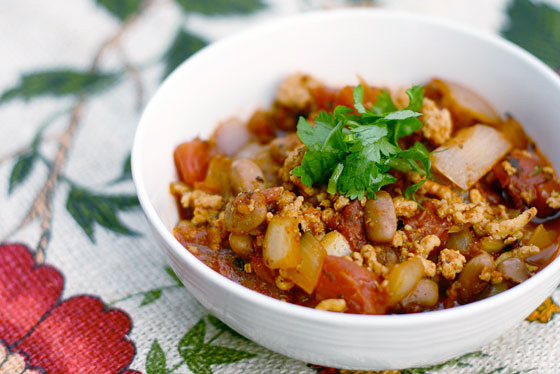 It's pouring rain right now.  POURING.  We keep looking out the window, mouths wide open, "It's still raining.  Can you believe it?  It's still raining!"
Rain means a break from the heat.
Rain means a preview of fall temperatures.
Rain means chili.
This is an older recipe, which means I haven't updated it for our paleo low-FODMAP month, but this would be easy to tweak.  I'll just take out the beans, onions and garlic, and leave off the cheese.  But you should leave them in if you can.  It's better that way.
This recipe comes together in only 30 minutes, making it perfect for a quick weeknight meal.
Enjoy the chili, I'm off to stare at the rain some more.

Easy Turkey Chili
It's 5 pm and you have nothing planned for dinner, what do you do? Grab some fast food? How about making your own fast food that is healthy and delicious? This chili recipe is easy enough to throw together in 30 minutes, and the whole family will love it. Keep the ingredients on hand for those crazy nights when you might be tempted to call the pizza guy!
Ingredients
1 Tbsp. olive oil
1 lb. ground turkey
1 yellow onion, chopped
3 cloves garlic, minced
2 cups water
28 oz. can diced fire-roasted tomatoes (I used Muir Glen)
2 cups pinto beans (I used some from my frozen stash, you could use 1 can if you want)
2 Tbsp. chili powder
½ tsp. paprika
½ tsp. dried italian seasoning
½ tsp. ground cumin
½ tsp. salt
½ tsp. ground black pepper
Optional toppings - cilantro, green onion, avocado, shredded cheese
Instructions
Instructions
Heat oil in a large pot over medium-high heat. Add turkey and stir until cooked through.
Add onions and garlic, stir and cook until tender, about 5 minutes.
Add water, tomatoes, beans and spices. Stir.
Bring to a boil. Reduce heat to low and cover. Simmer for 30 minutes or until ready to eat.
Serve with optional toppings.