It's almost Superbowl time, and you know what that means: Snacks and Commercials!
I don't know about you, but I'm hoping for more ingenuity and a lot less shock value this year.  (I'm looking at you, GoDaddy).
If you're short on time, but still want to impress your friends with a stunning appetizer, this tapenade with endive will do it.  It takes only a few minutes to whip up, and the endive leaves will have everyone oohing and aahing.
I've made this tapenade a few times, both with plain black olives and Kalamata olives.  They are both great, but I tend to prefer the clean and fresh taste the plain black olives give this dip.
If you've never worked with endive before, it's very simple.  Just rinse, trim the end, then separate the leaves.  As you get closer to the middle, you will trim a bit more off the end to release the leaves.  Continue doing this until they are all separated.
The endive leaves make perfect little dippers for the tapenade, and they look pretty arranged on a plate.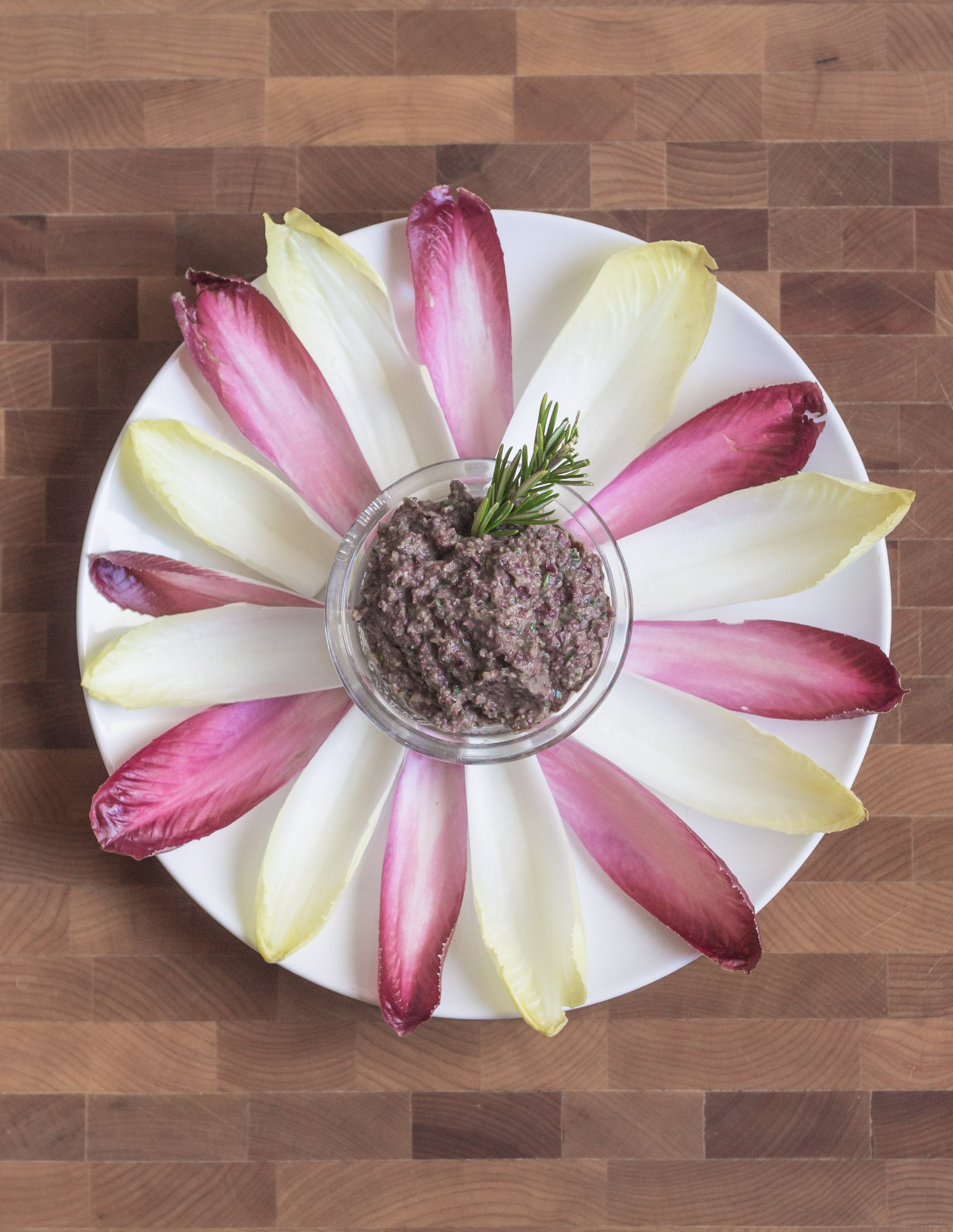 Olive & Garbanzo Bean Tapenade with Endive
Prep time:
Cook time:
Total time:
Make this quick and easy appetizer with black olives for a fresh taste or Kalamata olives for a tangy salty flavor.
Ingredients
1 can garbanzo beans, drained and rinsed well
1 cup pitted black olives (I prefer black olives, but you could use Kalamata olives for a tangier flavor)
¼ cup extra-virgin olive oil
¼ cup chopped fresh flat-leaf parsley leaves
2 tablespoons fresh lemon juice
1 tablespoon honey
1 teaspoon lemon zest
½ teaspoon chopped fresh rosemary leaves (optional)
¼ teaspoon salt
Fresh endive leaves for serving
Instructions
Blend all ingredients except endive leaves in a food processor until smooth. Serve with fresh endive leaves.
What is your favorite Superbowl snack?