We are a few days into homeschooling and the Whole 30. At first I thought we were crazy to start both at once, but I am appreciating the extra energy from the boost of whole foods. We are eating tons of vegetables, good protein, and healthy fats. I don't think I could have made it this week without this healthy food!
For breakfast, I've been eating one or two raisin nut bites and one or two hard-boiled eggs. For the first time in my life, I'm making perfect hard-boiled eggs every time. (Let me know if you want the recipe!)
For lunch, I make a different nourish bowl every day based on what we have on hand. I load up a bowl with greens, protein (usually leftovers from the night before or canned salmon), veggies, nuts, hemp hearts, sauerkraut, olives, and a drizzle of oil and vinegar or a splash of homemade vinaigrette. I love that I can get creative with my lunches, and they are so easy to put together!
For dinner, we have been cycling through some recipes from my Whole 30 Pinterest board. I also made some homemade mayo, so last night we had salmon salad in lettuce cups with lots of raw veggies and zucchini hummus.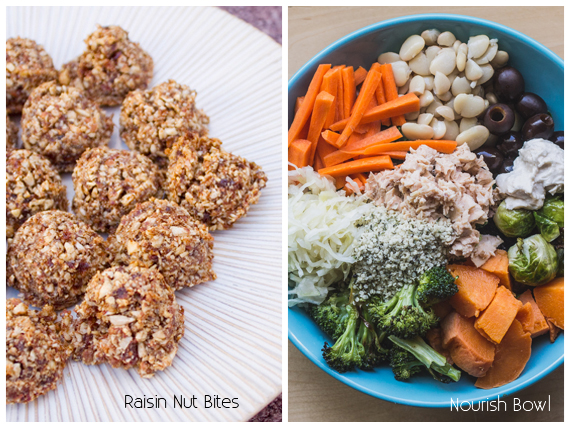 As for school, I felt like I was carrying a rock in my stomach for the first couple of days because WOAH RESPONSIBILITY. I think it just hit me that I AM THE TEACHER. I was so afraid to mess this whole thing up.
My fears and anxiousness were definitely rubbing off on the kids. The first two days were a bit stilted and forced. But by day three, the rock in my stomach got smaller (it's still there), and our days started to flow much better.
I think we are starting to find a rhythm, although I'm sure it will take some time before we feel fully "there" (that happens, right?).
So that's where we are. As I wade through these first few weeks of homeschooling, you will probably see less of me on social media. I'll still be around, I just won't be engaging quite as much.
It feels like it's time to button down the hatch and dive into whatever this is going to look like for our family in this season.
And I'm ok with that.