If I lived in a giant house I would have a craft room where the kids could go crazy and whip up wonderful designs and inventions all day long.
But I don't.
If I was Martha Stewart, I would have a perfect craft organizational system with color-coded bins. A place for everything, and everything in it's place.
But I'm not.
Until recently, these two limitations had me stuck. If I couldn't perfectly have it all, then I wouldn't even try.
And then I got over myself.
Last week I cleaned out our school supplies/craft closet and cleared out three new shelves. I took puzzles and activity boxes out of the kids' room that never get played with and put them at eye level.
I found random craft supplies that have just been sitting around and put them in piles and jars, inviting the kids in with glue, tape, and ribbons. We have an origami pile, a painting pile, jars of beads, sequins and thread.
I found an old wooden soda crate at an antique mall and filled it with things we already own, but are now within reach. Colored pencils, markers, tape, scissors, paint brushes.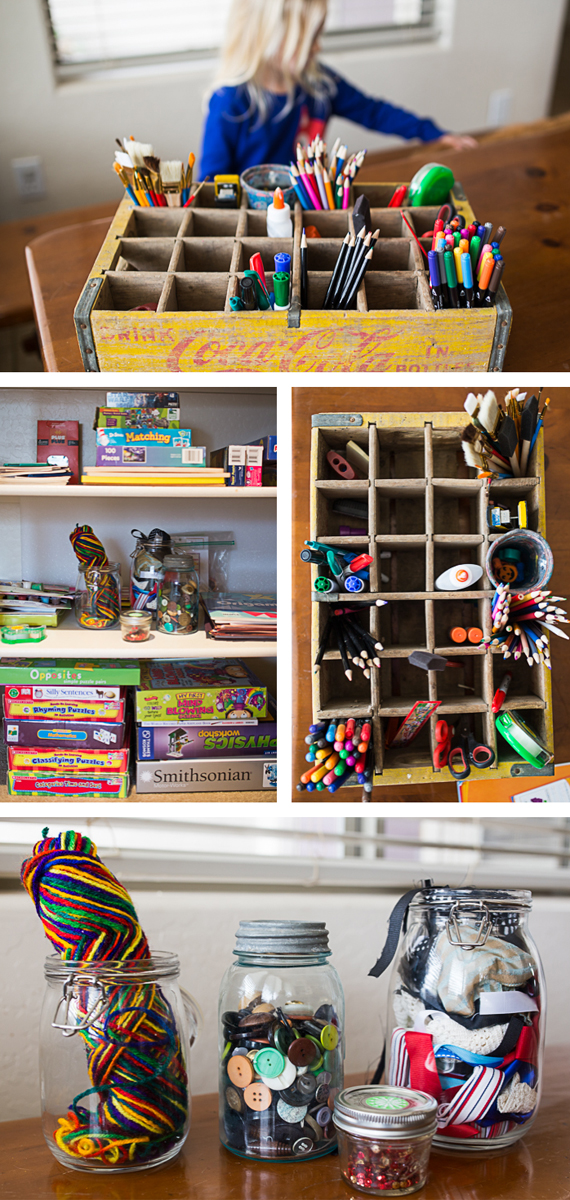 These aren't fancy organizational systems in a perfect craft room. I doubt these photos will be pinned millions of times. But so what? I am providing the opportunity for my kids to create and learn, and they are running with it.
My kids have created and experimented more in the past week than in the past year. And they haven't asked to turn on the television once.
Like anything else in life, I'm learning to stop waiting for the perfect scenario, and to just get started already. 
…
It's better that way.