I did a little food prep this afternoon. After whipping up some Roasted Sweet Potato Salad and Indian Spiced Chicken, I turned my attention to these cute little guys. I like to call them raisin nut bites but the Pinterest crowd likes to call them paleo energy bites. So as a sell-out to good blog traffic, this is what I will call them.
Our family doesn't necessarily eat paleo, but we do eat gluten-free because of my celiac disease. We do our best to stick with fresh, minimally processed foods whenever possible, and I find that the hardest time to stick with healthy eating is snack time. That's why I love to make a batch of these energy balls at the beginning of the week. They are perfect to grab on a hectic morning for breakfast or for a mid-afternoon snack.
Use this as a base recipe and modify it to your taste. I used raw almonds and macadamia nuts this time around, but you could mix any kind of nuts you like. Try raw sunflower seeds for a nut-free version (perfect for school snacks).
I prefer to bake my paleo energy balls, but you could easily leave them raw if you're short on time or just don't want to mess with the oven.
Here's how to make them:
First, soak 2 cups of raisins in hot water for ten minutes.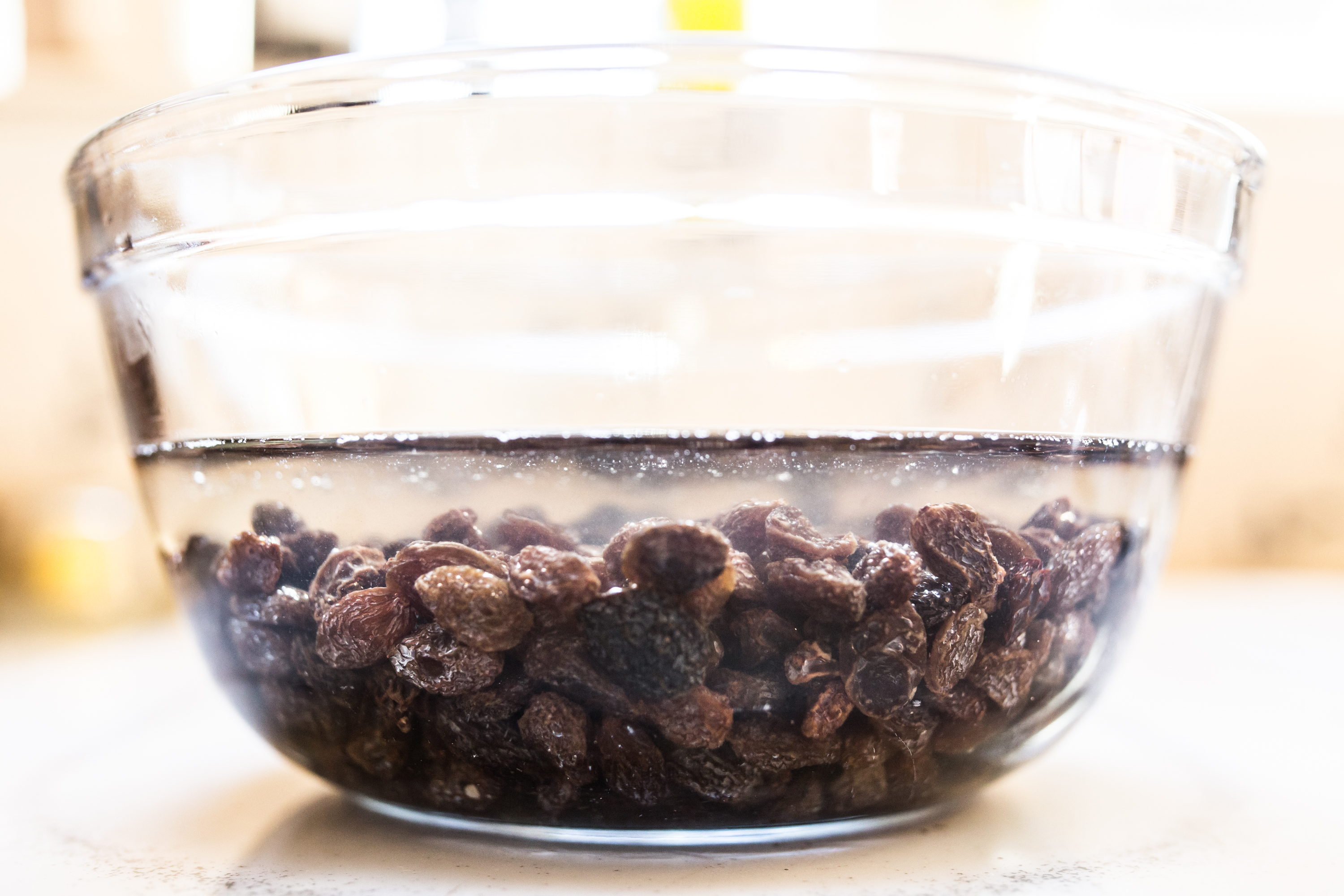 Drain the raisins and add to a food processor bowl. Add two cups of nuts or seeds, 1/4 tsp. cinnamon, 1/4 tsp. Celtic sea salt, 1 Tbsp. chia seeds (optional).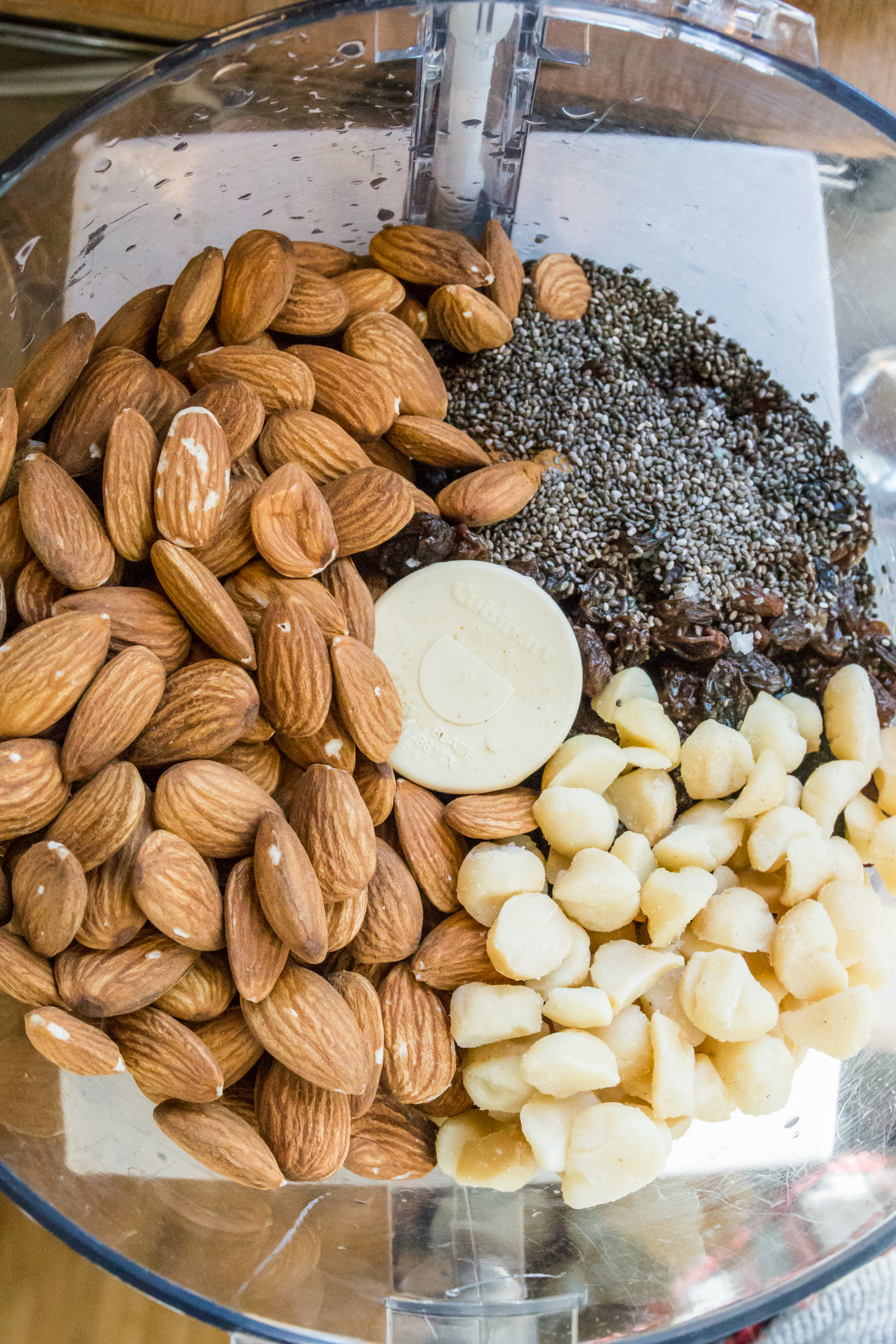 Pulse until everything is well combined. Your mixture should look like this.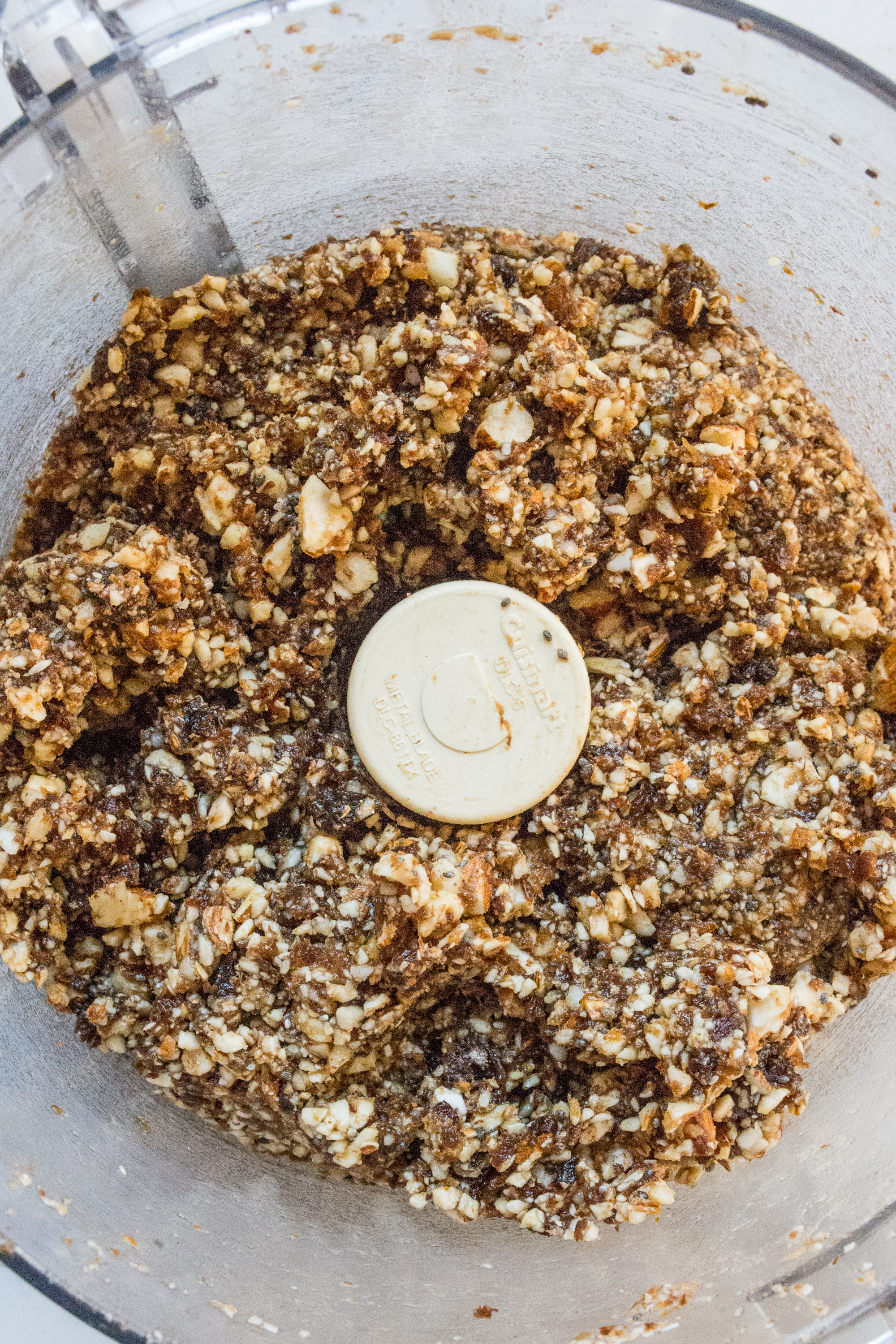 Using your hands, shape the sticky mixture into one-inch balls.
Voila! You're done. Easy, right?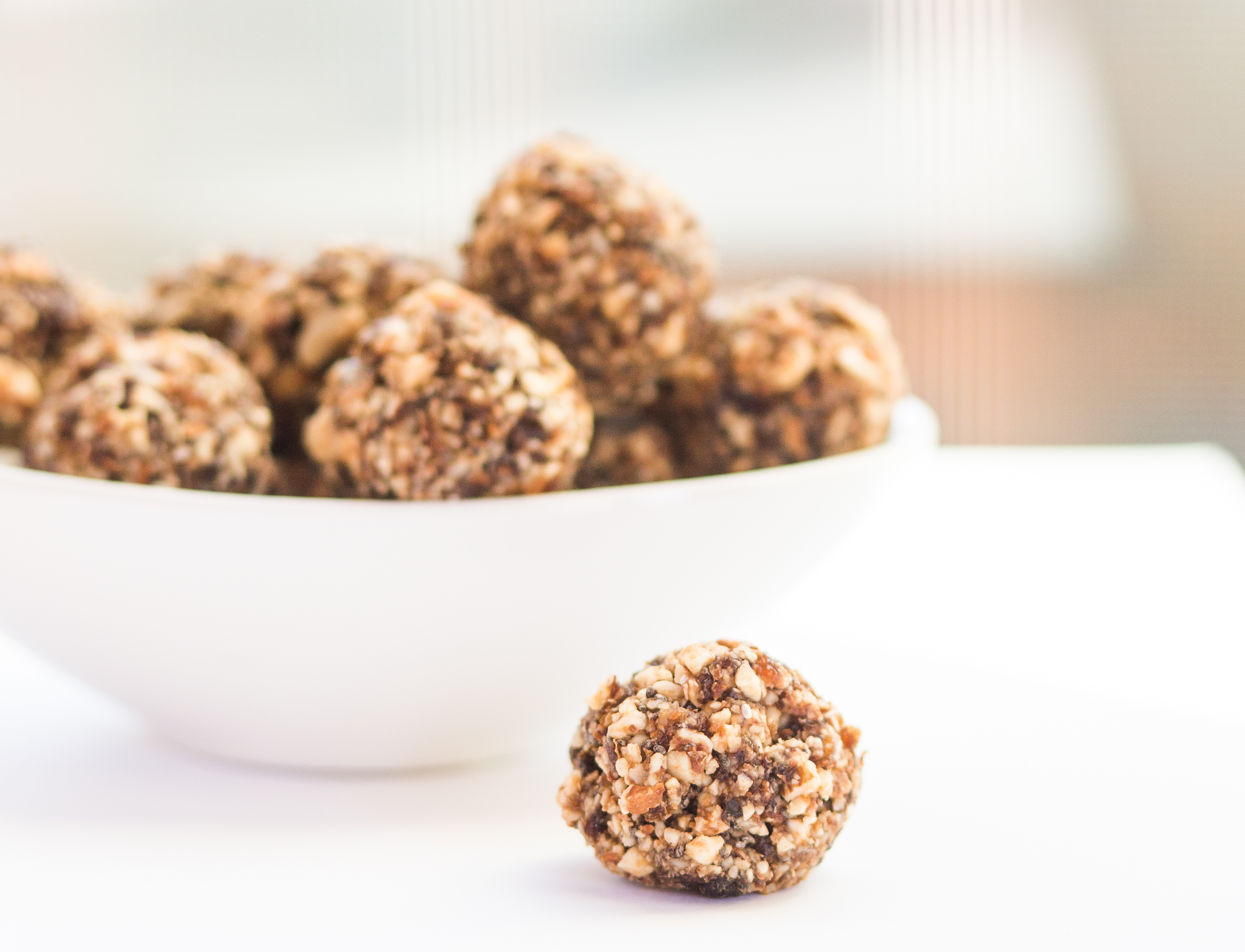 Optional: Bake at 350-degrees for 15 minutes.
Store in an airtight container for up to 5 days (they won't last that long).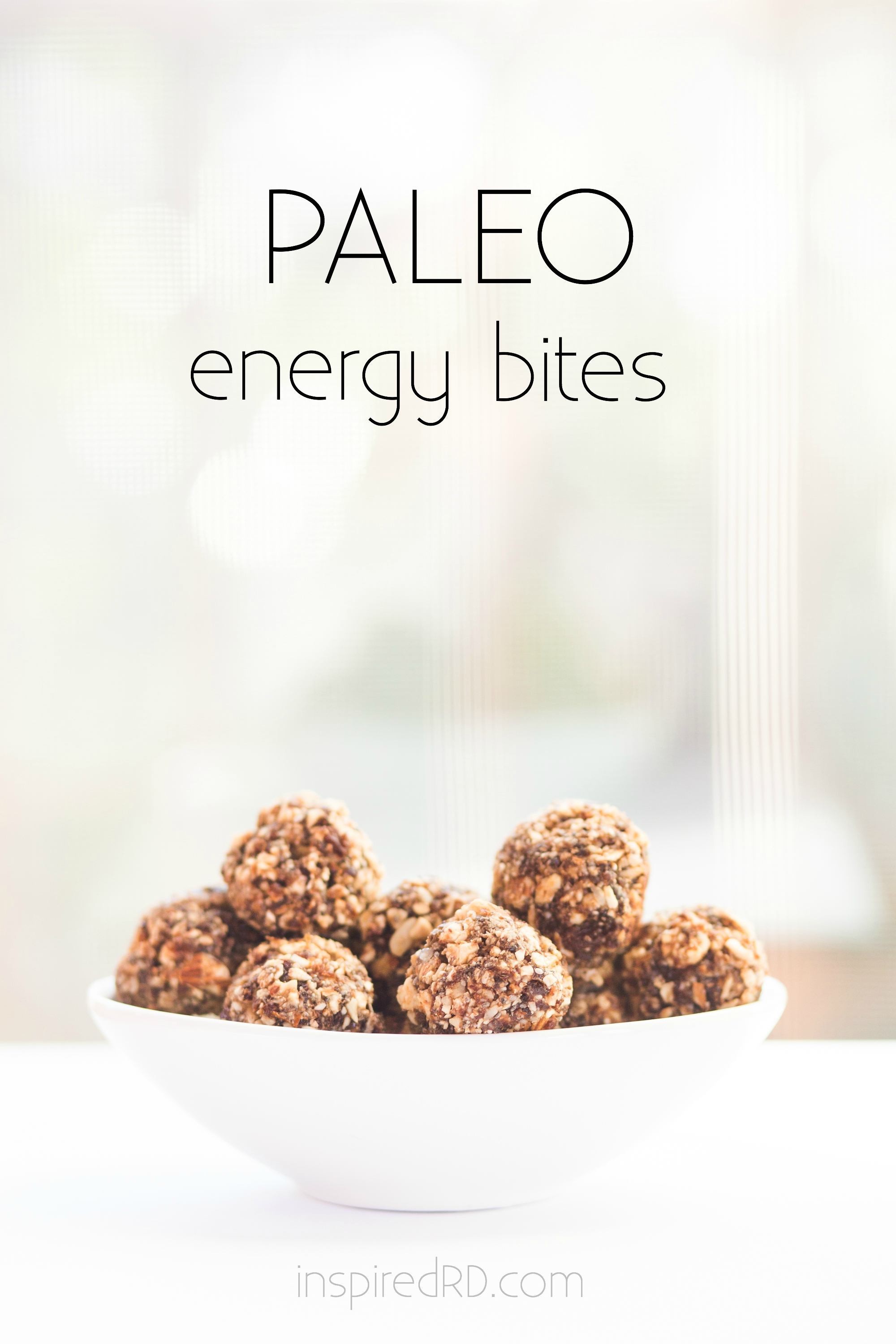 Paleo Energy Bites
Recipe type:
Snack, breakfast
Prep time:
Cook time:
Total time:
Easy to make and perfect for breakfast or snacking! Gluten-free with a nut-free and no-bake option.
Ingredients
2 cups raisins
Hot water
1.5 cups raw almonds + ½ cup macadamia nuts*
¼ tsp. cinnamon
¼ tsp. Celtic sea salt
1 Tbsp. chia seeds (optional)
Instructions
Soak raisins in a bowl of hot water for 10 minutes.
Drain raisins and add to food processor bowl. Add remaining ingredients and pulse until everything is combined.
Using your hands, roll mixture into 1-inch balls.
Optional: Bake at 350 degrees for 15 minutes.
*Use 2 cups of whatever nuts or seeds you prefer. For a nut-free option, use raw sunflower seeds.