Maybe it's the thought of warm weather as our family prepares to head to Arizona for Spring Training, or maybe it's the fact that I haven't started packing yet and needed another excuse to procrastinate, but yesterday I decided that I MUST have Mexican Street Corn NOW. Obviously it's February and I'm in Texas, far from fresh corn season, but dang it, I was determined to eat some charred corn with spices and fresh lime.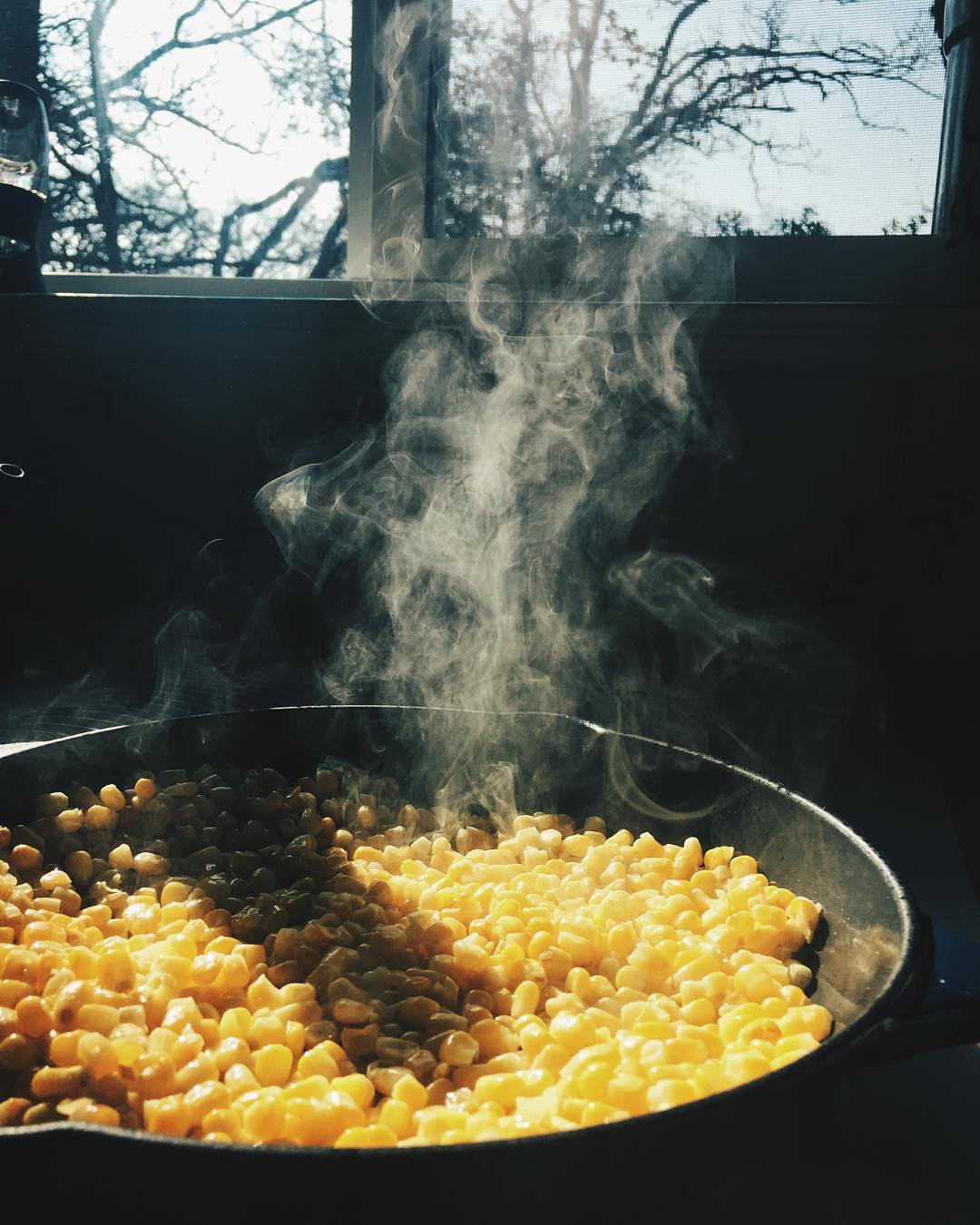 The best thing to do when you're craving out-of-season produce is to head to the freezer section. Frozen vegetables are picked at the height of freshness and flash-frozen. The only problem with cooking with frozen veggies is sometimes they can get a little soggy when they hit the pan, especially if they are covered in tiny ice crystals.
To get your frozen corn perfectly charred, make sure to thaw and then dry it before cooking. Once it's cooking, stir the corn as little as possible. Too much stirring means not enough time to develop that golden brown char you're going for.
Now that I've satisfied that Mexican Street Corn craving, I guess I should go pack. Unless…I think I just got a hankering for tacos…be right back.

Mexican Street Corn Salad
Recipe type:
Salad, Side Dish
Prep time:
Cook time:
Total time:
Craving Mexican Street Corn in the winter? Follow this simple recipe to bring that summer flavor into your kitchen anytime!
Ingredients
16 oz bag frozen sweet corn
2 Tbsp. olive oil
¼ tsp. salt
1 cup chopped fresh cilantro (plus more for garnish)
½ cup finely sliced green onions (green parts only)
2 cloves garlic, minced
½ tsp. chili powder
1 tsp. ground cumin
Juice of 1 lime (plus wedges for serving)
½ cup feta cheese, finely crumbled (use cotija cheese if you can find it)
2 Tbsp. mayonnaise
1 Jalapeno, diced (optional)
Instructions
Thawing the corn - Slowly: In the refrigerator for 24 hours. Quickly: Run under lukewarm water in a colander until no longer frozen. IMPORTANT: Once the corn is thawed, dry it as best you can with paper towels. This will help the corn char and not just get soggy in the pan.
Add oil to a cast iron skillet and heat over medium-high heat. Add corn, use a large spoon or spatula to push it into a single layer. Let corn cook for 3 minutes before stirring (too much stirring and your corn will not char correctly).
Stir the corn and push it back into a single layer. Cook for 3 more minutes, then repeat. Continue until corn is sufficiently charred (about 10-12 minutes total).
In a large bowl, combine corn and all other ingredients. Stir and serve with lime wedges and fresh cilantro.