Being diagnosed with celiac disease was a huge bummer for me. But it was also a huge relief. I finally had a reason for my pain, and a plan for how to feel better. Many people are not that lucky. I have had so many friends go through years of testing and misdiagnosis with no concrete explanations for what is making them sick. So many people who are at the end of their rope and have no idea what to do to feel better.
This is how it was for Amie Valpone, a blogging friend of mine. In her mid-twenties, she was practically bedridden. At 98 pounds, Amie was so sick she had to quit her job just so she could go from doctor to doctor to try and figure this thing out. No one could explain her drastic weight loss, swollen limbs, pregnant-looking belly, and horrible fatigue. Each doctor threw out their own guess before sending her to someone else, and at one point a doctor even told her she had leukemia (she didn't).
Finally, through her own research and the help of Integrative M.D.'s, Aimee found the reasons behind her illness and the path to wellness through cleaning up her diet and everyday environment. If you find yourself with unexplained illness, Aimee's new book Eating Clean: The 21-Day Plan to Detox, Fight Inflammation, and Reset Your Body
is a great place to start. Learn how to target the things that may be making you sick, get started on an elimination diet, and discover how to make deliciously healthy recipes all at the same time…
…like these millet n' veggie tacos!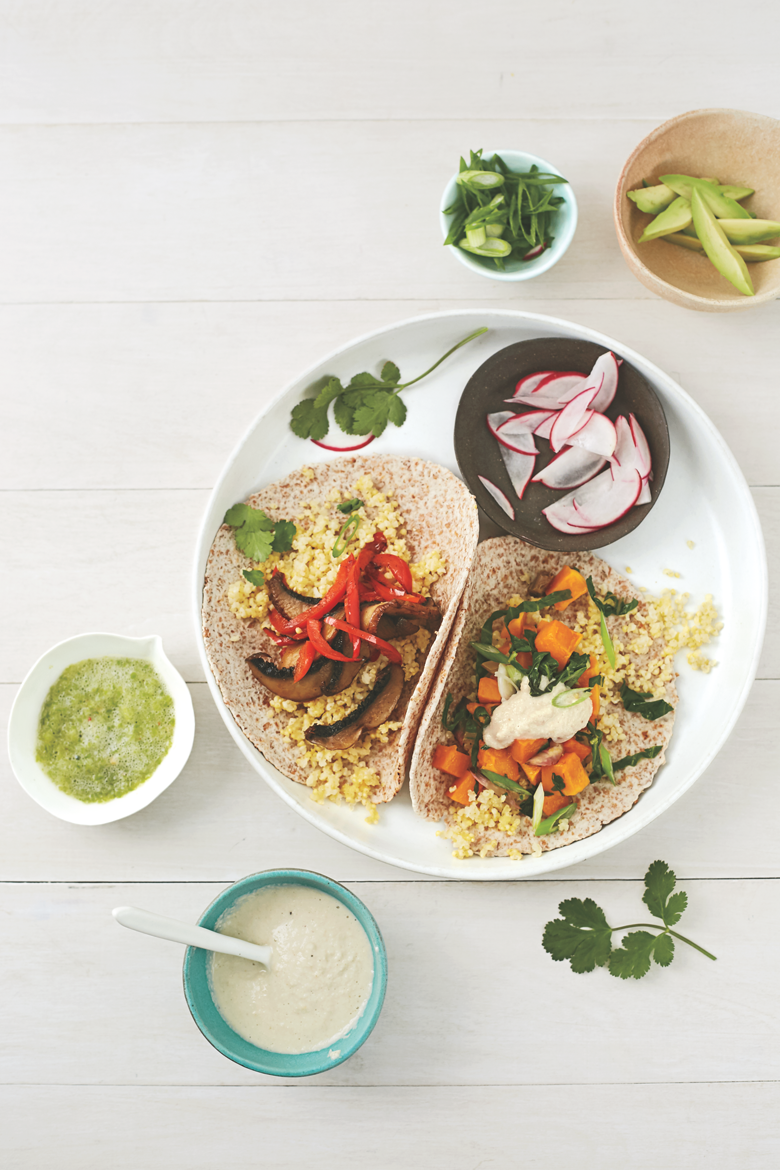 My friend Ashley and I made them last week, and they were incredible. My favorite combo was the portobello mushroom and red pepper while Ashley preferred the butternut squash and swiss chard. These were simple to put together, and we had some tasty leftovers for the next day too!

Millet 'n Veggie Breakfast Tacos: Two Ways
Recipe type:
Vegetarian, Main Dish
Prep time:
Cook time:
Total time:
This filling combination of whole grains and veggies will keep you satisfied long until your next meal.
Ingredients
1½ cups cooked millet
¼ cup finely chopped fresh cilantro
1 tablespoon freshly squeezed lime juice
¼ teaspoon sea salt
8 gluten-free whole-grain tortillas (corn-free)
1 recipe Butternut Squash and Swiss Chard or Portobello Mushroom and Red Pepper mixture (see opposite)
1 cup shredded red cabbage
1 large ripe avocado, pitted, peeled, and thinly sliced
4 scallions, thinly sliced
Sea salt and freshly ground black pepper
Cumin Cashew Cream Sauce, optional
Seriously Sensational Sriracha Sauce, optional
FLAVOR OPTIONS:
BUTTERNUT SQUASH AND SWISS CHARD
2 tablespoons coconut oil
4 cups peeled, seeded, and diced butternut squash (1⁄4-inch cubes)
½ bunch Swiss chard, finely chopped
½ teaspoon chili powder
¼ teaspoon sea salt
¼ teaspoon freshly ground black pepper
PORTOBELLO MUSHROOM AND RED PEPPER
2 to 3 tablespoons extra-virgin olive oil
1 large portobello mushroom, cut into 8 slices
1 large red bell pepper, cut into long strips
¼ teaspoon ground cumin
¼ teaspoon sea salt
¼ teaspoon freshly ground black pepper
Pinch chipotle powder
¼ cup thinly sliced radish, for garnish
Instructions
In a small bowl, combine the millet, cilantro, lime juice, and salt. Stir to combine and set aside.
Make one (or both) of the Flavor Options.
BUTTERNUT SQUASH AND SWISS CHARD - In a large skillet, heat the oil over medium-high heat. Add the squash and sauté for 7 to 8 minutes. Add the remaining ingredients and cook until the chard has wilted, about 2 minutes. Keep warm.
PORTOBELLO MUSHROOM AND RED PEPPER - In a medium skillet, heat 2 tablespoons of the oil over medium heat. Add the mushrooms in a single layer. Cover and cook for 4 minutes, then flip and cook for 2 minutes more. Add the bell pepper, cumin, salt, black pepper, chipotle powder, and remaining oil, if needed. Cook for 5 minutes or until vegetables are cooked through, stirring often. Garnish with the radish. Keep warm.
To assemble, warm the tortillas on a baking sheet in a 350°F oven or in a dry skillet on the stovetop over medium heat. Place the warm tortillas on a platter or on individual plates. Divide the millet among the tortillas. Top each with either the Butternut Squash and Swiss Chard or the Portobello Mushroom and Red Pepper mixture. Top with the cabbage, avo¬cado slices, scallions, and salt and pepper to taste. Finish with a dollop of the Cumin Cashew Cream Sauce and/or a drizzle of the Seriously Sensational Sriracha Sauce, if desired.
If you or anyone you know is frustrated with feeling sick and tired, tell them about
Aimee
and tell them about
her new book
. I am confident this is going to help a lot of people feel much better.