Fall has to be my favorite season.  Cooler temperatures, open windows, pumpkins all around.  That's the stuff that makes suffering through 118-degree days in August worth it.  Here in Phoenix, we have so much to look forward too.  Fall, winter, and spring bring perfect temperatures to play outdoors all day long.  The cooped up days of summer are behind us, and the last of the corn is being harvested.
Today, I had six ears hanging out in the crisper from last week's Bountiful Basket.  Instead of eating corn on the cob this time, I decided to cut it off and saute it with a little butter and garlic.  This simple recipe was inspired by two things: My good friend Ashley, who made some amazing corn for me last month, and the "Corn off the Cob" stand at U.S. Cellular Field.
Back in the day when Jeff played for the Chicago White Sox, I visited that stand almost every game.  He only played up for a few months, but I sure enjoyed that corn while it lasted.  They actually roast the whole ear, then cut off the corn and mix it with your choice of toppings (parmesan cheese, fresh squeezed lime, cayenne pepper, butter, etc.).  It was my favorite ballpark food by far.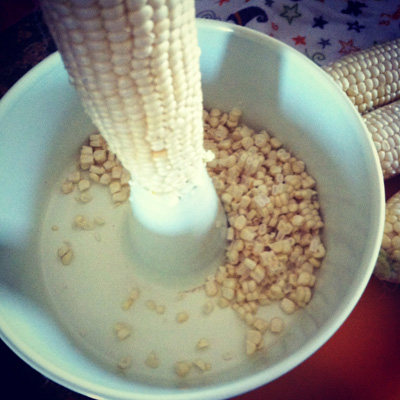 To cut the corn off the cob, I used a trick that I had seen on Pinterest.  After shucking and washing your corn, turn it upside down and stick it into the middle of a bundt pan.  As you cut the kernels off, they fall into the bottom of the pan.  Perfect!

Corn off the cob with garlic butter
Ingredients
6 ears corn, cut off the cob
3 cloves garlic
2 Tbsp. butter or olive oil
Instructions
Heat butter or oil in large pot over medium heat.
Using a garlic press, squeeze garlic into pan.
When you can smell garlic cooking, add corn to the pan (make sure not to burn the garlic!).
Cook covered over medium heat for 15-20 minutes, stirring every few minutes.
Top with freshly grated parmesan cheese.
What's your favorite part of fall?