I've been to hundreds of baseball games in my life.  Maybe even more than that. Thousands.  Sometimes it feels like millions.  I absolutely love baseball.  I always have.  Lucky for me, I married a man who was born to play and coach the game.  One thing I've learned over the years is that it always pays to bring your own snacks.
While there is something to be said about enjoying the local fare such as my favorite corn off the cob in Chicago, "dragon tails" (fried pickles) in Charlotte, and even sushi in Seattle, when you're going to baseball games more than every once in a while, the cost (and the calories) can add up quickly.  Not to mention the fact that I can't eat most of what is served in baseball stadiums any more as I am now gluten and dairy-free.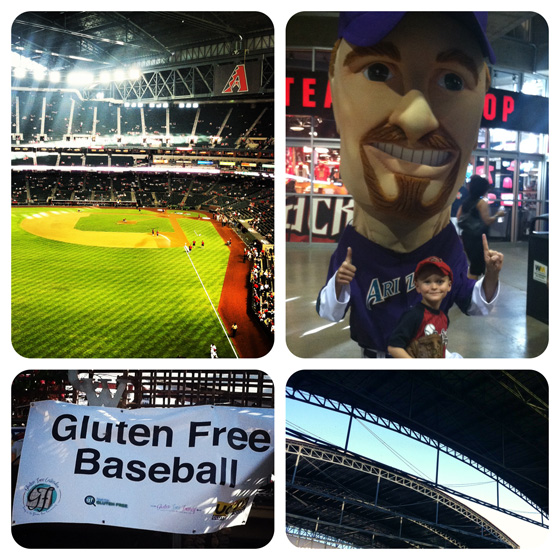 Last weekend, we had the opportunity to attend Celiac Awareness Night at the Arizona Diamondbacks game.  Udi's threw a pre-party with tons of free samples and local vendors.  The place was absolutely packed!  By the time we made it into the stadium, my bag was loaded down with gluten-free food.  Perfect!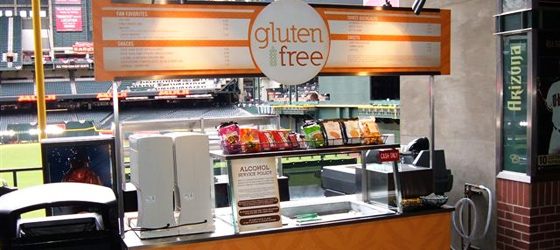 Chase Field does have a gluten-free stand in section 106.  They offer hot dogs, nachos, gluten-free beer and lots of snacks.  I still prefer to bring my own food because of the cost, but it's nice to know that safe food is there if I need it.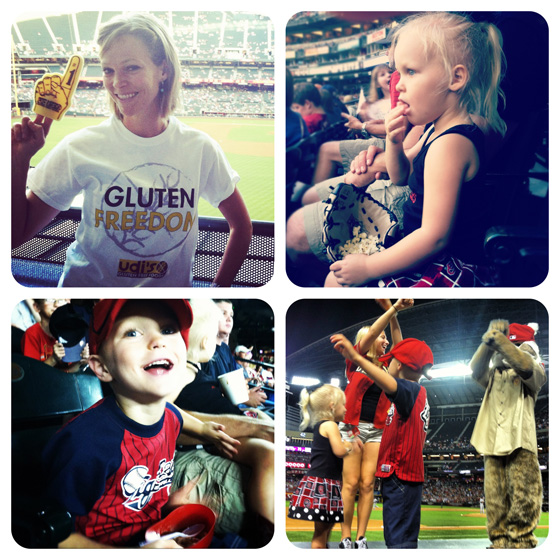 We had a great time.  The kids even had the chance to dance on the dugout with Baxter during the seventh inning stretch.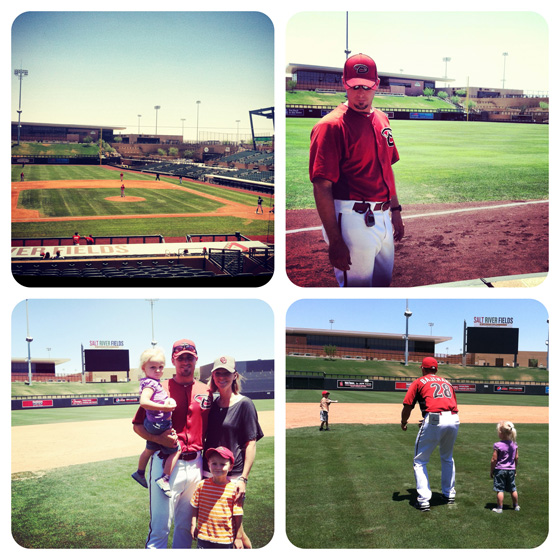 The next day we headed out to Salt River Fields to watch the Arizona rookies play the Colorado rookies.  We had a beautiful break in the heat and were really able to enjoy the game as well as some fun on the field afterwards.
Whether you are gluten-free or not, here are some ideas for healthy foods to take to your next baseball game.  (Most major league baseball parks allow you to bring in one unopened water bottle per person and food in clear plastic bags, but make sure to check ballpark policy before going to the game as each stadium is different.)  
-Raw veggies: carrots, cucumber, grape tomatoes, etc.
-Peanut butter sandwich
-Popcorn
-Fruit
-Gluten-free bars (KIND bars, Larabars, The Gluten Free Bars)
-Nuts or trail mix
Bringing your own snacks will help you not only help you to eat healthier, but will also help you avoid unsafe temptations.  Oh yeah, and you will save major moolah, giving you the chance to buy that foam finger you've always wanted.
For it's 1, 2, 3 strikes you're out at the old ball game!
What's your favorite ballpark snack?  Do you take your own food to baseball games?  Does your local ballpark offer gluten-free options?