Hi!  My name is Joe, and today my sister Leila and I are going to teach you how to make our very favorite sandwich.  We love going to eat at a place called Joe's Farm Grill because they have something called a Peanut Butter Banana Split sandwich.  We eat lunch at home almost every day, so one day I asked my mom if we could make a Joe's Farm Grill sandwich.  She thought that sounded like a great idea.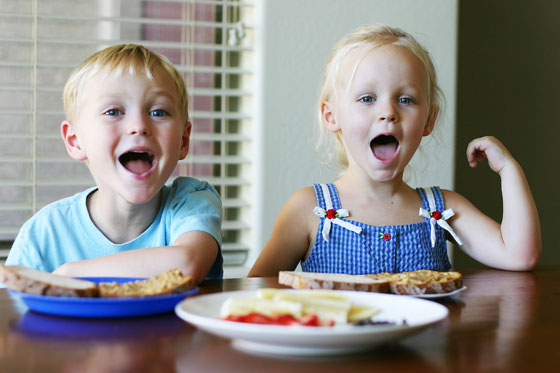 Leila and I were so excited!  It's really easy to make, just be sure to have a grown-up help you start and finish the sandwich.  Then you can do the middle part which is the most fun of all!  Ask your mom or dad to get out two pieces of bread and put peanut butter on one side.  They will also need to cut a banana and four strawberries into thin slices and get out the chocolate chips.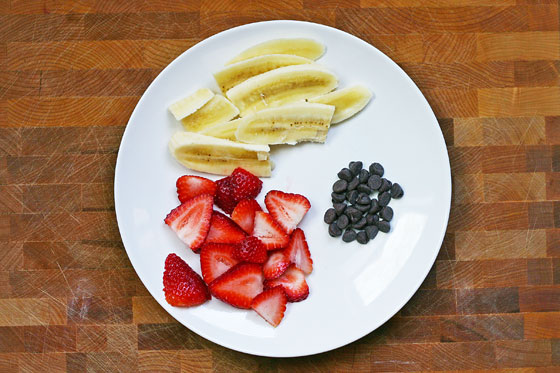 Now it's your turn!  Start with the banana slices.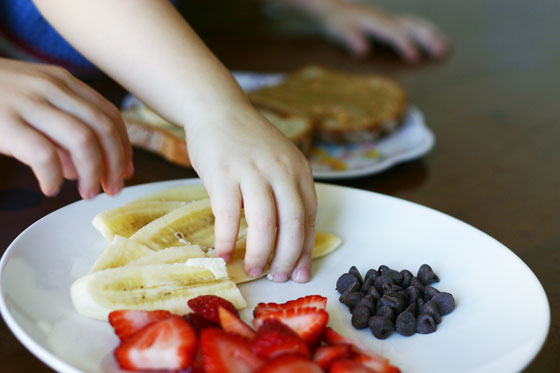 Put them on the dry piece of bread in a single layer.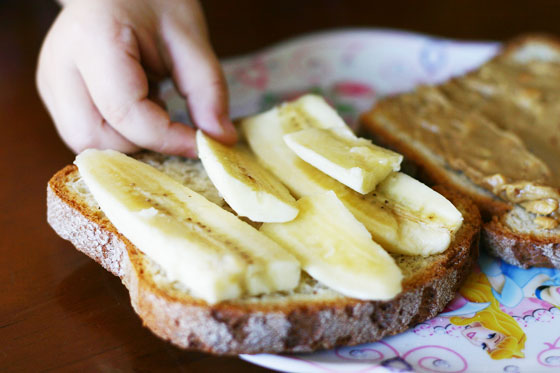 Then put your strawberries on.
Now for our favorite part, the chocolate chips.  Sprinkle those onto the peanut butter side so they stick.  Mom says not to put them in your mouth first, just stick them on the peanut butter.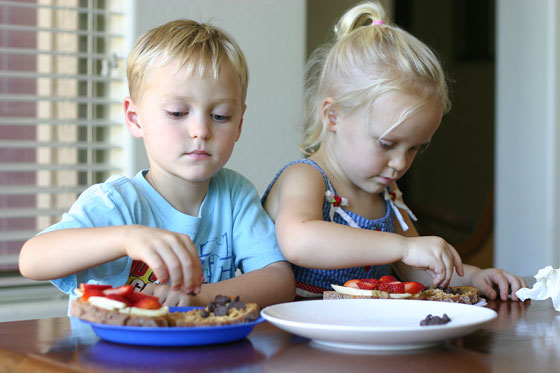 Then close your sandwich up and smash it down a little like this.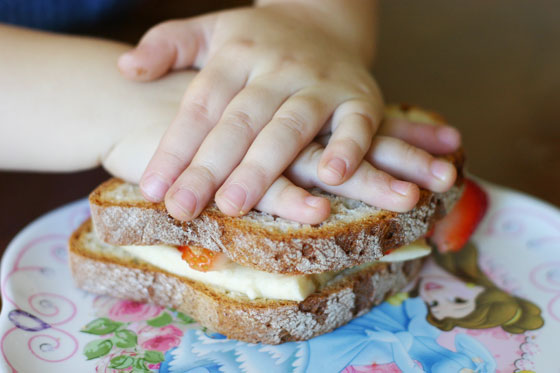 Ask your mom or dad to grill it up in a pan and put it on your favorite plate.  I picked out this Wolverine plate from the thrift store.  Isn't it cool?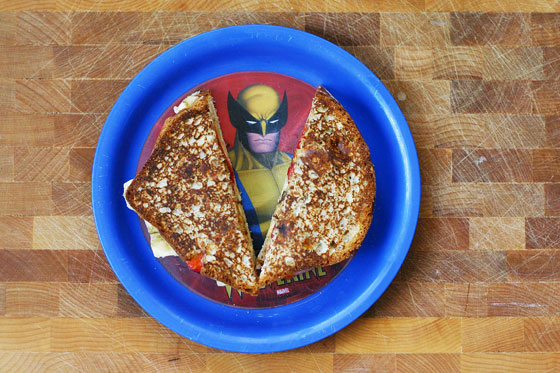 If your mom is like mine, she'll make you wait to eat your sandwich until she's taken a bazillion pictures of it.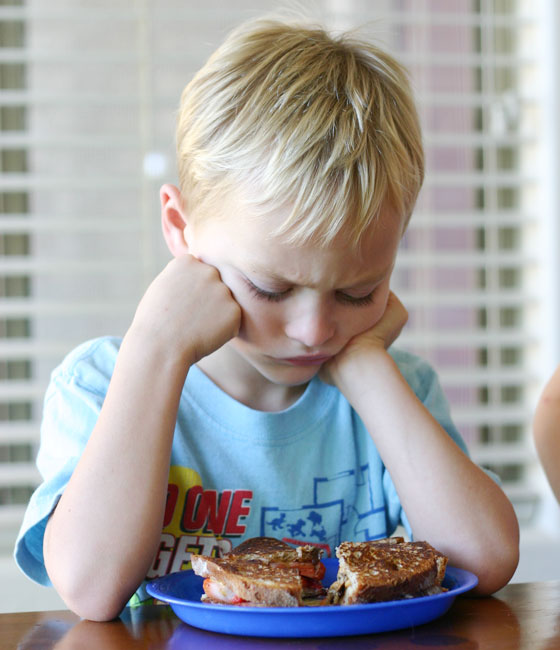 I get so excited when she says I can start eating!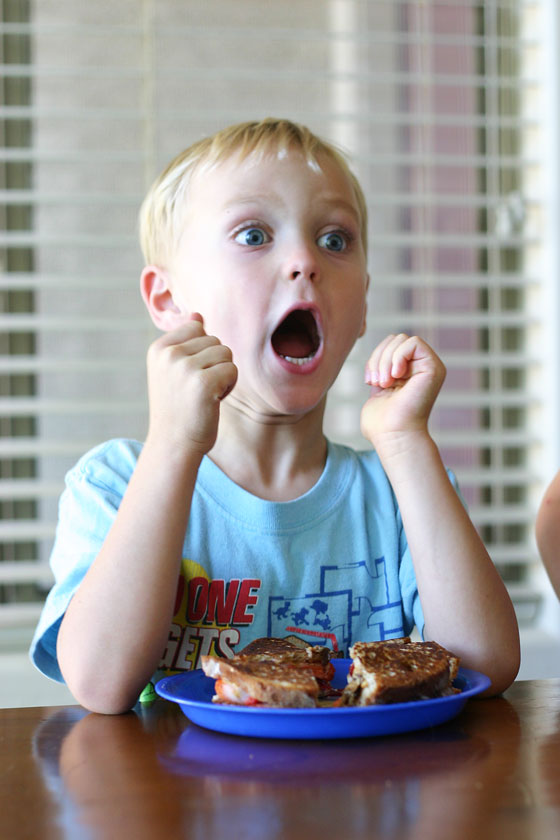 Mmmmm…that's a good sandwich.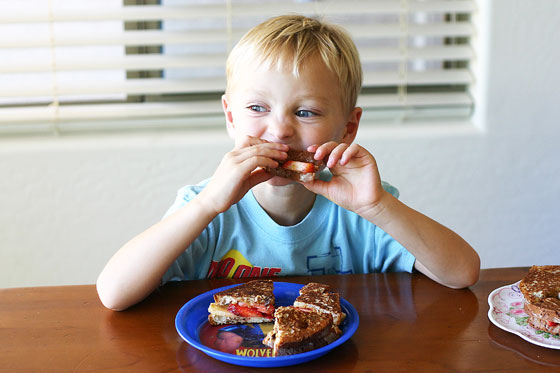 Make sure to ask for a napkin because the chocolate is a little messy, right Leila?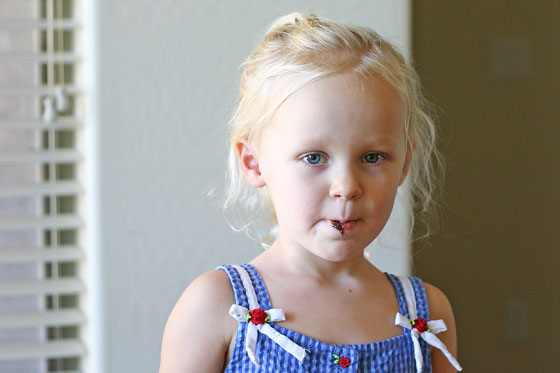 We hope you like our favorite sandwich as much as we do!

Peanut Butter Banana Split Sandwich 
Prep time:
Cook time:
Total time:
Ask your parents to make this sandwich with you!
Ingredients
2 slices bread (we used Udi's Gluten-Free Multigrain bread)
1 Tbsp. peanut butter
1 organic banana
2 organic strawberries
1 Tbsp. chocolate chips
1 tsp. butter (we used Earth's Balance)
Instructions
Have an adult spread the peanut butter on one slice of the bread.
Place bananas on the dry slice, then top with strawberries.
Now for the fun part, sprinkle chocolate chips onto the peanut butter.
Close the sandwich and smash it down a little bit with your hands.
Have an adult place the butter in a small pan over medium heat, then grill sandwich one minute on each side or until golden brown.
Have adult cut sandwich into triangles and place on your favorite plate.
Time to eat!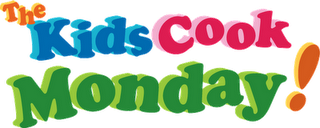 P.S. Our mom really loves it when you pin her recipes!