The other day, I overheard a conversation between two parents.  One said that they had to try a gluten-free diet for their son because of his health issues.  The other parent replied with this statement: "Oh gluten-free is not even living!  You can't eat anything!"  I kept quiet as a mere eavesdropper of their conversation, but I have had similar things said to me after starting my gluten-free diet.  Usually it comes in the form of, "So what CAN you eat?"  I especially hear this when I mention that I am also dairy-free.  Many people turn their nose up and imagine that I must be in total deprivation, eating only things that taste like cardboard.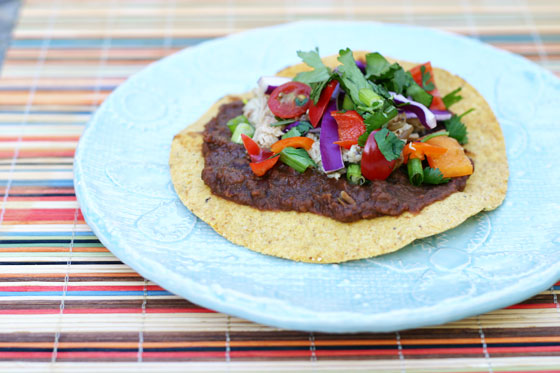 Going gluten-free and then dairy-free has been a learning experience, but I can tell you without hesitation that my family and I eat an abundance of flavorful foods.  And if you came over for dinner tomorrow, you probably wouldn't even realize that you were eating gluten-free.  In fact, minus the extra bread at the table, our food looks pretty much like yours.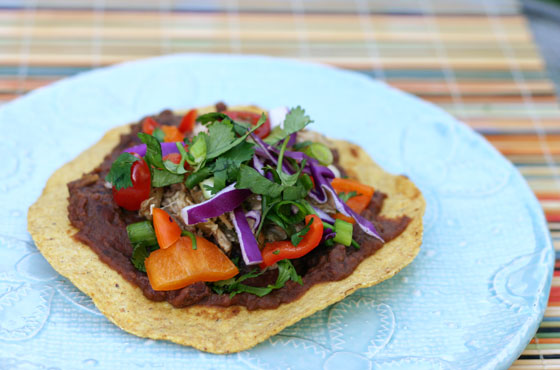 So is there life after gluten?  Yes.  And it is delicious.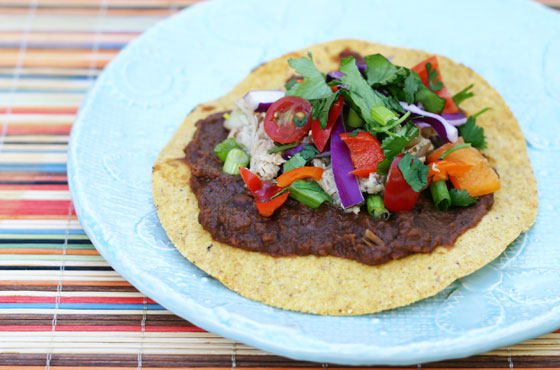 Slow Cooker Chicken Tostadas
Ingredients
6 chicken thighs (I used bone-in, skin on)
1 large onion, any color, sliced thick
1 cup low-sodium chicken broth
1 tsp. ground cumin
¼ tsp. salt
¼ tsp. black pepper
1 package tostadas
1 can Amy's organic black refried beans
Assorted toppings: purple cabbage, grape tomatoes, green onions, cilantro, avocado, bell peppers, cheese (optional)
Instructions
Place sliced onion rings on the bottom of the slow cooker. Arrange chicken on top. Add cumin, salt and pepper, and chicken broth. Cover and cook on low 4-6 hours.
Remove chicken and onions from slow cooker with tongs, removing skin and bones as you transfer to a separate bowl. Using the tongs, toss chicken to break it apart.
Heat beans in a small saucepan over medium-low heat.
Assemble tostadas by spreading thin layer of beans on tostada, topping with chicken and optional toppings.
The best part about this recipe is that you can throw the chicken in the slow cooker in the morning and have tostadas ready with just a little prep work in the evening. If you have kids, set the toppings out buffet style so they can decorate their own. Make it fun and colorful!