The shifting schedule of baseball season make it easy to get lazy in the kitchen. If I'm not careful, I can easily snack my way through the days and rarely sit down to a real meal. That's why I love making cold salads like this one. I can throw it together one afternoon, then eat it for the next few days. This salad is the perfect mix of summer flavors – tomatoes, basil, and fresh mozzarella – paired with protein-rich quinoa. I like to eat it for lunch with a side of fruit, or throw some chicken on top for a quick and easy dinner.
After Andy Bellatti, MS, RD broke down the ethics of eating quinoa for us a couple years ago, I started buying Alter Eco quinoa. Not only are they fair-trade, but they are an actual mission-focused brand, partnering with the farmers and people of Bolivia.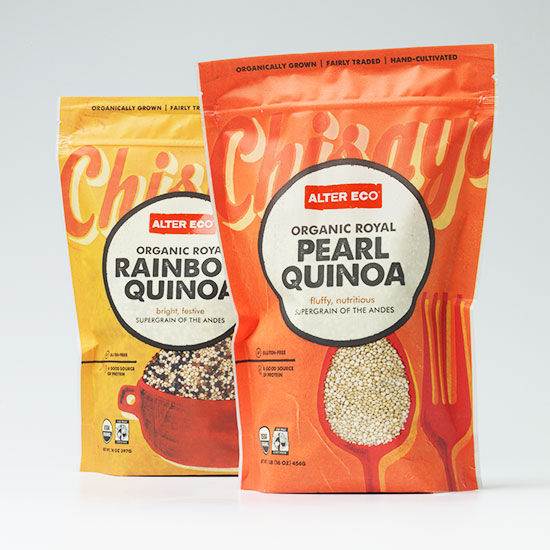 Since 2002, they have seen these changes in the lives of their quinoa partners:
-Household income and diversification of revenue sources have significantly increased. Better economic resources have allowed families to settle seasonally in more populated areas, improving their housing and living conditions and placing the farmers and their families in proximity of better school systems and higher education
-Education levels have increased, due to better access to schooling
-Diversification of diet: additional revenue from quinoa provide the farmers access to the local market and add fresh vegetables, fruit and meat to their daily diet
-Alter Eco laptop donation programs, in partnership with our food distributor UNFI, have allowed producers to access improved data collection and communications between farms
So when Alter Eco emailed me last week and asked if I would like some quinoa samples, I said, "Heck yes!" To be clear, this isn't a sponsored post, I just love this brand, and wanted to share it with you (along with a yummy recipe).

Throw this salad together and eat it for a few days. Or take it to a party or potluck, it's even better the next day!

Quinoa Caprese Salad
Recipe type:
Salad, Gluten-Free
Prep time:
Cook time:
Total time:
The perfect summer salad!
Ingredients
1 cup quinoa
1.5 cups water
1 cup grape tomatoes, halved
1 cup fresh mozzarella (cherry sized), halved
15 basil leaves, torn
3 Tbsp. white vinegar (can use any light-colored vinegar you have on hand)
3 Tbsp. olive oil
Salt & Pepper to taste
Instructions
Cook quinoa with water according to package directions. In large bowl, combine cooked quinoa and remaining ingredients. Stir. Serve immediately or refrigerate and serve cold.