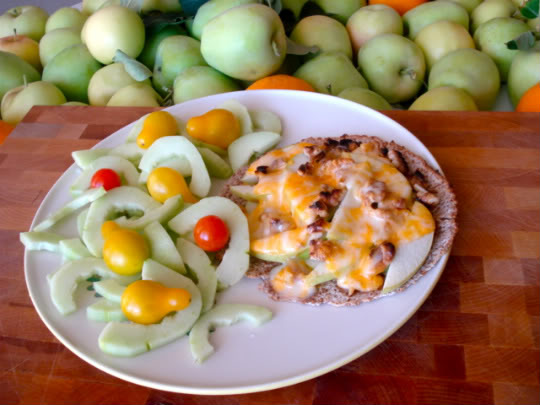 So I was on Facebook the other day and noticed a post from Half Assed Kitchen (tagline: Eh…it's edible) talking about a recipe from the original Moosewood cookbook for an open-faced sandwich with butter, apple pie, cashews or walnuts and cheese heated under the broiler.  An apple pie sandwich?  Yum!
I didn't have any apple pie hanging around, but I did have a table full of apples.  So I put together my own version with a mini Ezekiel tortilla.  The result was so good that I made it again for lunch the next day.  This might be my new favorite lunch!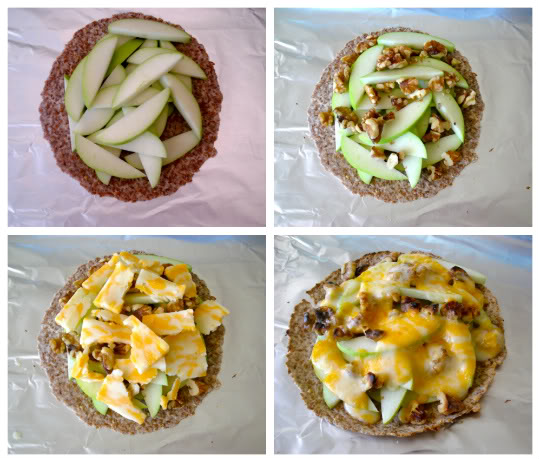 Step 1: Arrange thinly sliced apples on top of an Ezekiel tortilla.
Step 2: Sprinkle on walnut pieces (or whatever nuts you have on hand).
Step 3: Cover with sliced cheese (this would be so good with gorgonzola or brie too).
Step 4: Slide into the oven under a low broiler for a few minutes until the cheese is melted and the nuts are toasted (watch out for burning nuts).
Step 5: Eat!  I paired mine with slices of Armenian cucumber and freshly-picked pear and cherry tomatoes.
Are you an apple & cheese fan?  What kind of combo would you come up with?