I've been feeling a bit overwhelmed lately.  Overwhelmed in a good way, with many fun and rewarding opportunities coming my way, but stressed nonetheless.  Even though I am not the most organized person (I think I just heard my husband snort at that)…ok, I am the owner of multiple piles in our house…anyways, too much disorganization sends my stress level into overdrive.  Thankfully yesterday was Sunday, the perfect day to spend some time cleaning.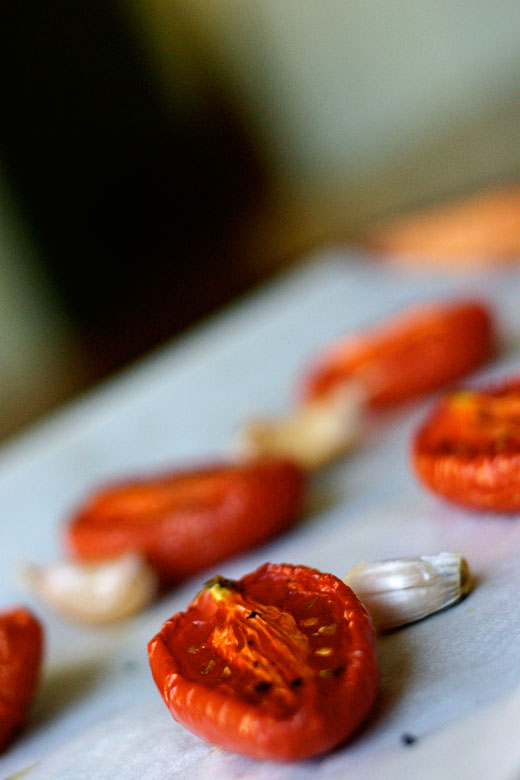 As I cleaned the kitchen, washed our new pots and pans, and tackled the piles of mail, I roasted tomatoes.  The aroma that filled the house was soothing to my soul.  After four hours, the kitchen was sparkling, the piles were gone, and the tomatoes were finished.  Not only were they beautiful, but oh my goodness the flavor.  Richly concentrated, sweet and tangy, bursting with summery flavor.
Ahhhhhhhh, that's better.  Now I feel ready to take on the week!
How do you de-stress?
Slow Roasted Roma Tomatoes
Ingredients
7

roma tomatoes

2

Tbsp.

olive oil

1/2

tsp.

good sea salt

1

bulb garlic

broken into cloves, unpeeled
Instructions
Preheat oven to 225F.

Slice tomatoes in half lengthwise.

Lay cut side up on parchment-lined baking sheets.

Brush with olive oil and sprinkle with sea salt.

Place garlic cloves in between tomato halves.

Roast for 4 hours.

Eat immediately or store in refrigerator with extra olive oil drizzled on top.  Can use in pasta, to top chicken or beef, or just for snacking!