Last week, Jenna from Eat, Live, Run posted a recipe for Brussels sprouts with bacon, dried cherries and Israeli couscous.  Not only did the photos make me drool, but the thought of the sweet and savory combo had me determined to make my own gluten-free version.  I had about 25 brussels sprouts from my Bountiful Baskets sitting in my fridge.  I had also picked up a couple packages of Applegate Farms bacon from Sprouts when it was on sale as part of the Gluten Free Jubilee (25% off all gluten-free products ends Wednesday, go stock up!).  I didn't have any dried cherries, and can't buy them from the bulk bins like I used to (too much risk for cross-contamination), but I did have an overload of red grapes.  Perfect!  Something sweet.  Instead of the couscous which is made with wheat, I went with a tri-colored quinoa that I had in the pantry.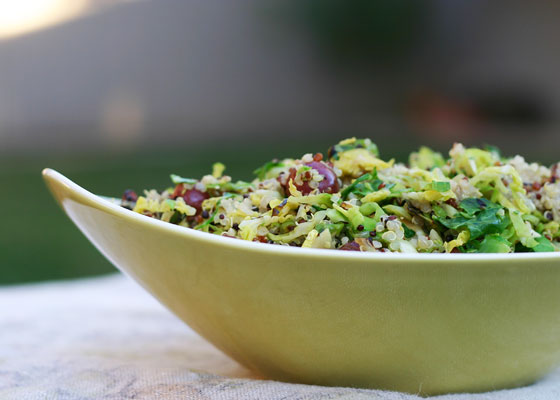 The result was fantastic.  The perfect sweet and savory combo that I was hoping for.  We ended up eating this as a quick dinner before heading out for some evening activities.  The kids liked it, especially Leila.  She was telling me in between huge bites, "Mom, I like these brussels sprouts!"  Music to my ears.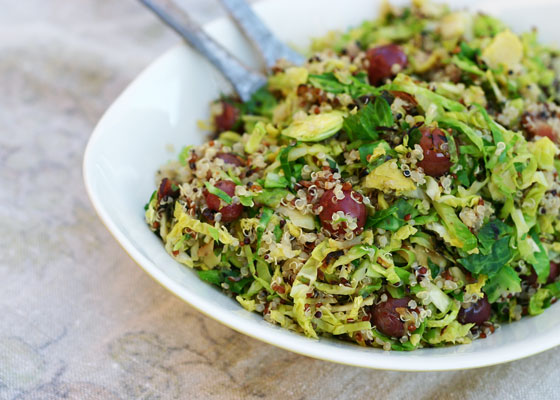 Sweet & Savory Brussels Sprouts with Quinoa
Ingredients
20

brussels sprouts

very thinly sliced

4

slices

bacon

2

cups

red grapes

1

cup

quinoa

1/2

tsp

coarse sea salt
Instructions
Rinse quinoa well (unless using the pre-rinsed quinoa from a box). Bring 2 cups water and quinoa to a boil, stir and cover, reducing heat to simmer until all liquid is gone (about 10 minutes). Fluff with a fork, set aside.

Heat heavy skillet over medium-high heat. Add bacon and cook until crispy. Set aside on paper towel-lined plate.

Add grapes to skillet and saute for 2-3 minutes until they begin to burst. Remove and set aside.

Add brussels sprouts to pan and cook for about 5 minutes, stirring often, until the leaves are bright green and slightly browned from the pan.

Toss all ingredients in a large bowl with sea salt. Serve immediately.