Have you ever heard of a sunchoke? They are also called Jerusalem artichokes. They are funny-looking tubers that kind of resemble ginger. Sunchokes are high in iron and a good source of vitamin C. The are also high in inulin, a type of carbohydrate that is difficult to digest and can cause excess gas. We have received sunchokes a few times in our Bountiful Baskets. I'm pretty sure that last time we got them, I ended up being too scared to cook with them because of all of the stories I heard about how they cause gastric distress. Gas and bloating? No thank you. But when I saw the idea for sunchoke chips, I thought that would be a good way to try a few and see how my stomach would react before eating a larger amount.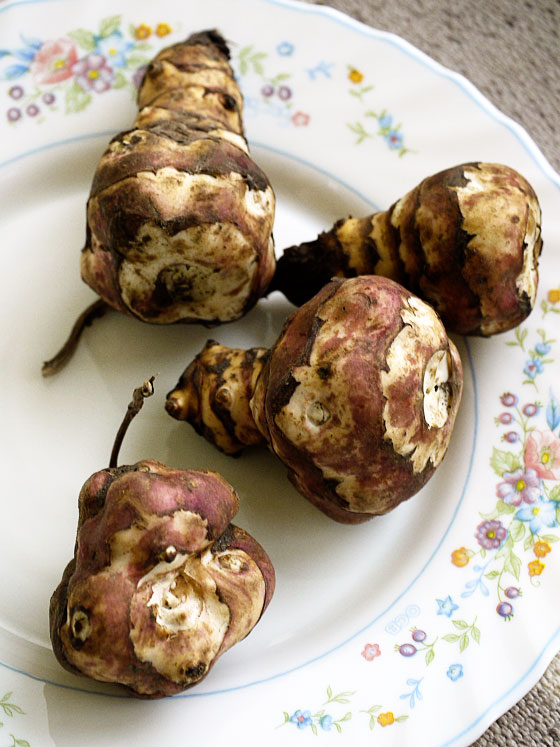 The chips turned out so tasty that it was hard to keep myself from eating the entire batch! I ate a few and waited about an hour. Without any noticeable effects, I ate some more. I saved the rest for today and reheated them in the toaster oven to go with my lunch. With all of my digestive issues, I thought for sure that the sunchoke would mess with my stomach. Apparently I have no problem with them!
If you see sunchokes or Jerusalem artichokes at your local farmers market, I encourage you to give them a try.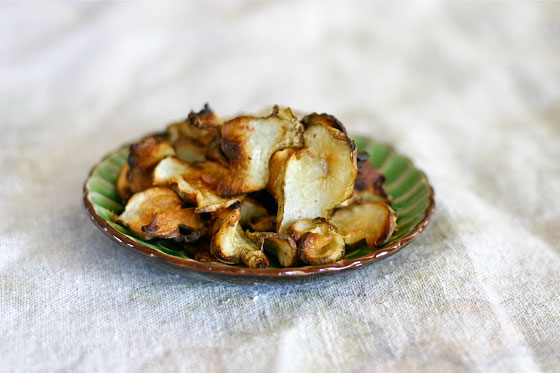 Sunchoke Chips
Ingredients
3-4

sunchokes

Jerusalem artichokes

1

tsp.

olive oil or olive oil mister

1/2

tsp.

sea salt
Instructions
Preheat oven to 400 degrees.

Scrub sunchokes to remove any dirt.

Slice sunchokes very thin (about 1mm). Try to make uniform slices.

Toss sunchoke slices with olive oil or spray with olive oil mister.

Spread slices in single layer on foil-lined baking sheets.

Bake 15 minutes. After 15 minutes, check every few minutes, removing crisped slices as they are ready. Continue until all slices are brown and crisp.

Eat a few and make sure they don't bother your stomach before eating more!
Have you ever tried a sunchoke?