What a beautiful Sunday we had!  40's and rainy, a little thunder clapping here and there.  We don't get a day like this very often in the desert.  The kids and I stayed in our pj's all day!  While they read books and played, I decided to tackle the pantry.  It has needed a good cleaning for a while, but every time I open the doors, I close them back up and decide to wait until later.  Today I decided to just go for it, and the cleaning turned out not to be too bad.  Now I have an organized pantry that can inspire me instead of frustrate me.  Yay!
For lunch I made a colorful snack plate…then I took an almost 3-hour nap.
How I love a rainy Sunday!
I woke up trying to figure out what to cook for dinner.  I had some grass-fed ground beef that I bought at Sprouts a few days ago (it's on sale until Wednesday!) and had my veggies from the farmer's market.  I was tempted to make some kind of soup or stew but didn't have any onions or garlic.  Then I thought, maybe I could make a stir fry dish.  But with ground beef?  I had never attempted that before.  I was a little skeptical as to how it would turn out, but everyone loved it!  Joe helped me in the kitchen by measuring rice, popping the stems out of mushrooms, and sprinkling sesame seeds.
It made me realize that lately I haven't included the kids in my cooking as much as I used to.  I'm not sure why, but I'll make the pledge right now to get them in the kitchen more often.  If you don't see them in my cooking photos, call me on it.  Hold me accountable!  I know the benefits of including them in the food preparation, it just takes some more planning on my part.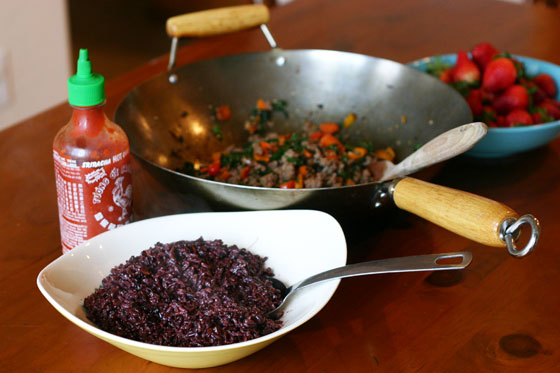 For the stir-fry, I followed my usual cooking style.  Meat first, vegetables second.  Garlic powder, ginger (or powdered ginger), salt, pepper.  Sesame oil, sesame seeds.  Coconut rice.  Easy!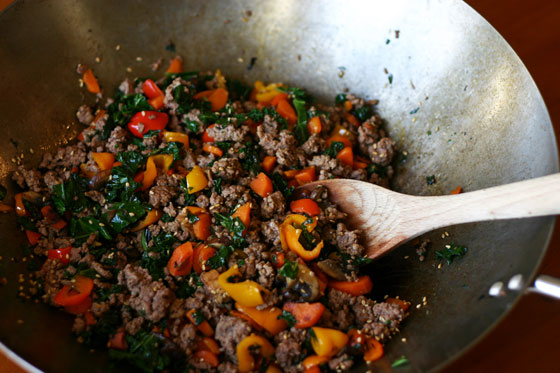 Ground beef stir-fry with black coconut rice
Follow this basic recipe for stir-fry and use whatever you have on hand!
Ingredients
1

lb.

organic grass-fed ground beef

2

Tbsp.

peanut or grapeseed oil

divided

1/4

tsp.

salt

1/4

tsp.

pepper

1/2

tsp.

garlic powder

1/2

tsp.

ginger powder

2

carrots

chopped

1

cup

cremini mushrooms

chopped

6

mini bell peppers

chopped

1/2

bunch kale

stemmed and chopped

1

tsp.

dark sesame oil

1

Tbsp.

toasted sesame seeds

1

can organic coconut milk

1

cup

black rice

I used black Thai rice
Instructions
Heat 1 Tbsp. oil in wok over medium-high heat.

Add ground beef, breaking up as it cooks.

When meat is browned, remove from wok and drain.

Add remaining Tbsp. oil to wok and add carrots, cook for 2 minutes.

Add remaining vegetables and cook until tender.

Add spices and stir.

Add meat back to the wok and combine with veggies and spices.

Drizzle with sesame oil and sprinkle with sesame seeds.

Serve over coconut rice.

For coconut rice: cook rice as directed replacing water with coconut milk.
Thanks to my friend Ken for the rainy desert photo on the top of the page.  Ken has been an amazing resource for me as I navigate my new celiac diagnosis.  He is also the brains behind the Gluten Free Foodie Tour in Phoenix.  Check out his site Rock a Healthy Lifestyle!
What food do you like to make on a rainy day?