My last few posts have focused on some of the difficulties that come with having celiac disease.  Today I thought it would be a good idea to turn my attention to the delicious side of gluten-free eating.  You already know that I enjoy cooking for my family, and now that my kitchen is safely free of gluten, I can keep the tasty meals coming.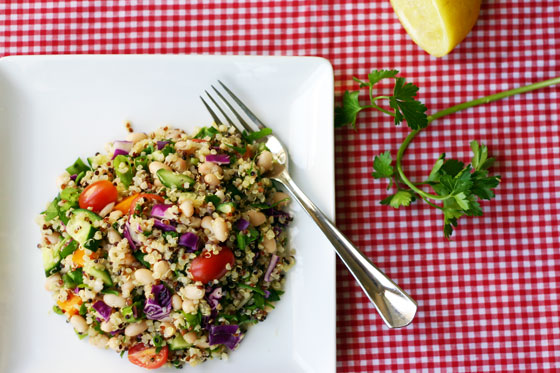 The switch to gluten-free cooking hasn't been too hard.  I was already in love with quinoa, fresh fruits and vegetables, and simply prepared proteins before my diagnosis.  I just had to learn to ditch the bread.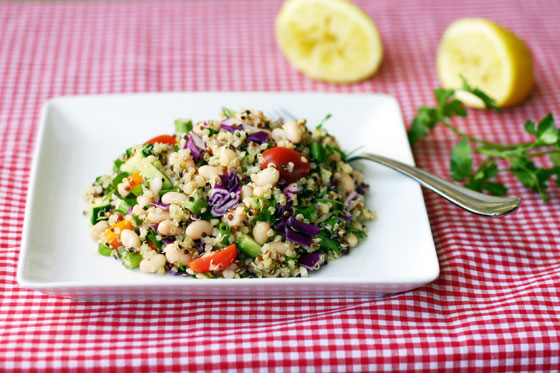 The only challenge comes in checking and double-checking labels when I shop for groceries.  I don't buy much packaged food, but things like condiments, dried beans, even coffee and tomato sauce have to be scrutinized.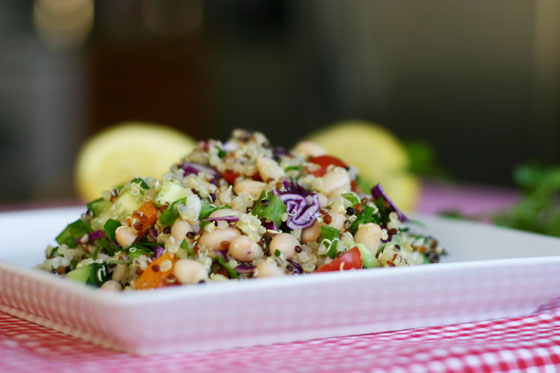 I'm slowly learning my favorite brands though, and these days if you came to my house for dinner, you might not even realize that you are eating a gluten-free meal.  You would hopefully just pat your belly and tell me it was delicious.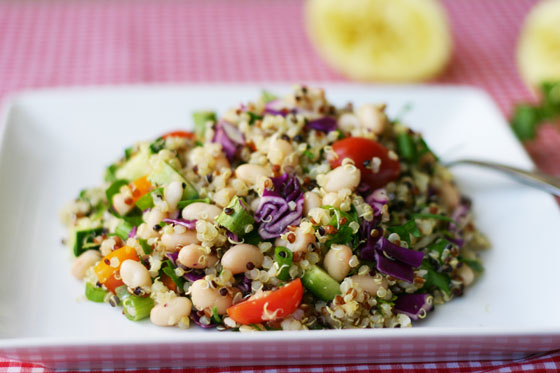 This fresh salad is perfect for summer.  Throw it together and eat it all week.  Pack it for lunch, serve it with dinner, take it on a picnic.  It's packed with protein, fiber, and vitamins to keep you going.
And oh yeah, it's gluten-free.
Cold & Colorful Quinoa Salad
This colorful salad is perfect as a side dish at a summer potluck, but it is also hearty enough to star on it's own as the main dish!
Ingredients
1

cup

quinoa

13/4

cup

low-sodium chicken or vegetable broth

make sure to check for gluten-free label if celiac, and use vegetable broth if you need this dish to be vegan or vegetarian

1

can Eden Organic navy beans

drained and rinsed well

1/2

english cucumber

diced

1

cup

grape tomatoes

halved

4

green onions

diced

1/4

cup

red cabbage

diced

1/2

orange bell pepper

diced

1/4

cup

flat-leaf parsley

finely chopped

Juice of 1 lemon

3

Tbsp.

olive oil

1/2

tsp.

sea salt

1/2

tsp.

black pepper
Instructions
In a medium saucepan, heat broth until boiling. Add quinoa (be sure to rinse quinoa as directed on package), stir, place lid on pot and turn heat to low. Cook for 15 minutes, until all liquid is absorbed. Remove from heat and fluff with fork.

In a large bowl, combine remaining ingredients. Add quinoa and mix.

Serve immediately or refrigerate to serve as a cold salad.