Remember when I told you about the fact that I'm a piler, not an organizer?  Well, this holds true to computer files too.  It's the reason Jeff and I can't share a computer.  His desktop is perfectly organized with maybe one or two folders on the main screen.  Mine?  You can't even see the background image half the time because there are so many photo files splashed across the page.  I'm trying to be better about it.  I've created new folders and try to delete unneeded images so they don't take up space.  I don't know if I would say that I'm getting more organized, but I'm on my way to becoming a little less messy.
Last week I had a perfect example of why I should be more organized with my photos.  Someone from Redbook Magazine's website contacted me and asked for a high-resolution image of one of my recipes that they want to feature.  It's an older recipe, so I knew I would have some searching to do.  I finally found it on our external hard drive (hooray!) and was able to send it over.
While searching, I came across the photos of my pineapple salsa.  I've been wanting to share this recipe with you for over a year, but had completely lost all photographic evidence that it was ever made!  Sure, I could have made it again and taken new pictures, but I hadn't gotten around to that yet.  So here, in all it's sweet and spicy glory, is the lost recipe of the pineapple salsa.
This salsa is perfect on chicken or fish, or you can eat it with your favorite chips (our current favorite is the new Cantina chips from Food Should Taste Good).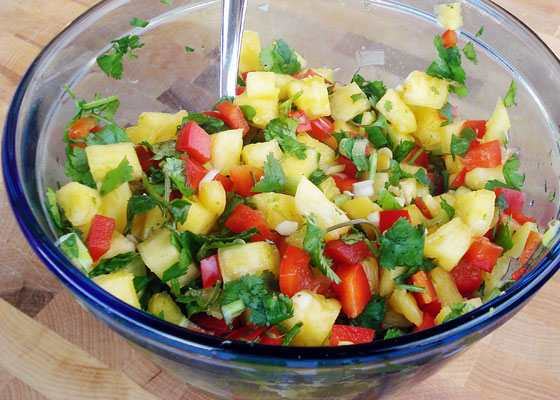 Pineapple Salsa
Sweet and spicy, perfect on chicken or fish, or with your favorite chip!
Ingredients
1

ripe pineapple

1

red bell pepper

4

green onions

1/2

cup

cilantro

1

jalapeño pepper

Zest and juice of 1 lime

Sea salt to taste
Instructions
Chop first 5 ingredients, toss in a bowl with lime zest and lime juice. Add salt, stir and serve.
Is your computer organized?  If so, what's your secret?