I was all ready to make a gluten-free apple crisp for Father's Day yesterday until I had some extra raspberries from making this beautiful creation from Pinterest. The sangria was something I had been eyeing for a while. I was excited to finally give it a try and even found the right wine at Target.
The good news? The sangria was delicious. Not too sweet, and deliciously spicy.
The bad news? While waiting for it to chill, at least half of the concoction leaked all over the fridge.
I've made this apple crisp twice now, and it's one of our favorites.  We like to make it when the apples are in season at our local farm.  Luckily, they decided to have an impromptu apple-picking day on Saturday so we headed on over.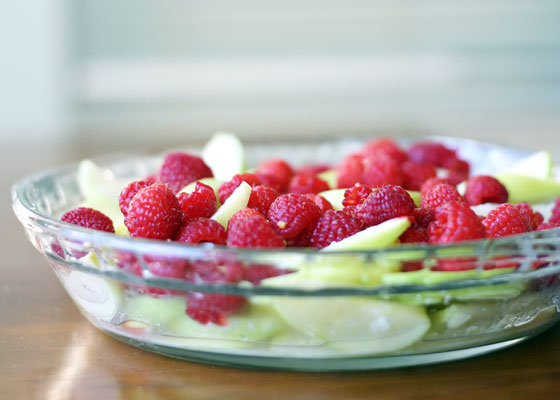 When I realized I had some raspberries left over from the sangria, I thought the combination could work.  And boy did it ever.  The tartness from the raspberries paired perfectly with the sweetness from the apples and crumbly topping.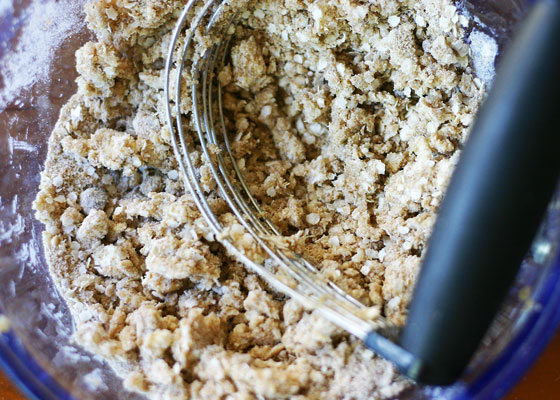 For the topping, I combined quinoa flakes, brown sugar, gluten-free flour, cinnamon, and earth balance butter.  You could easily substitute oats and regular  butter if your family doesn't have any issues with gluten or dairy, but if you ask me, this version tastes just as good as the original.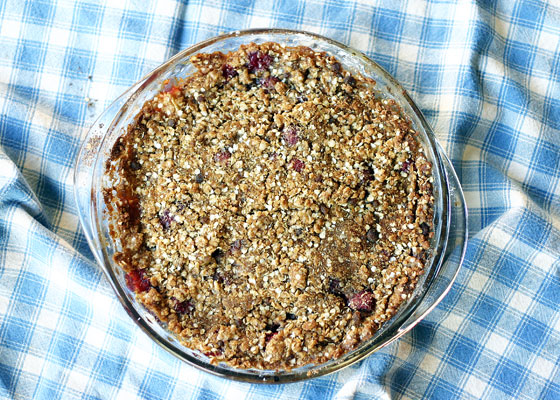 Serve it up with some vanilla ice cream, or my favorite dairy-free version So Delicious coconut milk ice cream.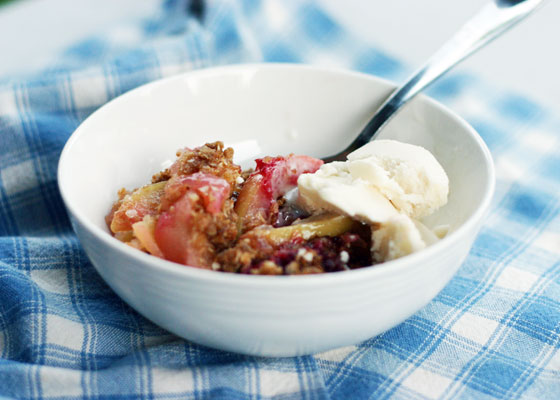 Perfect for a summery special occasion.
It might even go nicely with some sangria…if you can keep it from spilling all over the fridge.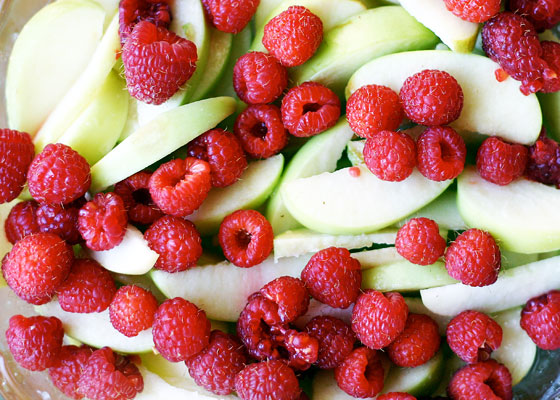 Gluten-Free Raspberry Apple Crisp
Ingredients
4

cups

green apples

cored, and sliced thin

1

pint

raspberries

3

Tbsp

organic sugar

2

Tbsp

cornstarch

juice of 1/2 lemon

1/2

cup

quinoa flakes

1/2

cup

brown sugar

1/4

cup

gluten-free all-purpose flour

I used Cup 4 Cup

1

tsp

cinnamon

1/4

tsp

salt

1/4

cup

Earth Balance

cut into small cubes
Instructions
Preheat oven to 375 F.

Place sliced apples in a pie plate. Add the lemon juice, cornstarch, and sugar. Mix with your hands. Place raspberries on top of apple mixture.

Now prepare the topping. In a medium sized bowl place the quinoa flakes, brown sugar, gluten-free flour, cinnamon, and salt. Stir the dry ingredients together. Now add the butter, and work in using a pastry cutter or a fork. You want the topping to be crumbly.

Sprinkle the topping over the apple-raspberry mixture and bake, for 35 minutes.

Serve with ice cream.