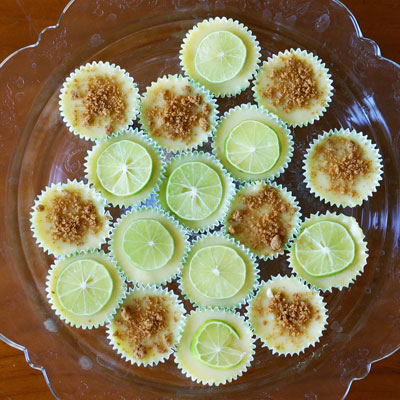 Stepping out of my comfort zone seems to be a common theme lately.
Selling our house, moving to Phoenix, starting a new life in baseball?  Not so comfortable.
Sharing my faith on my blog?  As comfortable as jumping off a wobbly pole 30 feet in the air.
Going to Ethiopia in July?  That's about 8,942 miles away from my comfort zone.
But you know what I've learned from all of this discomfort?  I've learned that comfort is overrated.  Life, real life, is lived in the exciting moments.  The heart-pounding, who-knows-what-will-happen-next, ok-let's-jump moments.
I'm learning to be thankful for uncertainty.  I'm learning to get excited about what's next…even if I have absolutely no idea about what's coming.  I'm learning to lean on God every day, every moment, as I dip my toe into uncharted waters.
So what the heck does this have to do with key lime pie?  Well, I've never made key lime pie for one simple reason: I'm afraid of cooking eggs over a double boiler.  Can you believe it?  I was convinced that I'd mess it up.  Well guess what.  I didn't.  I got it right! And you can too.  It's really not that hard.  The key is to keep the heat low, even if it takes a few minutes for everything to melt.  Don't rush it, just be patient.
The Recipe ReDux theme this month is "small bite desserts".  Desserts are already out of my comfort zone, and making them smaller just complicates things.  My mom came up with the idea for the mini key lime pies.  We thought it would be fun to use little cookies in place of a crust.  Unfortunately, the mini cookies I bought weren't quite mini enough, so I had to trim them to fit.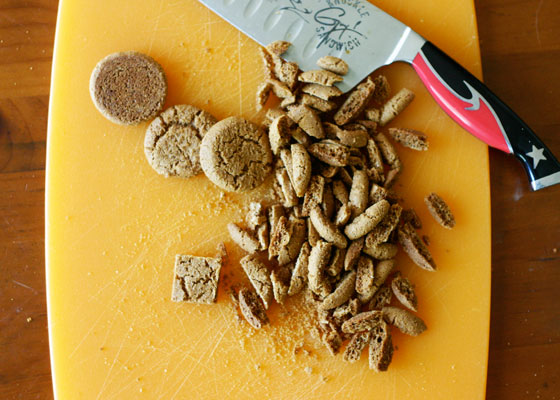 Joe and Leila helped out by placing the liners in the mini muffin tin and putting a cookie square in the bottom of each one.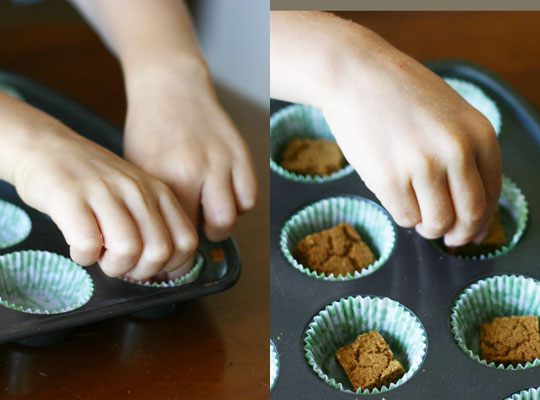 Their favorite part was snacking on some of the trimmings.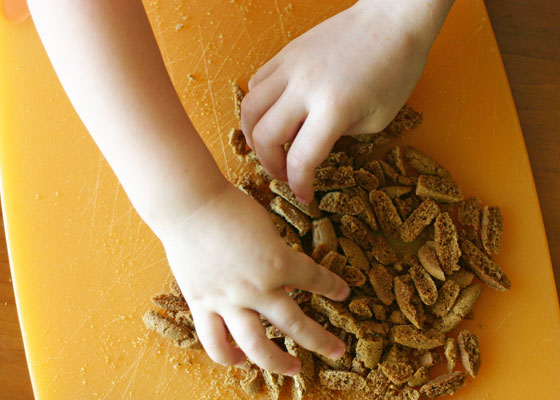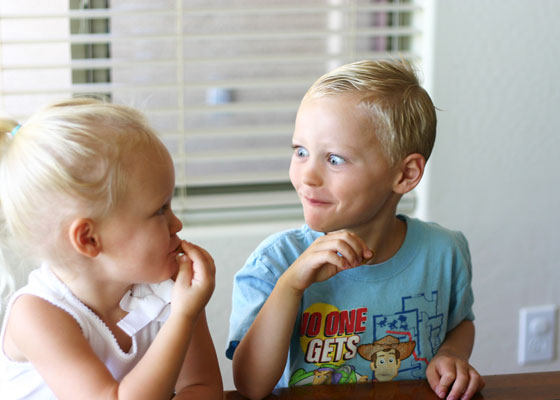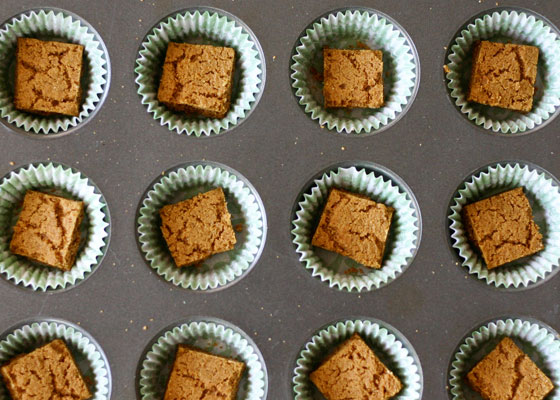 We let the filling cool while we ran to the gym for a quick workout and swimming lessons.  The kids gave the mini pies a quick sniff test when we got home.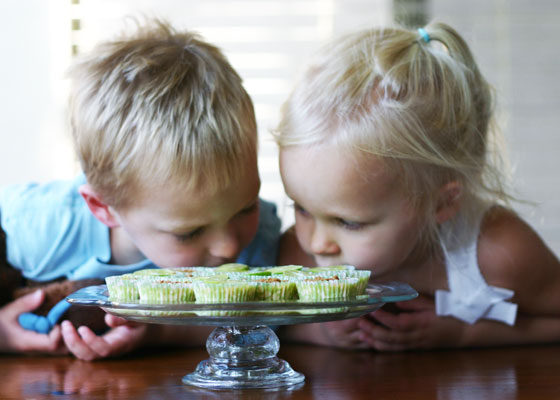 Leila thought they smelled pretty good.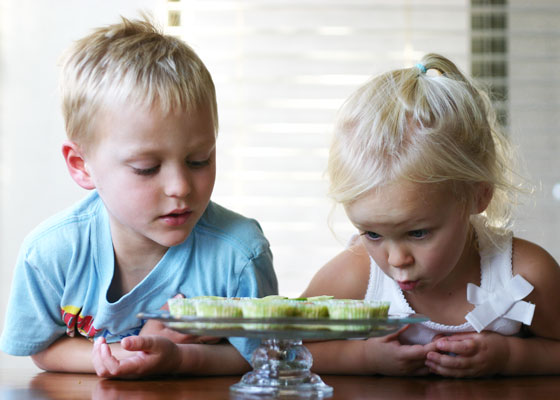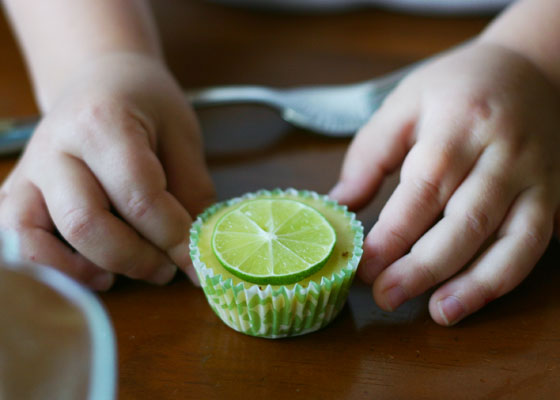 But they had to taste them to be sure.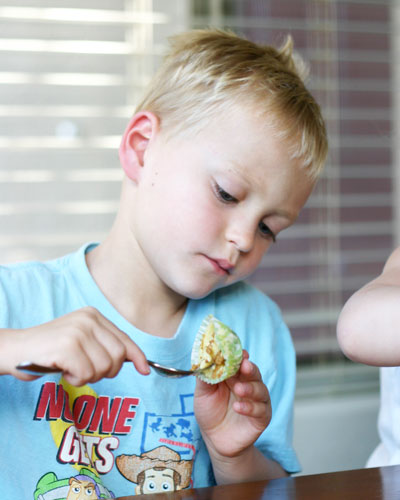 These mini key lime pies are gluten-free, dairy-free and delicious.  A cute little dessert from beyond the boundaries of my comfort zone.  Enjoy.
Mini Key Lime Pies
Key lime pie in mini form! Gluten-free and Dairy-free.
Ingredients
1

package Pamela's Ginger Mini Snapz cookies

6

whole eggs

3/4

cup

agave nectar or honey

or combine the two

Zest of 1 lime

1/2

cup

coconut oil

1/2

cup

key lime juice

about 14 key limes

1/4

cup

Earth Balance Butter

1

Tbsp.

organic vanilla extract

1/2

cup

cold water

2

tsp.

unflavored gelatin
Instructions
Prepare your mini muffin tin by lining each cup with a mini muffin liner. Trim gingersnaps by cutting off each rounded side until you have a small square that will fit in the bottom of a mini muffin cup. Trim 24 cookies, place each square in a mini muffin cup, and save the trimmings for garnish.

In a double boiler, whisk eggs and agave nectar (or honey) over medium-low heat. Mix in lime zest.

Add coconut oil and whisk. Add lime juice and butter, continue whisking until completely melted. Make sure not to turn up the heat yet, you don't want the eggs to curdle.

Once everything has melted, turn heat to medium and whisk for 3-5 minutes until mixture starts to thicken.

Remove from heat and stir in vanilla.

In a small bowl, mix together water and gelatin. Microwave for 30 seconds, then stir until gelatin is completely dissolved.

Whisk gelatin mixure into pie filling.

Using a ladle, pour filling over gingersnap cookie-filled mini muffin cups. Fill almost to the top.

Refrigerate for 2 hours, or until set. Garnish with leftover cookie crumbs and key lime slices.

Happy Anniversary Recipe ReDux!  I'm thankful for the way you have pushed me out of my comfort zone in the kitchen over the past year.  I can't wait to see what's next!