I am WAY behind on my cookbook reviews, but I have some good ones to share with you. Up first is the Ball Complete Book of Home Preserving.
There seems to have been an explosion in the craft world when it comes to making over Ball jars.  They've been spray-painted, turned into lights, and made into snow-globes.  But did you know that you can actually use them as they were intended?  That's right, you can preserve the fresh fruits and vegetables that are in season now so that you can enjoy them all year round.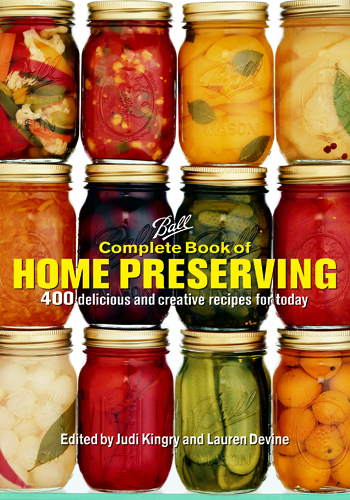 I'll admit, I was using Ball jars as decorations long before I had the courage to try canning.  For some reason, when I thought of canning, I pictured an old pioneer woman laboring over a hot stove for hours and hours.  Could I really do something like that?  Turns out, it's not so hard after all.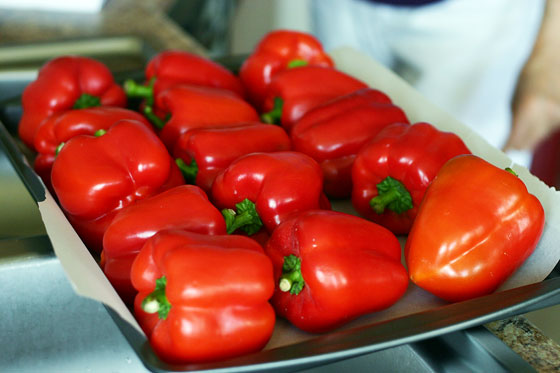 The Complete Book of Home Preserving takes you through all of the necessary steps to get started.  Even a complete beginner like me can follow along and do just fine.  From the equipment you'll need (not much as I found out), to the science behind proper canning, and even a question and answer chapter, this book addresses it all.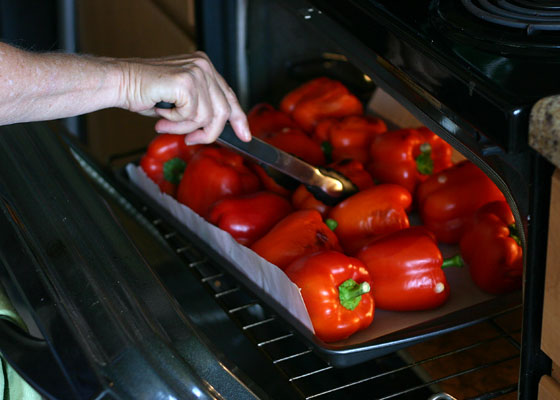 Even so, I decided to take my book to the expert for my first lesson.  I headed over to my mom's with a giant bag of red peppers and four canning jars.  She had all of the equipment already, the giant pot, the rack, and the jar lifter.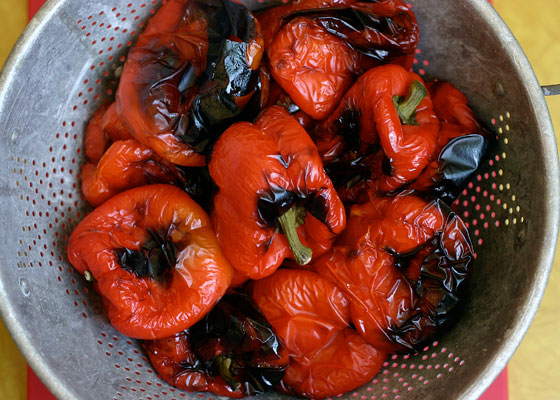 We roasted the red peppers, and then she showed me a few tricks such as setting the jars in the dishwasher on the dry cycle to keep them warm, and using a knife to get all of the air bubbles out of the filled jars.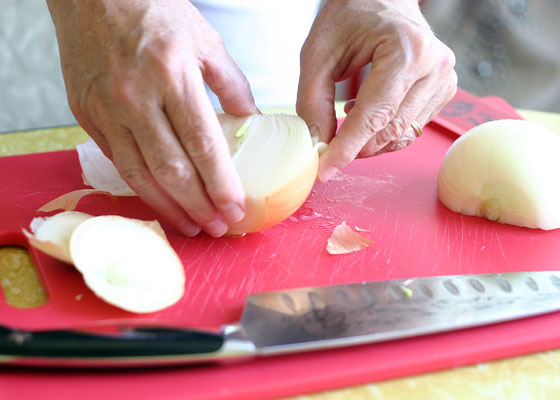 We ended up filling all four jars and had a huge pot of liquid left.  We could have easily doubled the amount of red peppers and made eight jars with all of the pickling liquid.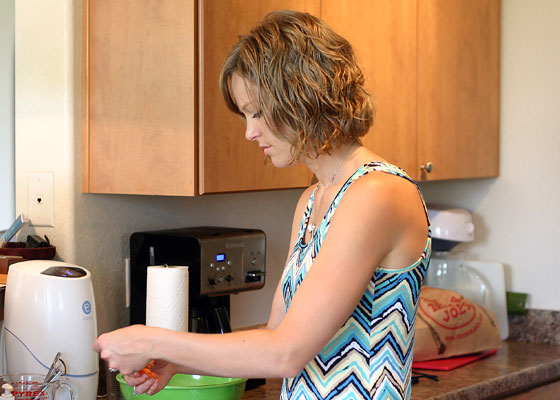 I cracked open our first jar a few days ago, about a month after sealing the jars.  The peppers are absolutely bursting with tangy flavor.  I've been putting them on sandwiches, on burgers, in salads, and even just snacking on them straight out of the jar.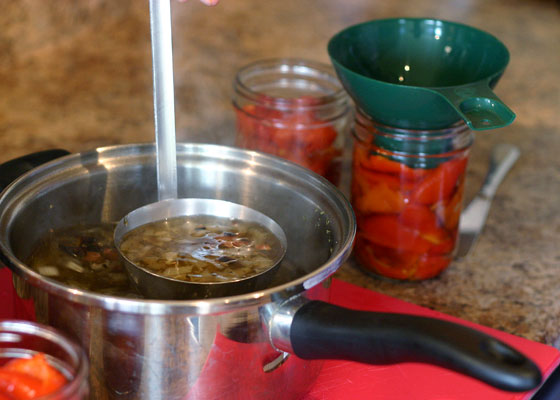 Overall, I'm impressed with the book.  The step-by-step instructions along with the extra tips and troubleshooting advice take the mystery out of what might be an overwhelming process to learn.  My parents have the original version and are thrilled enough with the revisions to buy a new copy.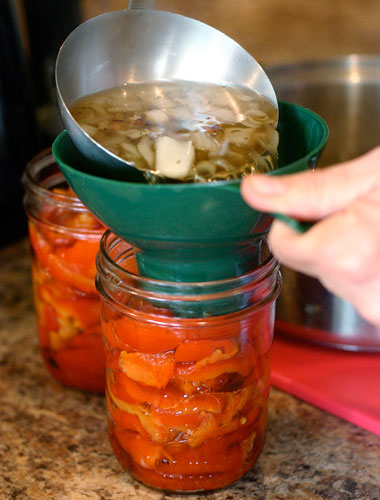 The only thing that was missing for me was specific instructions on how long to keep these peppers pickled before eating them.  Some recipes had detailed time frames on how long to keep the jar sealed before opening, but not all of them.  I took a guess and let them marinate for a month.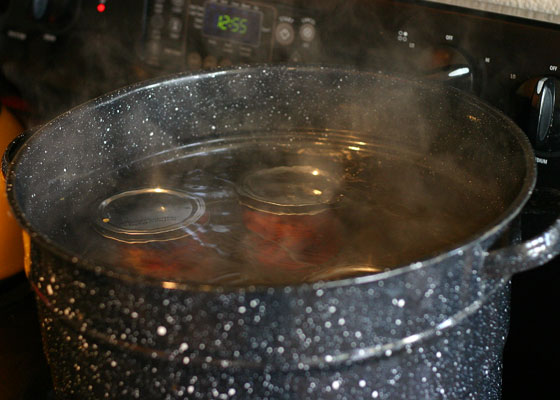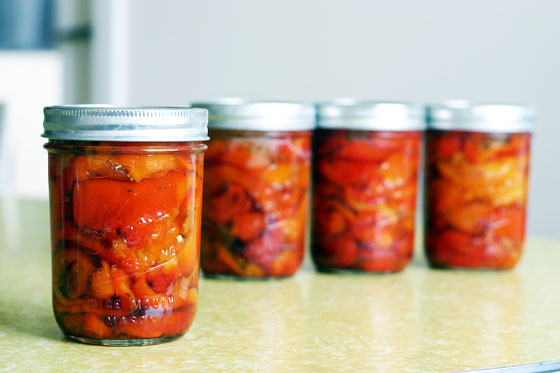 For those of you who might be considering canning, but are afraid of the commitment, let me tell you that unless you are pressure canning, you will only need a few things to get started:
1. Ball Complete Book of Home Preserving
2. A pack of Ball jars
3. A large enough pot to submerge the jars
4. A jar rack
5. A jar lifter
6. A funnel
That's it!
I'm excited to do more canning as the farmers' markets overflow with summer's bounty.  How great will it be to enjoy peaches in December?
Pickled Roasted Red Peppers
These versatile peppers can be used in spaghetti sauce, as a sandwich filling, to garnish a salad, to add a twist to an antipasto platter or as a gourmet pizza topping.
Ingredients
4

large cloves garlic

roasted, removed from skin and mashed*

1.5

cups

white vinegar

1.5

cups

cider vinegar

1.5

cups

dry white wine

1/2

cup

water

1

cup

coarsely chopped onion

1/2

cup

granulated sugar

2

Tbsp.

dried oregano

4

tsp.

pickling or canning salt

20

medium sweet red peppers

such as red bell or Shepherd, roasted, peeled, seeded, deveined and cut lengthwise into serving-size pieces*
Instructions
Prepare canner, jars and lids.

In a large stainless steel saucepan, combine roasted garlic, white vinegar, cider vinegar, white wine, water, onion, sugar, oregano and salt. Bring to a boil over medium-high heat, stirring to dissolve sugar. Reduce heat and boil gently for 5 minutes, until garlic and oregano flavors have infused the liquid.

Pack room temperature peppers into hot jars to within a generous 1/2 inch (1 cm) of top of jar. Ladle hot pickling liquid into jar to cover peppers, leaving 1/2 inch (1 cm) headspace. Remove air bubbles and adjust headspace, if necessary, by adding hot pickling liquid. Wipe rim. Center lid on jar. Screw band down until resistance is met, then increase to fingertip-tight.

Place jars in canner, ensuring they are completely covered with water. Bring to a boil and process for 15 minutes. Remove canner lid. Wait 5 minutes, then remove jars, cool and store.

*Roast peppers and garlic cloves over hot coals, on a grill at 425 degrees or under broiler until charred, turning to roast all sides. Once the skin of the peppers wrinkles and chars and garlic has charred spots, remove from heat. Place peppers in a paper bag until cool enough to handle, about 15 minutes, then lift of skins. Cool garlic. Squeeze roasted garlic cloves to remove from peel.

**Other colors of bell peppers may be prepared and pickled as directed in this recipe.
 Disclosure: I received a free copy of the Complete Book of Home Preserving for review from the publisher, but did not receive compensation for this post.  All opinions are my own.  Amazon links are affiliate links.