Jeff and I were sitting around at lunch time on Saturday and suddenly had a hankering for curry.  I found out how easy it was to make the week before when I made shrimp curry for the first time.  Basically all you need is curry paste, coconut milk, and a little chicken broth.  Easy peasy.  I had some chicken thighs that needed to be used, so I got to work.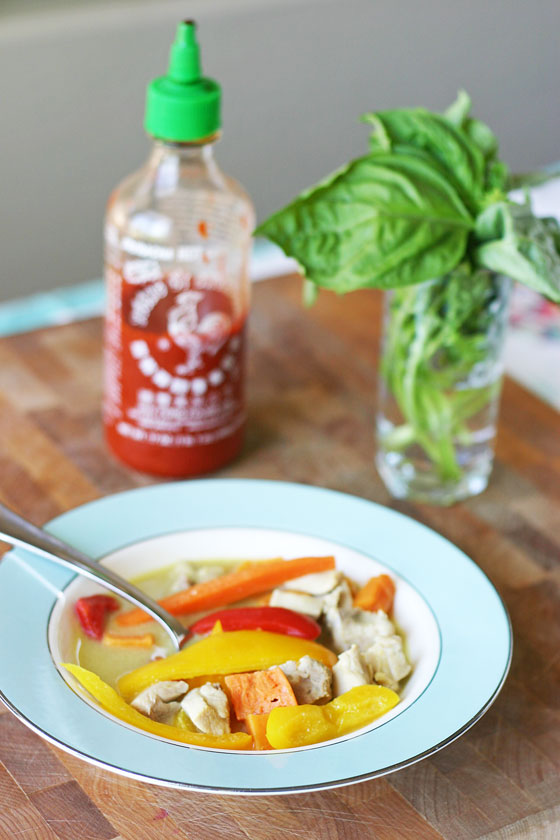 The longest part of making this dish was prepping the chicken, everything else went quickly.  As I chopped the chicken and veggies and started adding it all to the pot, I realized there wasn't enough liquid to cook everything, so I added more chicken broth.  We ended up with soup, and I have to say it was really good!  I had the leftovers for lunch yesterday and will eat the rest for lunch today.  Top with fresh basil and a healthy squirt of Sriracha for the full experience.  The Sriracha adds some nice heat back to the dish where the extra chicken broth has taken some of it away.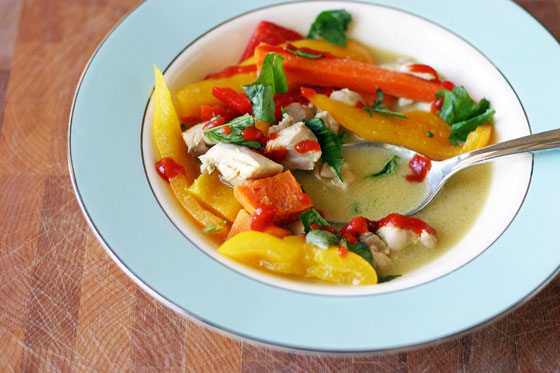 Chicken Coconut Curry Soup
Curry is easy to make at home, you only need a few ingredients!
Ingredients
1

can coconut milk

1

Tbsp.

green curry paste

1

cup

low-sodium chicken broth

make sure to verify gluten-free status if you have celiac

2

carrots

cut in half then lengthwise into strips

1

orange bell pepper

cored and cut into strips

1

red bell pepper

cored and cut into strips

2

small

or 1 large sweet potatoes, peeled and diced

1

pound

chicken thighs or breasts

diced

Fresh basil and Sriracha for serving

optional but highly recommended
Instructions
In a large saucepan over medium heat, whisk curry paste into coconut milk. Let simmer for 5 minutes.

Add chicken broth, vegetables, and chicken. Simmer covered for 10 minutes.

Serve with fresh basil and Sriracha.
Try it and let me know what you think!