Have you ever had fresh beets?  Just-pulled-from-the-ground-greens-still-attached beets?  If not, you're missing out.  They are tender and sweet, like candy.
I know some of you are scoffing right now.  Candy?? Really??
Really.  Trust me.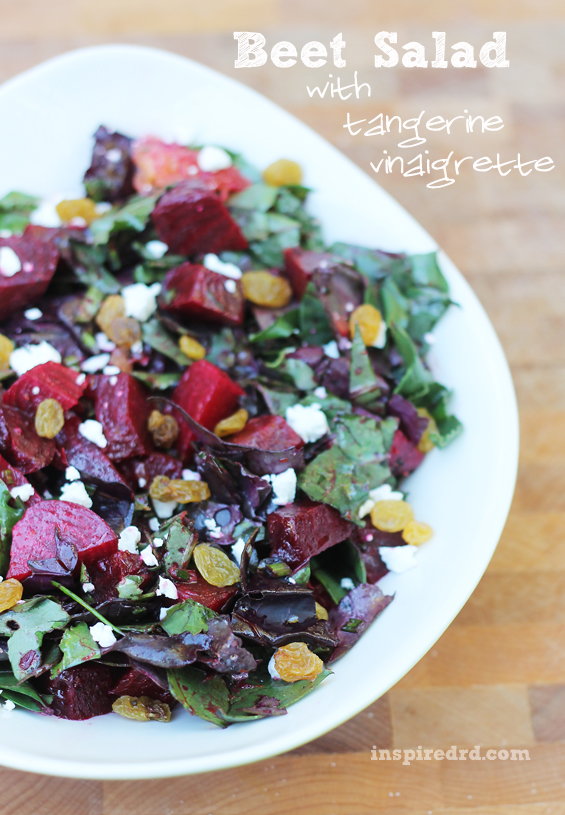 This time of year you should be able to find beets with the greens still attached at a local farmers market or possibly even the grocery store.  The beets for this salad came in our CSA basket from Agritopia Farm.  They had so many beautiful green and purple leaves that I only used less than half of the leaves for this salad.
We also had tangerines in our basket, so I used them to make a fresh vinaigrette.  Tossed with crumbled goat cheese and golden raisins, this salad was a hit!  Even Joe and Leila asked for more.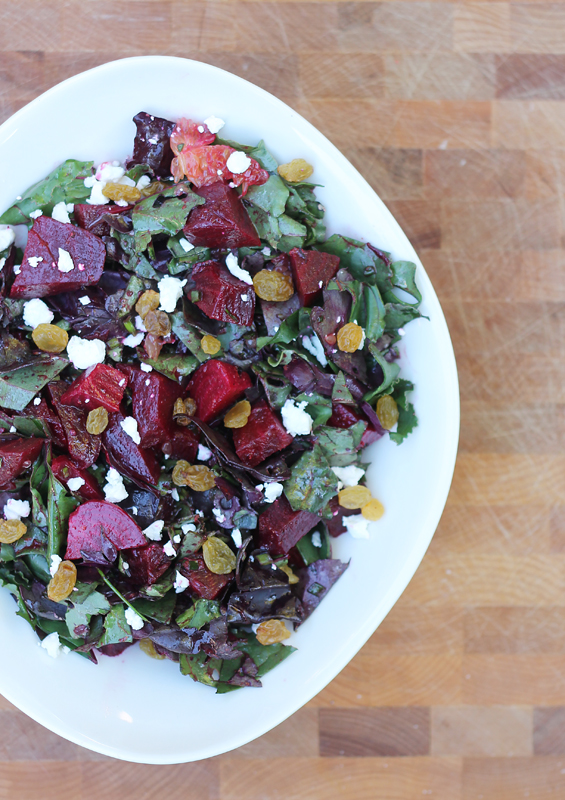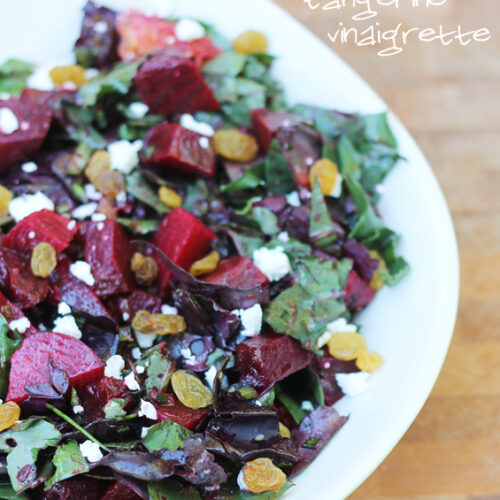 Beet Salad with Tangerine Vinaigrette
Ingredients
3

red beets with greens still attached

2

Tbsp.

olive oil and 1/4 tsp. salt for roasting

Dressing:

Leftover oil from beets

2

tangerines

zest of one, juice from both

2

tsp.

cider vinegar

1/2

tsp.

mustard

1/4

tsp.

salt

1/8

tsp.

pepper

2

Tbsp.

olive oil

1

Tbsp.

chives

chopped

1

Tbsp.

golden raisins

1

Tbsp.

crumbled soft goat cheese
Instructions
Preheat oven to 375 degrees. Clean beets and remove greens. Clean and chop greens, dry and set aside in a large bowl in the refrigerator (depending on how many greens are attached to your beets, you may want to use all or only half for the salad). Place cleaned beets onto a large piece of foil. Drizzle with olive oil and sprinkle with salt. Fold up sides of foil to cover beets, crimping the sides closed with your fingers. Make sure to close foil up well to preserve the oil and juice for dressing. Roast for 60-90 minutes until tender.

Remove beets from oven to cool. Once cool enough to handle, use your hands to peel skin from the beets. Make sure to preserve oil and juice from beets in a large bowl. Dice beets and add to the bowl of beet greens.

For the dressing: in the bowl that has the leftover oil and juice from the roasted beets, add tangerine zest and juice. Whisk in cider vinegar, mustard, salt and pepper until mixed. In a thin, steady stream, whisk in olive oil until vinaigrette is blended. Stir in chives.

Toss beet greens and diced beets with dressing. Top with golden raisins and crumbled goat cheese.
To find a CSA near you, visit Local Harvest.
If you are in the Phoenix area and are interested in signing up for the next season of Agritopia Farm CSA, click here.  Hurry, there are only a few spots left!
You can also find Agritopia Farm at the Gilbert Farmers Market or outside The Coffee Shop on Saturday mornings and at the Power Ranch Market on Wednesday evenings.