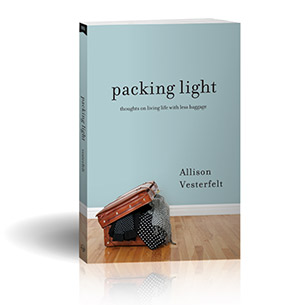 Have you ever looked around at your life and wondered if there is something more?   Something more than nice clothes, a nice house, a good job?  Have you ever wondered if there is more to life than working hard to be comfortable?
Ally Vesterfelt found herself wondering these things, but instead of shrugging her shoulders and getting back to life as usual, she took a trip.  Selling everything that didn't fit in her car, she and a friend left their comfortable lives and set off on a six-month adventure through all fifty states.  Along the way, Ally learned that living life with less baggage isn't as easy as she thought it would be.
Packing Light is a beautiful memoir that invites readers into a grand adventure with many moments of self-reflection.  I couldn't put it down for two reasons: I couldn't wait to see what would happen next, and I couldn't wait to see what would be revealed in me through Ally's thought-provoking writing.  I found myself dog-earing pages so I could keep flying through the adventure and come back later to dive deeper into certain passages.
I could see my attempt to change perspective because of my health issues in these words:
Vision changes everything.  Sometimes we need to change locations in order to see something amazing, but sometimes it's simpler than that.  Sometimes what we need is to change our perspective.  It's not about ignoring expectations, or lowering them.  It's about letting the events of our journey shape our expectations, even as they shape us.  If the location where you're standing is less than energizing, check your vision.  Don't abandon your expectations.  Try to see them from a different perspective.  
I felt encouraged by the challenge to do what I was meant to do:
When you are living your passion, people around who were once sleeping will be woke up.  That's how you know.  When we become who we were made to be, we come alive, but the people around us come alive too.  Listen carefully.  Watch.  Are people responding?  Are they changing?
I felt convicted about my tendency to pretend like everything is fine:
I thought I was making it better by keeping it to myself.  I thought I was saving her from carrying the heavy weight of my baggage.  But even unspoken baggage is heavy.  There is no way to save people from it, to save ourselves from it.  Keeping it quiet just makes it heavier.
I could keep going, but I want you to have the experience of reading this book for yourself.  You can buy Packing Light: Thoughts on Living Life with Less Baggage on Amazon or at any major retailer.
You can also enter to win a copy below.