Now that Thanksgiving is over, it's time to decide what to make for the rest of your holiday gatherings.  Here is contributor McKel Hill, MS, RD, LDN with a healthy twist on pumpkin pie!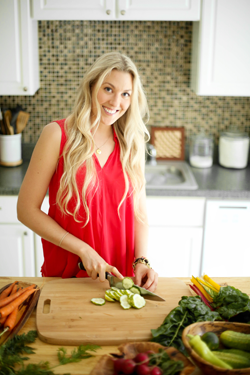 Hi everyone, McKel here again! I'm glad to hear so many of you enjoyed the previous recipe I shared here on InspiredRD, which was the Baked Eggs with Garlic Kale and Sun-Dried Tomatoes. Today I'd love to share a sweet dessert recipe that's not only gluten free, but also vegan friendly and raw. Meet my Raw Pumpkin Pie Cheesecake!
It's super simple to make and since it's raw, requires NO cooking. Raw Pumpkin Pie Cheesecake is full of cashews, dates, pumpkin puree, coconut oil, and warming spices. It contains heaps of healthy fats, fiber, plant protein, vitamins, minerals, and it's just as (if not more) satisfying as traditional pumpkin pies.
I hope you all enjoy this recipe as much as I do and please share the link, pin, or visit my blog for more details on the recipe!
Raw Pumpkin Pie Cheesecake
A delicious raw pumpkin pie cheesecake made from pumpkin puree, cashews, and a chewy crust. Gluten-Free, Vegan, Raw.
Ingredients
FILLING //

1½

cans organic pumpkin puree

15 oz. cans

2

cups

raw cashews

1½

cups

maple syrup

2

tablespoons

organic coconut oil

1

tablespoon

pumpkin pie spice

blend

pinch

of sea salt

CRUST //

1

cup

dates

pitted and chopped

1

cup

raw almonds

ground

1

cup

raw walnuts

ground

½

cup

hazelnuts

ground

½

cup

shredded coconut

unsweetened

1

teaspoon

pumpkin pie spice

¼

teaspoon

freshly grated nutmeg

pinch

of sea salt
Instructions
CRUST //

Combine all ingredients in a food processor or high speed blender until combined. The desired texture is a chunky and sticky "dough". You should be able to squeeze the dough in your fingertips and it create a firm crust.

In a spring form tart pan (I used 12in.), pour the crust mixture into the bottom and spread evenly.

Firmly press and crust into and around the sides of the tart pan until a thick bottom layer has been created.

Freeze for at least 3 hours.

While you're waiting for the crust to harden, start making the filling.

FILLING //

Combine all ingredients into a high speed blender starting with the cashews first, then adding in remaining ingredients. A high speed blender will be the best option as this mixture is very thick and creamy.

Set mixture aside in a small mixing bowl in the fridge.

When your crust is done chilling, pour the filling mixture into the tart pan using a spatula to evenly spread the filling mixture.

Freeze the whole pie for at least 2 hours prior to serving.

When you're ready to serve, thaw at room temperature for about 30 minutes or until the pumpkin pie filling is thick, creamy, and cool- it should not be frozen.

This will keep very well in the freezer if you have leftovers.

Garnish with Coconut Whipped Cream (recipe on my blog).

Top with fresh cinnamon and nuts of your choice.

Enjoy!
Notes
If you leave the pie out for too long at room temperature it will be too soft