Home workouts are perfect for moms! Contributor Wendy Powell is here to tell you why (and give you some tips to get started).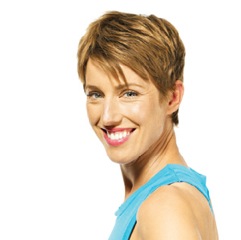 Before you were a mom, the opportunities to exercise in any way you chose were yours for the taking. Group exercise, solo challenges, running, biking, extreme sports… the streets were yours to roam, the gym was a second home and thrill-seeking was a top priority.
I'm not saying those days are over. But, when you have small children, those windows of opportunity are fewer and further between. To exercise consistently, the most practical option is to do a home workout.
Really, working out at home doesn't have to be boring. It can be fun and gives you a new challenge: to find inventive and effective ways to use your own body, stuff in your house, and some minimal exercise equipment to build strength and stamina.
On the one hand, a home workout is great: you can fit it in whenever suits you; you aren't under any pressure to push your body further than feels right; and you don't have to give a damn about the way you look.
But there are some potential problems to navigate. First, motivation! Can you drag your butt off the sofa without the urgency to be at a class you've committed to?
The other thing is method… you need to be sure that you do the right exercises with the proper technique, otherwise you could be doing more harm than good.
Beware celeb fitness DVDs and faddy routines. Find workouts on the web, in books, and on DVDs that have been developed by people you can trust, who have a string of credible qualifications and a whole heap of recommendations from experts and happy customers.
Once you know the type of exercises that are effective for you, you can freestyle a bit. You'll come to know what stretches can ease tight, sore muscles; which ab and butt exercises feel like they challenge you just enough; and which high intensity sequences get your blood pumping.
But, before you go off piste, it's important to master the technique of every exercise you include in your home workout first. Listen to your body, understand its limitations, acknowledge that your mama body needs to heal before being pushed too hard, and build your workout gradually.
As a mom, you need to pitch the exercises at the right level for your core strength. If you have significant diastasis recti, or pelvic floor weakness, these are red flags that you need to take things gently with ab work and steer clear of high impact exercise. Be sure the exercises you do are adapted for moms!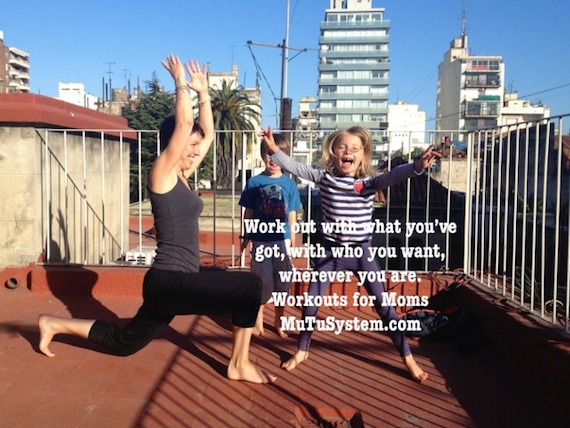 Working out at home: what gear do you need?
If you want to know what gear you NEED, the answer is nothing! The most effective home workouts for mums are based on combining HIIT (high intensity interval training) with MRT (metabolic resistance training). It's quite possible to exercise in this way, using nothing but your own body, with your body weight providing resistance.
That said, if you can stretch to it (pardon the pun), a resistance band is a great asset to your home workout. The MuTu System program uses these in many exercises that focus on opening the legs or arms against resistance, giving a whole range of muscles a really strong stretch.
There are a few other simple bits of exercise gear used in MuTu workouts, but with a little invention you can usually find something else to use as a substitute…
Inventive exercise kit >>
 Lycra tights = resistance band
Half roller = rolled up towel
Small Pilates ball = child's small football
Yoga mat = folded blanket
Sandbag or kettle bell = Backpack full of books!
Once you get into working out at home, you will begin to see how you can use your home itself, and even your housework, to help keep fit…
 Stairs = step machine
Sturdy chair = for bench presses
Hanging out washing = squat opportunity
Washing up = chance to adjust alignment
And at the kids playground, hang off the monkey bars for upper body and core strength building.
The reason home workouts are 'made for moms' is that they are realistic, achievable and effective. There are no demands on time or money, but there's every chance to improve strength, fitness and body confidence.
Give it a go – there's literally nothing to stop you.
For more information on the MuTu System, click here.  As always, InspiredRD readers get 15% off any MuTu System with the code "INSPIRED15″. 
UK-based Mom of 2 Wendy Powell is founder of the internationally recognized and sought after MuTu® System program. She has accrued over 12 years experience, proven record and study in the pre and postpartum fitness industry. Connect with Wendy by signing up to receive information on the MuTu System website, on Facebook, Twitter + Pinterest. Programs can be downloaded online, or DVDs shipped internationally, all available from the website.
Previous posts by Wendy Powell:
How Better Alignment Helps Fix Diastasis Recti
Eat well to heal your diastasis recti – How good nutrition can help your body to close "The Gap"
2 Diastasis Recti Fixes that WON'T Work – And What Will
A Diastasis Expert Answers All of Your Questions
This post contains affiliate links.
Save